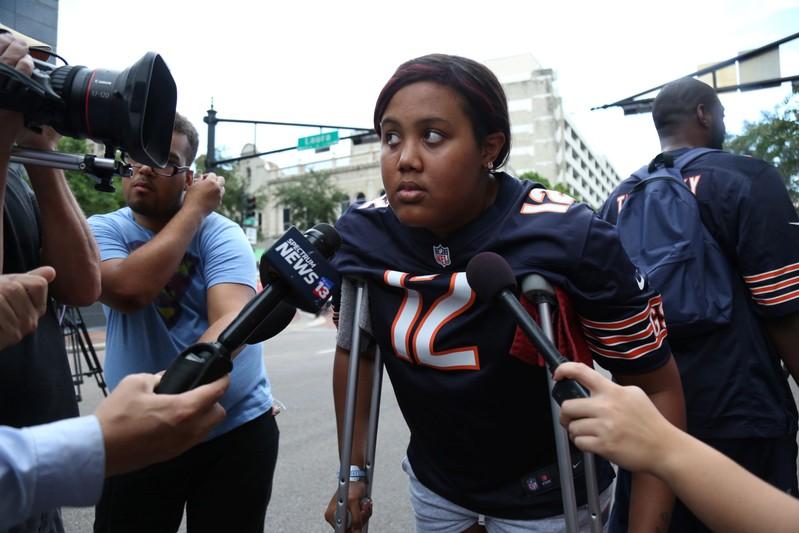 JACKSONVILLE, Fla. (Reuters) - The slaying of two competitors at a Florida video game tournament on Sunday has stirred the long-simmering gun rights debate in the state on the eve of its hotly contested state and federal primary elections.
With Florida voters scheduled to pick candidates for governor and Congress on Tuesday, some Democratic contenders said the shooting on Sunday in Jacksonville was further evidence of the need for stricter gun legislation while other hopefuls canceled campaign appearances.
The violence, which also injured 11 people, was the latest in a series of high-profile shootings in the state, following the killing of 17 students and educators at a high school in February and of 49 people at an Orlando nightclub in 2016.
The Jacksonville Sheriff's Office identified the suspected shooter as David Katz, 24, of Baltimore. Witnesses told local media Katz was angry because he lost the tournament.
"We as society have to come together and say enough of this," said Democratic U.S. Senator Bill Nelson, whose re-election campaign is facing a November challenge by the state's Republican governor, Rick Scott.
"This is not what we want in a democratic society where we have values other than going off and killing people with guns," Nelson told reporters in Jacksonville, near the site of the shooting at a Madden 19 online football game tournament.
Gun rights, which are covered by the Second Amendment of the U.S. Constitution, are one of the most hotly contested themes of American politics. The debate breaks along party lines, with Republicans typically arguing that better enforcement of existing gun laws is the best way to deter shootings while Democrats call for more restrictions on weapons ownership.
Given the partisan breakdown, the shooting may not change outcomes in Tuesday's primaries where people will be picking candidates from within their own parties.
CAMPAIGN EVENT CANCELED
State Agriculture Commissioner Adam Putnam, one of the Republicans seeking to succeed Scott as governor, canceled a campaign event in Jacksonville and on Twitter said his "prayers continue to be with the victims and their families."
Democratic front-runner Gwen Graham called on Putnam and his leading Republican rival, U.S. Representative Ron DeSantis, to offer a stronger policy response.
"@AdamPutnam and @RonDeSantisFL are avoiding Jacksonville because they are scared to answer questions on gun violence," Graham said in a Monday Twitter post.
The Putnam and DeSantis campaigns could not be reached for immediate comment.
Local media identified the dead from the shooting as Eli Clayton, 22, of Woodland Hills, California, and Taylor Robertson, 27, of Ballard, West Virginia.
Robertson, a husband and father, won the tournament last year and Katz won it the year before, according to EA Sports, the unit of Electronic Arts Inc that publishes the Madden game and sponsored Sunday's tournament.
The Jacksonville Sheriff's office said nine people were wounded by gunfire and at least two others were injured while fleeing the scene. It said Katz's body was found near those of two victims.
The bar was live-streaming the gaming competition when the gunfire started, according to video shared on social media. In the video, players can be seen reacting to the shots and cries can be heard before the footage cuts off.
Taylor Poindexter and her boyfriend, Marquis Williams, who had traveled from Chicago for the tournament, fled when the gunfire erupted. She said she saw Katz take aim at his victims.
"We did see him, two hands on the gun, walking back, just popping rounds," Poindexter told reporters. "I was scared for my life and my boyfriend's."
Jacksonville Memorial Hospital is treating three people wounded in the attack, said spokesman Peter Moberg.
(Reporting by Joey Roulette in Jacksonville Florida, Bernie Woodall in Fort Lauderdale, Florida, Colleen Jenkins in Winston-Salem, North Carolina, Rich McKay in Atlanta and Gina Cherelus in New York; Writing by Scott Malone; Editing by Alison Williams and Bill Trott)
This story has not been edited by Firstpost staff and is generated by auto-feed.
Firstpost is now on WhatsApp. For the latest analysis, commentary and news updates, sign up for our WhatsApp services. Just go to Firstpost.com/Whatsapp and hit the Subscribe button.
Updated Date: Aug 28, 2018 01:05:43 IST