Florida shooting: No security, no guarantee and no place to hide in America's public schools
Even in the Obama era, the slaughter of innocents did not end America's infatuation with guns. On Planet Trump, chances are the bleakest ever. Gun buying has only spiked here. It usually does in America after such killings. Since the Las Vegas massacre, bump stocks have sold out across the country. A bump stock fits on a semiautomatic rifle to increase the firing speed, making it similar to a fully automatic rifle.
Following the mass slaughter at a public school in gun loving Florida, US president Donald Trump put the onus on locals to report erratic behavior. No surprises there, coming from the political leader of a country where civilians own 5 in 10 of the world's firearms. Trump had once famously said before embarking on his dystopian reign, "I could stand in the middle of 5th Avenue and shoot somebody and wouldn't lose any voters, okay? It's, like, incredible."
"So many signs that the Florida shooter was mentally disturbed, even expelled from school for bad and erratic behavior," Trump tweeted. "Neighbors and classmates knew he was a big problem. Must always report such instances to authorities, again and again!"
The banality of mass shootings in the US has not changed in decades. The last time the US seemed to have been wounded deeply enough to have a conversation was after the Sandy Hook massacre back in December 2012, when an angry, unhinged man killed his own mother, 20 elementary school children, six teachers and then himself up in Connecticut.
Then president Barack Obama cried on national television as the country came to grips with the shock. Trump's hard opposition to any additional gun control makes the current White House's response quite awkward.
Even in the Obama era, the slaughter of innocents did not end the country's infatuation with guns. But on Planet Trump, chances are bleaker still. "He's not draining the swamp, he's swimming with these alligators (the gun lobby)," Obama's former strategist David Axelrod said about Trump, over and over again on news television, 24 hours after the massacre.
Gun sales have usually spiked in the US after such killings. Since the Las Vegas massacre in October last year, "bump stocks" have sold out across the country — a bump stock fits on a semi-automatic rifle to increase the firing speed, making it similar to a fully automatic rifle.
Wednesday's shootout takes the number of such incidents across the US this year to 18 — and it's only the middle of February. For students in elementary and secondary schools across the country, lockdown drills on how to react to a psychotic "active shooter" situation have become routine.
That's why I decided to buy a GPS-enabled tracking system for my daughter, who studies in a local public school. If you've read this far, you must be thinking — how does that help against a mad man? True. But my jab at a sense of safety, like many others', is just a pathetic lunge at a piece of technology as if it's bullet proof sheath. It's not.
What do you do in lockdown drills, I ask school children. "There are places we know we have to go and squat and stay totally quiet. We can't move, we should not talk… nothing, until we hear the teacher tell us it's over," they tell me.
Let's dial back a little bit here. How do killers get in through the school front door? It's a question only a proverbial "outsider" in the US is likely to ask. You won't find this in the superlative headlines after the grim drumbeat of mass shootings. This is not just about the rich and powerful National Rifle Association or its outsized influence in swinging elections, like it did for Donald Trump.
So, here's that question again — how do killers get into schools? How do they get in through the heavy front door?
"Where is the security in our schools, President Trump? Where are the metal detectors at the front door?" the mother of a 14-year-old who died in Florida screams in agony into the television cameras, dragging herself home after her child's funeral.
To understand the gaps, it is essential to know the chasm between public schools and private schools in America. Anybody can drive into a typical public school parking lot, shut off the engine and walk up right to the front door. Between the intruder and the unsuspecting children inside are a set of double doors and a buzz-in connected to the main office. Who gets in and how easily that happens depends on each school's processes and how meticulous the vetting is.
Vaishali Balaji, a Florida resident who lives not far from the unfortunate school shooting location, tells us about her state of mind as she drops her 6-year-old to school daily: "From the time I drop her till I pick her up, we live in a sense of constant fear. It is scary. I speak to my mother every day on my way to work. The only thing she has been asking me is — how are you going to manage... there's so many years of schooling left."
Private schools are a world apart, with tight security but also fees upwards of $50,000 a year. It's the kind of schools that Trump's grandchildren and his gazillionaire Cabinet colleagues' younglings go to, it's the cleavage between the tycoons and the commoners, where the very drawbridges that Trump wants to raise against outsiders already exist to protect the luxe crowd inside.
All too often, the NRA, one of America's richest and most influential lobby groups, is pencilled in as the fall guy as if its agenda is monolithic and consistently for loose gun laws. It's not. It's actually the three out of 10 gun owners who are twice as likely to contribute money to political candidates that give the NRA its phenomenal clout.
(Most) super rich children in the US study in schools cloistered from tragedies like Sandy Hook and Marjory Stoneman Douglas High School in Parkland, Florida. That fact, coupled with gun-toting Americans who don't understand the fear unleashed by mentally unhinged shooters, doesn't make the horror any less real.
It's a horror that does not resonate with people like Cindy, a deep south Alabama native who worked with me for a brief period. She'd go out for long walks in a totally urban Maryland suburb with a backpack loaded with a gun and pepper spray. "You never know when you'll need it. I don't go anywhere without it, you shouldn't either," she'd say. Cindy rode horseback every weekend and the farthest she had travelled from her native Alabama was to Maryland at age 55.
If Cindy's fetish is symbolic of the collective mood of America's boondocks, the urban gun carrier is arming himself against people like Cindy and deranged folks like the school shooter.
I meet one such person while waiting to renew my driving license. Standing by for cops, armed to the teeth, to wave us in, we gab about the shootings. "Look, I carry a gun. I just need to be angry for a few minutes to pull the trigger. I don't need to be crazy," he explains.
Yeah. Of course.
No guns for civilians is the only kind of gun control that makes any sense in a sane society. Have it any other way and we pay a heavy social cost every passing day as we turn persistently paranoid. Trump, instead, wants to round up people instead of rounding up the guns. He'll draw the boundaries so tight that "only his family and his bouncers will live in the US", says a senior colleague in Mumbai, hearing my weekly rant from an icy outpost in the US.
Before I turn in, I check if my kid's GPS tracker is charged — my offering of nightly topical analgesic for a uniquely American torment.
World
The appearances in New Hampshire and South Carolina are an opportunity to address complaints from fellow Republicans that his intended contest with President Joe Biden has made a slow start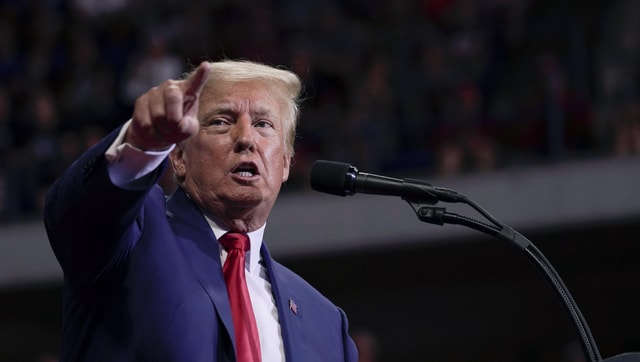 World
Former US President Donald Trump relied heavily on support from evangelical voters during his 2016 campaign.
World
Casting herself as a younger, fresher alternative to the former president, Haley has been hinting at a possible run for weeks, posting a video on social media declaring that America is ready for 'a new generation' of leadership