Florida school shooting: Let's shut our eyes to all the violence and continue believing that guns don't kill people
Three in five. That's the chance of a school shooting on any given day in 2018 so far in the US.
In a lot of ways, the aftermath of a US school shooting is like being in a Chuck Palahniuk novel. Rule Number One, you do not talk about gun control. And today, in the wake of the biggest senseless loss of life since the last one and what feels like the millionth school shooting in the US this year, gun advocates and the National Rifle Association will doubtless rush to reassure us it's just the 18th, Millions of Americans will once again resume what seems to be the nation's most frequent pastime — talking about why you cannot talk about you-know-what. Remember, a school shooting just took place. Don't politicise® the event. Guns don't kill people; people kill people. And don't you dare even think about thinking about using that nasty phrase "gun control". It's not done. It's UnAmerican©.
Now, seeing as we're not allowed to talk about [redacted], because that would be UnAmerican©, let's look at a few numbers instead:
Thirty-one. That's the number of school days in 2018.
Eighteen. That's the number of school shootings recorded so far in 2018.
Three in five. That's the chance of a school shooting on any given day in 2018 so far. If you're the sort of person who likes percentages, it's 60 percent. So every time a parent in the US sent their kid off to school this year, they did so with a 60 percent chance that on that day, there would be a school shooting somewhere.
226. That was the number of school shooting incidents in the US in the 20th century.
212. That's the number of school shooting incidents in the US in the first 18 years of this century.
72. That's more than the average number of hours between school shootings this year.
Here are a few things that last longer than 72 hours. Nail polish. Pimples. The transit of Venus. A hangover when you're over 40. England in an Ashes Test. In short, if you just made coffee and left in a rush for Lonavla or Shimla or wherever for that long weekend, forgetting the milk bottle on the counter, you have a better chance of coming back to milk that survived than the average American parent has of their kid coming back to them from school in one piece.
But hold on just a flipping moment, you say. There seems to be a catch here. Putting aside the fact that this is an event so commonplace now that "School Shootings in the United States" has its own Wikipedia page, if there's a school shooting every 72 hours and you can't talk about one in the aftermath, then when can you talk about it? Never?
Bingo. Now you're getting it. See, you're becoming more American© already.
In that case, you might ask, then what can one do?
Here's what you can do. You can feel bad. For asking that silly question because everyone knows the answer already. Just do what happens with such monotonous regularity, it's now the official American national response to school shootings. Send Thoughts and Prayers(™).
Whenever you find yourself in danger of wanting some action on the issue or feeling like the unnecessary and tragic loss of life needs to end, don't give into the urge. Instead, just STAP. And quickly buy some guns, and keep buying guns, until the feeling passes. Then you can discuss next steps, as long as those steps involve giving guns to teachers and suits of armour to students and training educational staff in how to evacuate classrooms when a student or random angry stranger decides that today is the day someone or everyone in the building needs to die.
After all, teachers and shooters exchanging fire GTA-style over the heads of kindergarten students seems to be the perfect solution. Anyway, guns don't kill people. People kill people. Cars are dangerous too. Always respect the 2nd Amendment, the Constitutional Right to bear arms, and when the Founding Fathers ratified it in 1791, they no doubt did so fully well knowing that it would be possible to buy an AR-15 over the internet in 2018. Move along now, nothing to see here.
Rule Number Two, you do not talk about gun control.
Here's one final number instead.
0. That's the number of kids from these schools who were saved by the thoughts and prayers America has been sending. And in case anyone is wondering, it's not because American prayers are weak and ineffective.
It's because American policies are. And it's because certain American interest groups are anything but. Take the National Rifle Association, or NRA. It's a non profit gun rights advocacy group that has about 5 million registered members and somehow manages to dominate the entire landscape of the conversation for 325 million others with a scary advertisement here and a few well-placed donations to politicians there. The very notion would boggle the mind in most countries. A private advocacy group that exists to urge citizens into arming themselves because they cannot trust their own elected government and may be needed to destabilise it by force at any time.
And yet, this is considered business as usual. Of course, it helps that gun advocates are almost certainly the single most vocal lobbyists in all US politics. Almost half of all American politicians fear the electoral consequences of seeming anti-NRA; almost no American politician needs to worry about those arising from being an unabashed supporter.
In a scenario like this, it's almost understandable that Joe the Plumber genuinely believes that he needs 22 handguns, half a dozen semi automatic rifles and a few thousand rounds of ammunition to "protect" himself and his family. At least until you ask yourself what exactly Joe thinks he needs protection from. Is he that bad at plumbing?
It's not about Joe though, don't you get it? It's about his rights. It's not about guns, it's about the Constitution. Don't you know how much gun advocates care about the Constitution of the United States? That's why every election day, you see them ferrying people to the polls in support of the constitutional right to vote and why you see them cheering Colin Kaepernick and NFL players in support of their constitutional right to protest. Protip: You don't.
OK, well, everyone can't be consistent but what about the children? The ones getting shot week after week, year after year, within the walls of the one place other than home where they should feel most safe? Where is this all heading, you ask? When does it end?
But you already know the answer to that, don't you? It doesn't.
World
US District Judge Aileen Cannon empowered the newly named special master, Raymond Dearie, to review the entire tranche of records taken in the 8 August, 2022, search of Mar-a-Lago and set a November deadline for his work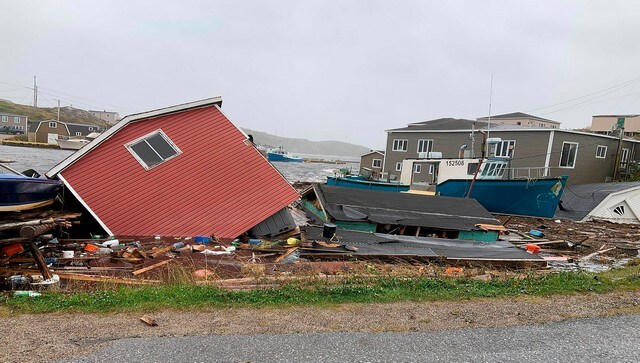 Explainers
Once a storm reaches maximum sustained winds of 119 kmph or higher, it is classified as a hurricane, typhoon, or tropical cyclone. However, the moniker given to it depends on its location
Explainers
Mohan Bhagwat's visit to the Kasturba Gandhi Marg mosque at the heart of the Delhi – his second meeting with Muslim intellectuals over the past month – comes amid an unprecedented outreach to the minority community by the RSS chief and in the backdrop of the Gyanvapi mosque row