Florida school shooting: After Sandy Hook, security measures introduced haven't solved problem
In 2012, the Sandy Hook shooting rattled the education and law enforcement community. School authorities across the country began employing additional security measures to safeguard their students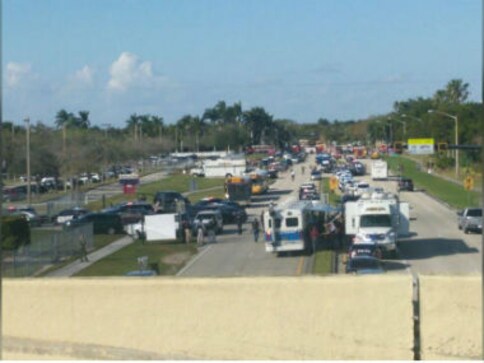 Over five years after the gruesome Sandy Hook Elementary school shooting on 14 December, 2012 in Newtown, Connecticut that killed 20 children and six educators, 17 people, including students, were killed on Wednesday after a former student opened fire at a Florida high school.
The tragedy in Florida once again flags the issue of how safe US schools are for their students. In 2012, the Sandy Hook shooting rattled the education and law enforcement community. School authorities across the country began employing additional security measures to safeguard their students. The reason Sandy Hook was a turning point is because people realised that even children in elementary schools were no safe anymore. The incident triggered a wave of changes to school buildings.
Buzzers. Security cameras. Bulletproof glass.
One of the important features employed was using buzzers in school buildings to allow visitors inside, which helped add an extra layer of control over who could access the school, according to NBC News. The new Sandy Hook building had bullet-resistant windows and security cameras installed inconspicuously.
In 2013, school authorities in Marlboro, New Jersey, set aside $1.8 million for security measures, "including construction of 'man trap' vestibules at entrances", reported USA Today. In New York and Pennsylvania, school officials asked election officials to not use school campuses as polling booths.
Lockdown drills, active-shooter training, presence of police officials on school campuses and teachers asked to bear arms are some of the other measures that were implemented after the Sandy Hook school shooting.
According to The Guardian, US schools also began to stage fake mass shootings, with replica guns, to prepare students how to respond in case such situations arose. In 2013, the federal government also spent $45 million of the taxpayers money to place police officials in schools. The report further quotes analyst firm IHS Markit that the market for security equipment in the education sector stood at $2.68 billion in 2017.
The idea of bulletproof whiteboards and backpacks was also floated. As part of its security plan, the Ricori school district in Minnesota in 2003 installed 170 bulletproof whiteboards. The Florida Christian School in Miami offered on sale "ballistic panels" in backpacks as a way for school children to protect themselves in the event of an active shooting, reported CNN. However, these backpacks are known to be expensive and not well-tested, reported Huffington Post. 
In several states, a limited number of teachers and staff were also allowed to carry concealed weapons in the school. According to the Giffords Law Center to Prevent Gun Violence, at least eight states allow concealed-carry permit holders to have a firearm at a K-12 school. After hearing about the Sandy Hook shooting, a rural school in Colorado directed staff members to carry concealed weapons and trained them to act as security guards if the need arose, reported The Washington Post.
The era of school lockdowns actually dates back to 1999 when two students killed 13 people and then themselves at Columbine High School in Littleton, Colorado. After Sandy Hook, lockdown drills became a normal part of school life.
Despite measures, Florida not spared
The new security measures did mitigate the damage to a certain extent. For example, in November 2017, countless lives were saved at Rancho Tehama Elementary School after a shooter attempted to enter a school compound but couldn't when the school secretary initiated lockdown in 47 seconds. The only injury was to a boy who was wounded when the shooter shot through a wall.
But these measure do not guarantee student safety in schools. In case of the Florida shooting, students appear to have been taking part in a fire frill when the shootout occurred. Student Jeiella Dodoo told CBS News that she and her schoolmates evacuated calmly after hearing what they thought was a routine fire alarm.
"The alarm went off so we had to evacuate from our classes," she said. "Then we heard gunshots.
"I heard about six gunshots," she said, "and then some people started running and then everyone started running because we were like 'If it's real, then just run.'"
The major problem here is that instead of curbing gun ownership, there is an uptick in increasing ways to defend oneself from a shooter. Within two months after the Sandy Hook shooting, the Assault Weapons Ban of 2013 and the Manchin-Toomey Amendment, which would have made universal background checks mandatory for firearm sales, failed to pass in the Senate, according to ABC News. 
In fact, President Donald Trump's new budget for fiscal year 2019 proposed to cut millions of dollars from the National Instant Criminal Background Check System, "which gun dealers use to verify if someone is banned from buying a gun before selling it to them", reported Huffington Post.
Another concern mental health officials flag is that in conducting lockdown drills and fake mass shootings, it could traumatise students and staff. The National Association of School Psychologists spokesperson Katherine C Cowan told The Guardian, "That can be extremely traumatising, particularly for kids, but it can also be traumatising for staff."
With inputs from AFP
Explainers
Nika Shakarami's body was found ten days after she went missing while attending a protest march in Tehran over the death of Mahsa Amini. Authorities claimed Nika fell to her death from a high-rise, but her mother said forensic reports show she died from repeated blows to the head
Explainers
This is the first time China has installed a fixed jacket, a structure pinned to the seafloor to support offshore oil and gas production facilities, at a water depth of nearly 300 metres
Explainers
The Uddhav Thackeray faction has put out a video showing Shivaji Park, the Shiv Sena's traditional Dussehra venue in Mumbai, with cheering crowds. Meanwhile, the Eknath Shinde faction in its clip uses Bal Thackeray's voice to burnish its Hindutva credentials