Florida governor Rick Scott calls for FBI director Christopher Wray's resignation following school shootout that killed 17
Governor of Florida state Rick Scott on Saturday urged the director of the Federal Bureau of Investigation (FBI) to resign in the wake of the agency's admission that it failed to follow up on an earlier tip over the shooter who killed 17 people in a Florida high school
Washington: Governor of Florida state Rick Scott on Saturday urged the director of the Federal Bureau of Investigation (FBI) to resign in the wake of the agency's admission that it failed to follow up on an earlier tip over the shooter who killed 17 people in a Florida high school.
"The FBI's failure to take action against this killer is unacceptable," Scott said in a statement.
The remarks were in response to an FBI statement released on Friday, which acknowledged that the law enforcement agency received a tip in January on Nikolas Cruz, the 19-year-old shooter, but failed to act, Xinhua reported.
"Seventeen innocent people are dead and acknowledging a mistake isn't going to cut it," Scott said. "An apology will never bring these 17 Floridians back to life or comfort the families who are in pain."
"The FBI Director needs to resign," the Governor said.
The FBI said earlier that a person close to the shooter called the agency's tip line on January 5 to warn about "Cruz's gun ownership, desire to kill people, erratic behaviour, and disturbing social media posts, as well as the potential of him conducting a school shooting."
The agency said that protocols were not followed for the tip, therefore, the information was not provided to local authorities, and no further investigation was conducted at that time.
FBI Director Christopher Wray said that they are "still investigating the facts."
World
The troubled teen, authorities say, who killed 17 people at a Florida high school, excelled in an air-rifle marksmanship program supported by a grant from the NRA
World
Voter registration activists fanned out among young Americans who marched for tighter gun laws on Saturday, signing up thousands of first-time voters who vowed to eject lawmakers who oppose gun controls.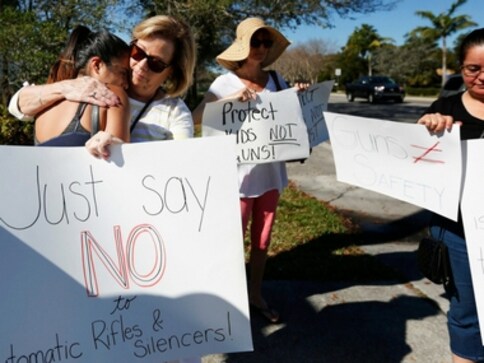 World
The mass shooting at a Florida high school that left 17 people dead has sparked calls for walkouts, sit-ins and other actions on school campuses across the United States aimed at pushing lawmakers to pass tougher gun laws.