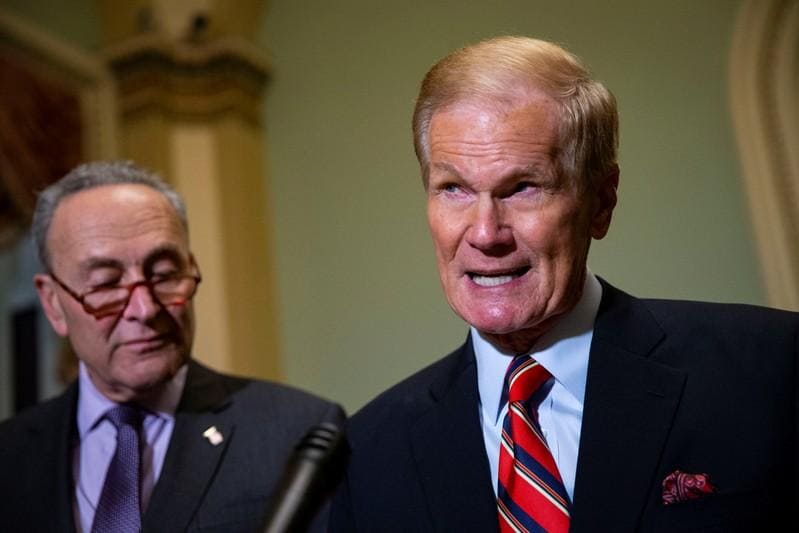 By Letitia Stein
TAMPA, Fla. (Reuters) - Democratic U.S. Senator Bill Nelson's campaign on Thursday said it had sued Florida election officials seeking a hand recount of ballots in liberal-leaning Palm Beach County in his re-election contest against Republican Rick Scott.
State election officials earlier completed an electronic recount of ballots, triggered under state law after initial Nov. 6 election tallies showed Scott with a narrow margin of victory over the three-term incumbent. The Florida Secretary of State's office did not immediately release updated election results after the recount.
"We have sued Palm Beach County and the Florida Sec of State to require a hand count of all ballots in the county due to systematic machine failure during the machine recount," Nelson's attorney, Marc Elias, said on Twitter on Thursday.
The recount concluded after U.S. District Judge Mark Walker in Tallahassee, Florida, cleared the way to include ballots from as many as 5,000 people across the state who submitted ballots by mail that were rejected by election officials. A Georgia federal judge issued a similar ruling as that state worked to resolve a close governor's race.
In Florida, the recount of close races and attendant legal disputes over the validity of votes have stirred memories of the 2000 U.S. presidential election, when the U.S. Supreme Court stopped an ongoing recount in the state and sent George W. Bush to the White House.
Initial counts before the recount showed Florida's outgoing governor, Republican Rick Scott, leading in his bid to unseat U.S. Senator Bill Nelson. Republican Ron DeSantis led Democrat Andrew Gillum in the governor's race.
The Scott campaign in a statement said its margin of victory had increased moderately as a result of the recount and called on Nelson to concede.
In both races the initial margins of victory were below the 0.5 percentage point threshold at which state law requires a recount of ballots. If the margin is below 0.25 percent by the end of the electronic recount, a second round of recounting by hand will follow.
(Reporting by Letitia Stein, writing by Scott Malone; Editing by Cynthia Osterman; Editing by Frances Kerry and Cynthia Osterman)
This story has not been edited by Firstpost staff and is generated by auto-feed.
Firstpost is now on WhatsApp. For the latest analysis, commentary and news updates, sign up for our WhatsApp services. Just go to Firstpost.com/Whatsapp and hit the Subscribe button.
Updated Date: Nov 16, 2018 04:05:55 IST