First, censure, now the red carpet: Decoding what could be Modi's fourth US visit
If Narendra Modi does go to the US, what may well emerge is a roadmap that the next president can follow to push New Delhi-Washington ties further forward
Prime Minister Narendra Modi is expected to visit the US on 7 and 8 June, a bipartisan group of four top American lawmakers said on Wednesday and asked the Speaker of the House of Representatives, Paul Ryan, to invite him for a joint meeting of the Congress. If he does make the visit, it will be his first bilateral state visit — following a visit to the UN General Assembly in 2014, Silicon Valley in 2015 and the Nuclear Security Summit earlier this year — and his fourth in total after a little over two years in office.
However, there has been no official announcement from either the White House or the Prime Minister's Office in New Delhi.
"Given the depth of our relationship with India across a range of areas — defence, humanitarian and disaster relief, space cooperation, conservation, and innovation, — we believe this is an ideal opportunity for the Congress to hear directly from the Prime Minister," Congressmen Ed Royce, Eliot Engel, George Holding and Ami Bera said in a letter (embedded at the end of this article) to Ryan.
Royce is chairman of the powerful House Foreign Affairs Committee and Engel is its ranking member. Holding and Bera are co-chairs of the Congressional Caucus on India and Indian Americans.
It's worth bearing in mind that at the time of writing this piece, neither Ryan nor Modi have publicly conveyed anything that could be construed as a response in the affirmative.
Nevertheless, let's assume Ryan green-lights the proposal and Modi accepts the invitation.
This wouldn't be the first time he would be addressing another country's House of elected representatives — Australia, Bhutan, Nepal and the UK come to mind. And whether his address hits on such topics as malnutrition, the girl child, climate change, sanitation, terrorism, international cooperation or sportsman spirit as a lubricant for the health of society, the real action is likely to take place away from Capitol Hill.
Before going any deeper, it's instructive to look at the timing of the visit (were it to fructify).
By the time 7 June rolls around, the five Assembly elections across India will have been completed and the results will have been declared. Depending on the performance of the BJP, exercises in damage limitation or celebration will be underway — neither of which will require Modi's continuous presence. At the same time in the US, all but one presidential primary — District of Columbia on 14 June — will have been completed. The identities of both Democratic and Republican presidential candidates are likely to be clear by then — whether it's Donald Trump versus Hillary Clinton or Bernie Sanders versus Ted Cruz, or some other combination for the main event.
In other words, both Modi and President Barack Obama will be fairly free to sit and discuss matters of bilateral importance without much distraction.
It has however, been widely noted that with Obama set to step down as President on 20 January, he is in the 'lame duck' phase of his presidency and this visit will be fairly meaningless. But as a report in The Economic Times points out, the foundation for a reboot of India-US ties (following India's nuclear tests in 1998) was laid when the then prime minister Atal Bihari Vajpayee paid the then president Bill Clinton a 'ceremonial visit'.
In the decade-and-a-half since, George W Bush and Obama on one hand, and Manmohan Singh and Modi on the other have turned the India-US relationship into one of the most important ones for both countries.
For India
One of the most visible indicators of the deepening of relations with the US is the growing value of bilateral trade. Having crossed the $100 billion barrier in 2015, US Ambassador to India Richard Verma remarked that bilateral trade could even cross the $500 billion barrier at some point. Meanwhile, others are throwing around the $1 trillion figure as one that is achievable by 2030. With an eye on trade, US think-tank the Atlantic Council on Tuesday, launched an India-US trade initiative aimed to strengthen economic ties and meet the two countries' bilateral trade target of $500 billion.
Trade apart, New Delhi and Washington have enhanced cooperation in defence, nuclear technology and maritime security.
The Logistics Supply Agreement signed during Secretary of Defence Ashton Carter's India visit last week is another step (after the renewal of the Defence Technology and Trade Initiative in December last year) towards more robust defence cooperation. The expansion of naval exercises — turning the annual, usually bilateral, MALABAR drill into a trilateral exercise that includes Japan — is another step in this direction (more on this later).
Certainly, Pakistan remains a thorn in India's side, particularly Islamabad's enduring closeness to Washington. However, in recent times, the US seems to be making the sort of noises that indicate that the carte blanche Pakistan was extended in the past, might be being withdrawn, albeit, slowly.
For the US
Having withdrawn from Iraq and in the process of drawing down from Afghanistan, the US was probably under the impression that its engagement with the region was coming to a close.
Then came the Islamic State, and all bets were off.
Washington once again finds itself engaged (whether overtly or covertly) in three areas: West Asia, Russia (although a thaw seems to be setting in) and East Asia, particularly the South China Sea. It is in the third of these theatres that New Delhi's support will be invaluable to Washington. China's growing belligerence in the region has unsettled several US allies including the Philippines and Vietnam. Amidst all the sabre-rattling, the US realises it cannot afford being drawn into a conflict with China.
That's where India comes in as a useful partner. It features among the world's largest navies and cooperation with the American, Japanese and Australian navies would provide formidable sea power to counter China's expansion in the South China Sea, and ensure freedom of navigation through those waters.
Which is exactly what seems to have been expressed at the Raisina Dialogue in March this year. US Pacific Command commander Admiral Harry B. Harris Jr seemed to revive Japanese prime minister Shinzo Abe's idea of a strategic quadrilateral by saying, "By being ambitious, India, Japan, Australia and the United States — and so many other like-minded nations — can aspire to operate anywhere on the high seas and the air space above them."
What to expect from the visit
Assuming, once again, that the visit does go ahead, there will likely be a Modi-Obama joint statement issued that will list various new initiatives for cooperation — cultural, intellectual, scientific etc — and certain areas where cooperation can be enhanced. It's worth recalling at this point, that the first state visit hosted by Obama was that of an Indian prime minister (Singh) and the last one — in all probability — will also be by an Indian prime minister. Given that Obama will have just a few months left in office, it is unlikely that any major deals will be inked.
However, what may well emerge is a roadmap that the next President of the United States can follow to push New Delhi-Washington ties further forward. In Modi, the US has identified a pragmatic and proactive partner with whom to do business, and hitting the ground running with him will be a priority for the next US president. Ryan will be acutely aware of this fact as also India's growing space in the American mind vis-à-vis the bigger scheme of things, and an invitation to the prime minister appears to be on the cards.
And who knows, Modi might even take the time to hold another public address, and even swing by Canada and drop in on Prime Minister Justin Trudeau.
Read the letter from the four lawmakers to Ryan below:
With inputs from PTI
World
Narendra Modi and Joe Biden expressed "deep pride" and appreciation about their nations' close cooperation to fight the deadly COVID-19 pandemic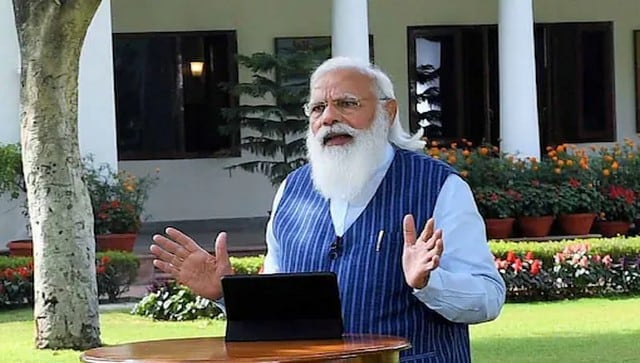 India
The reshuffle comes in less than a week after Prime Minister Modi last Saturday met secretaries of all ministries and departments to speak about required reforms in government processes.
World
Narendra Modi in US LIVE Updates: Prime Minister Narendra Modi and his Japanese counterpart Yoshihide Suga met on Thursday to discuss ways to further cement the bilateral strategic ties