First swastikas, then synagogue attack: U.S. no safe haven for Israeli family
JERUSALEM (Reuters) - For one family caught up in the California synagogue shooting, a move from Israel to the United States in search of a safer life has been a journey 'from fire to fire'. Israel Dahan and three of his five children were at Sabbath services at Congregation Chabad in Poway, near San Diego, on Saturday when a gunman opened fire, killing a woman and wounding three others in what local authorities deemed a hate crime. Dahan, speaking on Israel Radio on Sunday, said his family was no stranger to violence, having lived in Israel in Sderot, a town on the Gaza border that has been a frequent target of Palestinian rocket attacks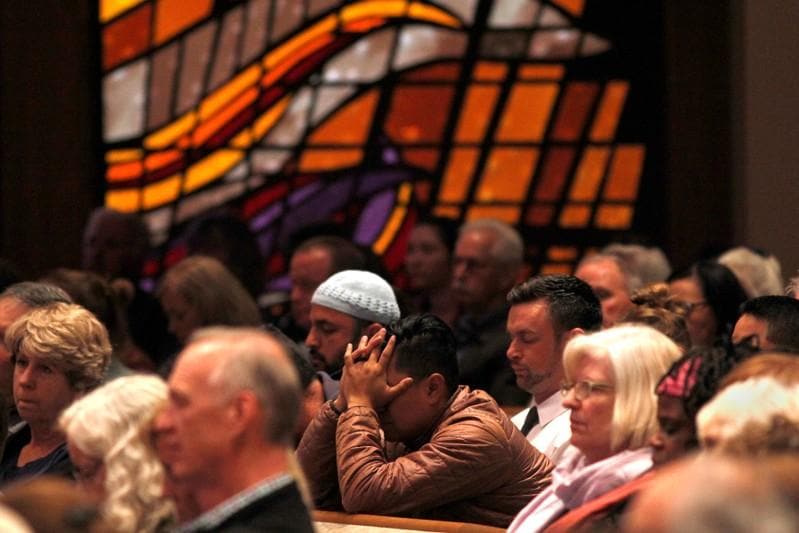 JERUSALEM (Reuters) - For one family caught up in the California synagogue shooting, a move from Israel to the United States in search of a safer life has been a journey "from fire to fire".
Israel Dahan and three of his five children were at Sabbath services at Congregation Chabad in Poway, near San Diego, on Saturday when a gunman opened fire, killing a woman and wounding three others in what local authorities deemed a hate crime.
Dahan, speaking on Israel Radio on Sunday, said his family was no stranger to violence, having lived in Israel in Sderot, a town on the Gaza border that has been a frequent target of Palestinian rocket attacks.
"We came from fire to fire," he said. "We left Sderot because of the shelling. My house was hit several times. My mother's house, my mother-in-law's house were hit several times. I was also wounded several times ... we wanted to move far away."
Dahan's eight-year-old daughter, Noya, was wounded in the synagogue shooting, on the last day of Passover, as was his brother-in-law.
"I began to shout that people should flee," Dahan said about the initial moments of the attack. "Thank God his gun jammed."
Authorities identified the alleged gunman as a 19-year-old San Diego resident and said his weapon apparently malfunctioned after the first rounds he fired.
Dahan said his family had been living in Poway for the past three years - and that it was not the first time they had been the victim of a hate crime.
In 2015, the Dahans were residing in Mira Mesa, about 10 miles (16 km) from Poway, when swastikas were daubed on their house and vehicle during the Passover holiday.
A local news report at the time said the family moved to the United States in 2014 seeking a safer environment for their children.
"But that's life," Dahan said, recalling the swastika incident and how he had briefly locked eyes with the synagogue assailant.
Asked whether he regretted their move from Israel, he said: "No. We love America ... It can happen anywhere - in any mall, and in any hospital and in any family gathering and in any place. We are strong. We were born to be strong."
(Writing by Jeffrey Heller; Editing by Dale Hudson)
This story has not been edited by Firstpost staff and is generated by auto-feed.
Business
By Pete Schroeder WASHINGTON (Reuters) - JPMorgan Chase & Co will resume making political donations to U.S. lawmakers but will not give to Republican members of Congress who voted to overturn President Joe Biden's election victory, according to an internal memo on Friday seen by Reuters. The bank was among many corporations that paused political giving following the deadly Jan
Business
(Reuters) - Fintech company Square Inc is considering making a hardware wallet for bitcoin, Chief Executive Officer Jack Dorsey said in a tweet https://twitter.com/jack/status/1400839179513339905 on Friday. As bitcoin and other crypto-currencies have gained in popularity, many companies have emerged to serve a growing need to protect these assets from online theft. Bitcoin wallets can be stored offline or online at cryptocurrency exchanges, venues where bitcoin can be bought and sold for traditional currencies or other virtual coins.
Business
By Foo Yun Chee BRUSSELS (Reuters) -The European Commission on Friday defined the scope of revised copyright rules adopted last year following criticism from governments, including France and Poland, but EU broadcasters and internet activists said there was a danger of censorship. The revamped copyright directive, the first overhaul in two decades, aimed to provide fair compensation for the bloc's $1 trillion creative industry and its 11.7 million employees. A central provision, Article 17, backed by the creative industry, would force Google-owned YouTube, Facebook's Instagram and other sharing platforms to install filters to prevent users from uploading copyrighted materials