Britain will have its first female prime minister since Margaret Thatcher after Theresa May and Andrea Leadsom made the shortlist on Thursday to be the leader who will guide the country out of the EU.
"Who'll be the new Maggie?" asked the front page of the Daily Mail newspaper after cabinet veteran May won 199 votes from the 329 ruling Conservative lawmakers who took part in the ballot for next party leader and prime minister.
Junior energy minister Leadsom, who was only elected to parliament in 2010 and is a virtual unknown to the wider British public, got 84 votes.
The new prime minister will be announced on 9 September and will immediately have the task of extricating Britain from its 43-year EU membership following the seismic vote in last month's referendum after a bitterly divisive campaign.
May enjoys higher support among lawmakers, but the vote will now be decided by the Conservative party's 150,000 ordinary members who may want a leader who supported Britain leaving the European Union.
"We need proven leadership to negotiate the best deals for leaving the European Union," said May, who was a low-key figure on the "Remain" side, outside the parliament after the announcement.
"This vote shows that the Conservative Party can come together and under my leadership it will," she said. Leadsom, who rose to prominence in the campaign to leave the EU and has argued for a rapid exit, played down the economic downsides of leaving the 28-member bloc.
"I believe we have a great future ahead of us," Leadsom said in a speech in London to a room packed with supporters. "We need to unite. We need to be positive."
The third challenger, justice minister Michael Gove, who announced his surprise bid last week after initially supporting former mayor of London Boris Johnson for the post, was rejected after winning just 46 votes following accusations of treachery.
Leadsom has received the endorsement of UK Independence Party's Nigel Farage and Johnson, who was the favourite to succeed Cameron until last week. "Important the next Prime Minister is a Brexiteer - she has my backing," wrote Farage on Twitter, after announcing on Monday that he was stepping down as the leader of the Ukip.
May has said she has no plans to invoke Article 50 — the formal procedure for leaving the EU — before the end of the year, while Leadsom has said she wants to do so as quickly as possible. EU leaders have warned against dragging out the process, a point pressed by Christine Lagarde, managing director of the International Monetary Fund (IMF), in an interview with AFP in Washington.
"The key word about this Brexit affair is uncertainty and the longer the uncertainty, the higher the risk," she said.
"The sooner they can resolve their timeline and the terms of their departure the better for all. It needs to be predictable as soon as possible."
Some Conservative MPs agree — about 30 have signed a letter organised by former party chairman Grant Shapps calling for a new leader to be installed by the end of July.
The shock result of the 23 June referendum prompted Cameron to resign and sent global stock markets and the value of the pound plunging. London's FTSE 100 index has recovered but the Bank of England warned this week that the feared risks to financial stability were starting to materialise.
Aberdeen Asset Management on Thursday became the seventh financial group to order a temporary suspension on redemptions from UK property funds after investors rushed to withdraw investments. Lagarde said Brexit was a "major downside risk" to the world but played down the likelihood of a global recession, saying: "The immediate effects will be on the UK."
May, who has run the Home Office since 2010, is a well-known national figure known for talking tough on immigration. Leadsom, who has never served in the cabinet, secured a surprise boost in support following a sound performance in EU referendum debates. In a speech in London to a room packed with supporters, Leadsom said her focus would be on "the continued success of the UK economy". "Prosperity should be our goal, not austerity," the 53-year-old said. She dismissed predictions that Brexit could spell economic disaster, and said the fall in the pound to a 31-year low against the dollar was good for exports. In a round of television interviews, she dismissed reports that she had exaggerated her experience in the financial sector before becoming an MP in 2010.
Theresa May: Tough minister, unifying post-Brexit PM?
Britain's tough-talking interior minister Theresa May has avoided the Conservative party in-fighting that dominated the EU referendum campaign, making her a strong contender to replace David Cameron as premier.
May is the current favourite against junior energy minister Andrea Leadsom, who is virtually unknown to the wider public, and has emphasised her experience and her capacity to bring the party together. Although a long-standing eurosceptic and hardliner on immigration, May declared herself officially in favour of Britain staying in the European Union — but kept a low profile during the divisive campaign.
The 59-year-old trod a fine line between remaining loyal to Cameron and the "Remain" campaign, while appeasing Conservative Party members who wanted to quit the EU and clamp down on immigration.
"Following last week's referendum, our country needs strong leadership to steer us through this period of economic and political uncertainty," May said in launching her bid last week. "We need a bold, new positive vision for the future of our country," said May, while stressing there was no going back on the vote to leave the European Union. "Brexit means Brexit," she said, adding that she does not plan to invoke Article 50 — the formal procedure for leaving — before the end of the year.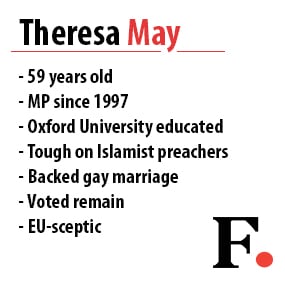 Many Conservative lawmakers agree. She received 199 of the 329 votes cast in a ballot by Conservative MPs on Thursday, far ahead of the 84 for Leadsom and the choice will now be up to Conservative Party members.
Many of the party's MPs and ministers think only May can unite warring party factions after Britain voted by 52 percent in favour of leaving the EU. May's stern demeanour and wardrobe of austere suits have drawn comparisons to party heroine Margaret Thatcher.
In some unguarded comments broadcast by Sky News, senior Conservative MP Ken Clarke was caught speaking to a former cabinet colleague about May. "Theresa's a bloody difficult woman but you and I worked with Margaret Thatcher," a rumpled and pink-faced Clarke said. "I get on all right with her and she is good. She's too narrow on her department.... She doesn't know much about foreign affairs," he added.
Britain's media have long salivated over her extensive footwear collection — not least since she wore leopard-print kitten heels at the Tory party conference in 2002. In a television interview on Sunday, she has also revealed she owns more than 100 cook books.
After studying geography at Oxford University and working briefly in the Bank of England, May's political career began when she was elected a councillor in London in 1986. She became an MP in 1997 and the Conservative party's first chairwoman in 2002, breaking a long male tradition. While in opposition, May held various shadow cabinet positions.
Cameron, the fourth party leader she has served under, promoted May to home secretary following his 2010 election victory, a role she kept after his re-election in 2015. Over her six years in the role, May has built a reputation for taking a firm line on Islamic preachers and also came out in support of gay marriage. May says she will "strive to make Britain a country that works for everyone — regardless of who they are and regardless of where they're from."
She has been married to banker Philip May since 1980, and the couple have no children. May lists her hobbies as walking and cooking.
Andrea Leadsom: Anti-EU minister with City background
Andrea Leadsom, a junior minister with a financial industry background who compares herself to Margaret Thatcher, is one of the two candidates left in the race for Britain's premiership on Thursday.
While Leadsom is barely known among ordinary Britons, her pro-Brexit and City of London credentials have won respect among some Conservative MPs and party members who will choose the next prime minister. She has also been attacked by former colleagues for allegedly exaggerating her banking and investment fund background and for her stance on gay marriage, which she has said she "does not like".
She is up against interior minister Theresa May, who campaigned for Britain to stay in the European Union but now says she will lead the country out.
She was only elected to parliament in 2010 and has only held positions as economic secretary to the Treasury and now energy minister — both junior positions that mean she has never been in the cabinet. The minister emerged as the leading anti-EU candidate after former London mayor Boris Johnson pulled out and his former ally Michael Gove lost support after being accused of knifing Johnson.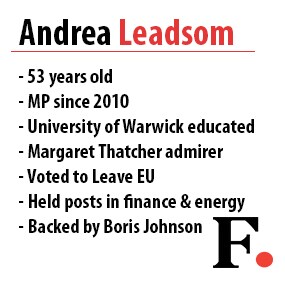 Johnson is now supporting Leadsom, along with many leading Conservative eurosceptics and even some senior figures in the anti-EU UK Independence Party, usually viewed with deep suspicion by Tories. "The decision we took on June 23 was a great moment in history," she said at her campaign launch in July. "We will have our freedom back."
She or May would be the first female prime minister and Conservative leader since Margaret Thatcher, who stepped down in 1990.
The 53-year-old is keen to encourage the Thatcher comparison. "As a person, she was always kind and courteous and as a leader she was steely and determined," she told the Sunday Telegraph.
"I think that's an ideal combination — and I do like to think that's where I am." A married mother-of-three and committed Christian, Leadsom previously worked at Barclays bank and Invesco Perpetual investment fund before becoming an MP.
She has long campaigned for reform of the EU, setting up a pressure group in 2011 whose mission statement was to explore options for giving British citizens "more control over their own lives". As leader, she says she would start the formal process for leaving the European Union on taking office in September and that Britain could be out as early as next year. She wants to opt out of freedom of movement but says that the rights of EU nationals currently living in Britain should be protected.
Leadsom has not proved universally popular during her government career — some Treasury officials have reportedly said she was a "disaster" during her time as City minister. The Times has also reported that a company run by her husband and owned by her brother-in-law had made use of a type of trust which can help avoid tax and is controversial, though not illegal.
She insists she has never evaded tax and has always declared all of her income.
Firstpost is now on WhatsApp. For the latest analysis, commentary and news updates, sign up for our WhatsApp services. Just go to Firstpost.com/Whatsapp and hit the Subscribe button.
Updated Date: Jul 08, 2016 10:33 AM