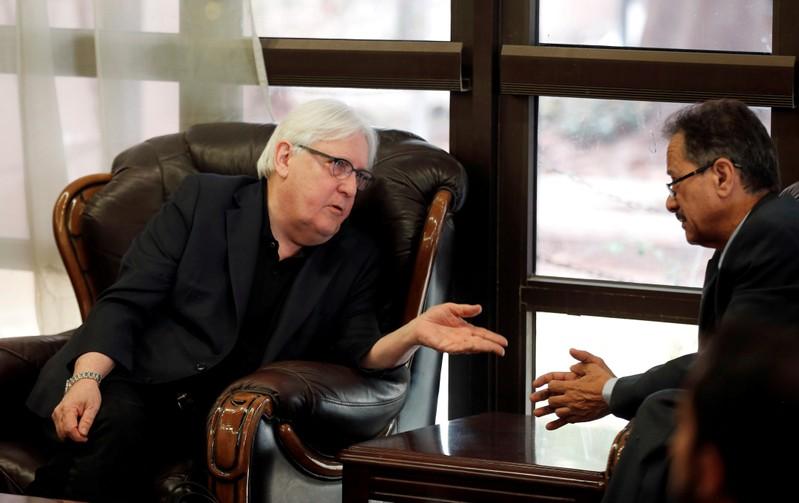 By Michelle Nichols
UNITED NATIONS (Reuters) - Yemen's warring parties have given "firm assurances" that they are committed to attending peace talks to be convened shortly in Sweden, U.N. Yemen envoy Martin Griffiths said on Friday, and pledged to escort the Houthi delegation from Sanaa if needed.
"This is a crucial moment for Yemen. I have received firm assurances from the leadership of the Yemeni parties ... that they are committed to attending these consultations. I believe they are genuine," Griffiths told the U.N. Security Council.
He is trying to broker peace in the more than three-year-old conflict seen as a proxy war between Saudi Arabia and Iran. A Saudi-led military coalition intervened in Yemen in 2015, backing government forces fighting the Iran-allied Houthi group.
U.N. food chief David Beasley told reporters earlier on Friday that the situation in Yemen was "a catastrophe."
The Houthis now rule most of Yemen's population, while the exiled government controls a section of the south. An attempt to hold peace talks in Geneva in September was abandoned after three days of waiting for the Houthi delegation.
"I will go to Sanaa next week ... I will also be happy to travel myself, if necessary, with the delegation to the consultations," Griffiths said. He is aiming to convene talks before the end of the year.
The Houthis had said in September that they wanted U.N. guarantees their plane would not have to stop in Djibouti for inspection by the Saudi-led coalition. They also wanted the plane to evacuate some of their wounded to Oman or Europe.
Griffith said he believed he was close to resolving preparatory issues to allow the talks in Sweden to happen.
"I am grateful to the coalition for agreeing our proposed logistical arrangements, and to the coalition and Oman for their agreement to facilitate the medical evacuation of some injured Yemenis out of Sanaa," he told the 15-member Security Council.
Griffiths also said the parties were about to conclude an agreement on the exchange of prisoners and detainees.
(Reporting by Michelle Nichols; Editing by James Dalgleish)
This story has not been edited by Firstpost staff and is generated by auto-feed.
Firstpost is now on WhatsApp. For the latest analysis, commentary and news updates, sign up for our WhatsApp services. Just go to Firstpost.com/Whatsapp and hit the Subscribe button.
Updated Date: Nov 17, 2018 03:05:25 IST