Fire destroys homes of thousands in Rohingya refugee camps - UNHCR
(Reuters) - A huge fire swept through the Rohingya refugee camps in southern Bangladesh in the early hours of Thursday, the United Nations said, destroying homes belonging to thousands of people.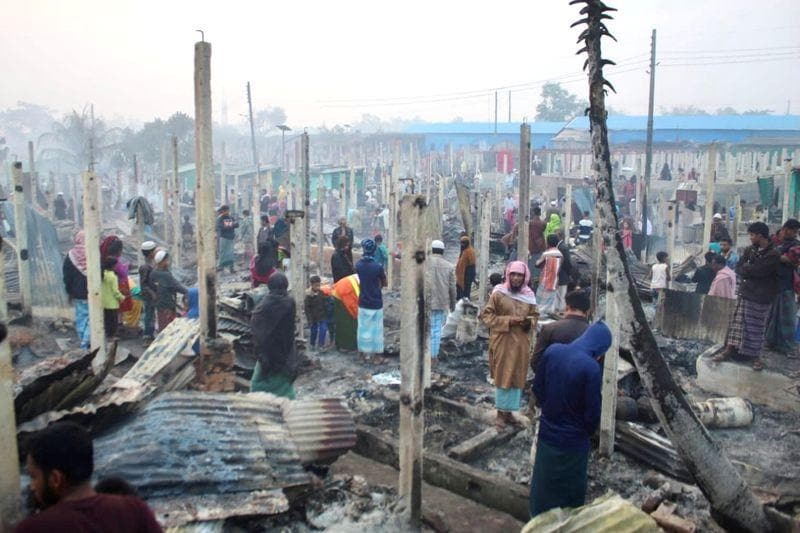 (Reuters) - A huge fire swept through the Rohingya refugee camps in southern Bangladesh in the early hours of Thursday, the United Nations said, destroying homes belonging to thousands of people.
The U.N. Refugee Agency (UNHCR) said more than 550 shelters home to around 3,500 people were either totally or partially destroyed in the blaze, as well as 150 shops and a facility belonging to a non-profit organization.
Photographs and video provided to Reuters by a Rohingya refugee in Nayapara Camp showed families including children, sifting through charred corrugated iron sheets to see if they could salvage anything from their still smouldering homes. But little remained of the camp, which had stood for decades, aside from concrete poles and the husks of a few trees.
"E block is completely burned down," said the refugee, Mohammed Arakani. "There is nothing left. There was nothing saved. Everything is burned down."
"Everyone is crying," he said. "They lost all their belongings. They lost everything, completely burned down, they lost all their goods."
UNHCR said it was providing shelter, materials, winter clothes, hot meals, and medical care for the refugees displaced from the camp in the Cox's Bazar district, a sliver of land bordering Myanmar in southeastern Bangladesh.
"Security experts are liaising with the authorities to investigate on the cause of fire," the agency said, adding that no casualties were reported.
Onno van Manen, Save the Children's Country Director in Bangladesh, called the fire "another devastating blow for the Rohingya people who have endured unspeakable hardship for years".
Mohammed Shamsud Douza, the deputy Bangladesh government official in charge of refugees, said the fire service spent two hours putting out the blaze, but was hampered by the explosion of gas cylinders inside homes.
The Bangladesh government has moved several thousand Rohingya to a remote island in recent weeks, despite protests from human rights groups who say some of the relocations were forced, allegations denied by authorities.
More than a million Rohingya live in the mainland camps in southern Bangladesh, the vast majority having fled Myanmar in 2017 from a military-led crackdown that U.N investigators said was executed with "genocidal intent", charges Myanmar denies.
The fire destroyed part of a camp inhabited by Rohingya who fled Myanmar after an earlier military campaign, according to refugees.
(Reporting by Poppy Elena McPherson and Ruma Paul; Editing by Simon Cameron-Moore)
This story has not been edited by Firstpost staff and is generated by auto-feed.
Find latest and upcoming tech gadgets online on Tech2 Gadgets. Get technology news, gadgets reviews & ratings. Popular gadgets including laptop, tablet and mobile specifications, features, prices, comparison.
Business
By Uday Sampath Kumar (Reuters) - Target Corp reported a 17.2% rise in comparable sales for the holiday season on Wednesday as its online sales more than doubled, thanks to faster deliveries and higher demand for home goods, electronics and beauty products.
Business
By Medha Singh and Devik Jain (Reuters) - The S&P 500 and the Nasdaq rose in choppy trading on Wednesday as Intel shares jumped thanks to a change in management while broader sentiment was muted after a recent run to record highs. Intel said it would replace Chief Executive Officer Bob Swan with VMware Inc CEO Pat Gelsinger next month
Business
By Danny Ramos LA PAZ (Reuters) - The Bolivian government said on Wednesday it had signed a contract with India's Serum Institute for the supply of 5 million doses of AstraZeneca's COVID-19 vaccine. President Luis Arce said that combined with a recent deal to buy 5.2 million Sputnik V vaccine doses from Russia, Bolivia now expected to be able to inoculate all of its vaccinable population. Both vaccines require two doses to be given, meaning they would be used to inoculate a total of 5.1 million people from Bolivia's 11.51 million-strong population.