Few turn out for French 'yellow vest' protests, driver dies at road block
By Johanna Decorse and Emmanuel Jarry TOULOUSE/PARIS, France (Reuters) - France's anti-government 'yellow vest' protest was losing steam on Saturday but caused traffic disruption through road blocks across the country, leading to the death of a 10th person since the start of the movement last month. The turnout on the streets of Paris and other cities was smaller than in previous weekends, authorities said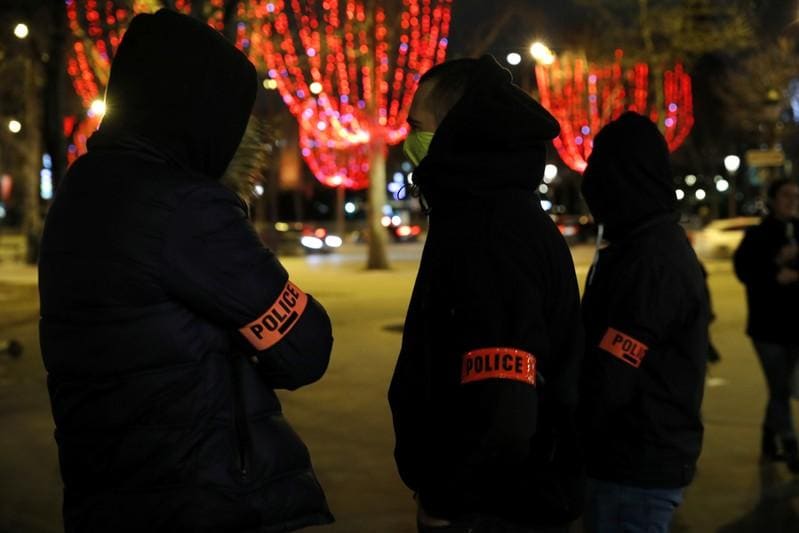 By Johanna Decorse and Emmanuel Jarry
TOULOUSE/PARIS, France (Reuters) - France's anti-government "yellow vest" protest was losing steam on Saturday but caused traffic disruption through road blocks across the country, leading to the death of a 10th person since the start of the movement last month.
The turnout on the streets of Paris and other cities was smaller than in previous weekends, authorities said. No major damage or clashes had been reported between police and protesters as of mid-afternoon.
About 23,800 people were demonstrating at 1300 GMT, including fewer than 1,000 in Paris, the interior ministry said. This was down from a week ago at the same time when there were 33,500 protesters out on the streets, 2,200 of which were in Paris.
Authorities had expected a march in Versailles, whose castle is a symbol of French state power and one of Europe's top tourist attractions.
But few "gilets jaunes" (yellow vest) protesters - so-called after the high-visibility jackets French motorists must carry in their cars - showed up in the formal royal city.
Dispersed groups of protesters were out on the streets of Paris near tourist landmarks such as the Sacre Coeur Basilica and the Galeries Lafayette department stores, singing La Marseillaise and calling for President Emmanuel Macron's resignation.
Attendance was on the rise, however, in Lyon and Bordeaux, according to Reuters witnesses. Protesters also managed to block some of the big highways, including one leading to Spain.
Late on Friday, a 36-year-old man died in Perpignan, southern France, when his car hit a truck at a road block erected by protesters, raising the death toll linked to the demonstrations to 10.
On Saturday, police fired tear gas against protesters who gathered near Macron's villa in the chic resort of Le Touquet in northern France.
ROAD ACCIDENTS
In the French capital, the police arrested 109 protesters, seven of whom were held in custody.
Three weeks ago the protests in Paris turned into some of the worst unrest seen in the capital since the student-led civil unrest of 1968. Cars were set on fire, bank and insurance offices' windows smashed and street furniture was vandalised.
Of the ten deaths linked to the protests, most have been the result of road accidents.
The "yellow vest" protesters began in mid-November to rally against fuel tax increases and subsequently against the wider liberal economic reform policy of Macron, who made tax and salary concessions earlier this month.
But the movement has gradually lost steam in recent weeks.
Since he caved in to protesters in a TV address on Dec 10, Macron, who turned 41 on Friday, has largely kept out of the public eye, staying inside the Elysee palace for what his press team called internal meetings.
A recent poll showed France's far-right party National Rally, formerly known as the National Front, confirmed it was so far the biggest political beneficiary of the protests.
(Reporting by Johanna Decorse in Toulouse and Emmanuel Jarry in Paris; Additional reporting by Christian Hartmann, Clotaire Achi, Pierre Savary, Gilbert Reilhac, Claude Canellas and Myriam Rivet; Writing by Mathieu Rosemain; Editing by Richard Balmforth)
This story has not been edited by Firstpost staff and is generated by auto-feed.
Find latest and upcoming tech gadgets online on Tech2 Gadgets. Get technology news, gadgets reviews & ratings. Popular gadgets including laptop, tablet and mobile specifications, features, prices, comparison.
Business
By Jessica Resnick-Ault NEW YORK (Reuters) - Oil prices strengthened on Wednesday, as OPEC and its allies were seen complying with a pact to cut oil supply in September, even as concerns loomed that recovery in fuel demand will be stalled by soaring global coronavirus cases. Early in the day crude was boosted by a bullish stock market. Even as equities whipsawed on pandemic worries, oil stayed higher, buoyed by expectations that OPEC could staunch a supply glut
Business
By Tina Bellon and C Nivedita (Reuters) - Tesla Inc will further cut the price of its Model S "Long Range" sedan in the United States to $69,420, the electric carmaker's chief executive, Elon Musk, announced in a tweet https://bit.ly/2H0JCP0 on Wednesday. The anticipated drop marks the second time this week Tesla has cut the price for the high-end sedan, following a 4% cut of the Model S's price in the United States on Tuesday to $71,990.
World
By Jeff Mason DES MOINES, Iowa (Reuters) - Under siege over his handling of the novel coronavirus pandemic, President Donald Trump on Wednesday cited what he said was his son's mild bout of the virus as a reason why American schools should reopen as soon as possible. Trump made the comment about his son, Barron, as the president swept into Iowa on a mission to shore up support in battleground states that he won in 2016 but is in danger of losing to Democrat Joe Biden barely three weeks before the election. First lady Melania Trump announced in a statement earlier in the day that the virus that struck both her and her husband had also infected their 14-year-old son