Fashion royalty descends on Elysee Palace as Emmanuel Macron mingles with designers to boost France's fashion sector
Designers from France's Jean Paul Gaultier to Lebanon's Elie Saab descended on the Elysee Palace for dinner on Monday, as Macron sought to further boost one of the country's most profitable sectors with an appeal to brands from far and wide.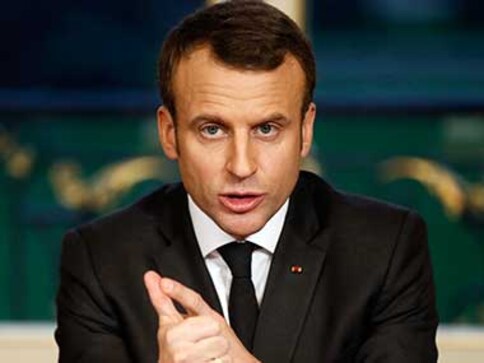 The gala, coinciding with Paris Fashion Week, was the latest effort by 40-year-old Macron, who came to power last May, to try and lure entrepreneurs with a pro-business agenda, weeks after a summit with business executives at Versailles.
"I want to say the same to those who create: choose France," Macron said, addressing guests such as Christian Louboutin, famed for his stiletto shoes, Vogue editor-in-chief Anna Wintour and Alexander McQueen designer Sarah Burton.
"My deepest wish is that creators, whether they come from India, Japan, Africa, the United States or China, will consider coming to (create) in our country, and that we get everything in order to make that work easy for them," he said.
Macron's wife Brigitte, also present, wore one of her favoured French brands, Louis Vuitton.
 Paris' catwalk shows and France's broader fashion industry are already huge motors for growth and jobs, at a time when the government is trying to bring down a stubbornly high unemployment rate of nearly 9 percent.
One study, by the French Fashion Institute, IFM, puts the sector ahead of autos and aerospace put together by annual sales, which hover at 150 billion euros ($184.8 billion) when including areas like jewels, watches, cosmetics and perfumes.
Yet some designers said public cheerleading was welcome, even if Paris-based luxury conglomerates like LVMH and Kering, owner of Saint Laurent, have already helped put France squarely on the map.
World
He already warned his supporters that they will likely be called racists for backing his anti-immigration and anti-Islam views that have already shaken up the election campaign.
World
Analysts have warned that none may be immediately capable of assuming the task, given the European Union's myriad challenges — ranging from internal disputes to the after-shocks of Brexit
World
Macron scolded the office of Prime Minister Boris Johnson for making public a letter that the British leader sent to the French leader on Thursday