Factbox: When England plans to further ease lockdown measures
LONDON (Reuters) - Prime Minister Boris Johnson set out on Friday a timetable for the further easing of lockdown measures in England, including plans for the return of audiences to sports stadia and the resumption of conferences. FROM AUGUST Leisure venues, including bowling alleys, skating rinks and casinos, will reopen from Aug. 1 and wedding receptions will be allowed for up to 30 people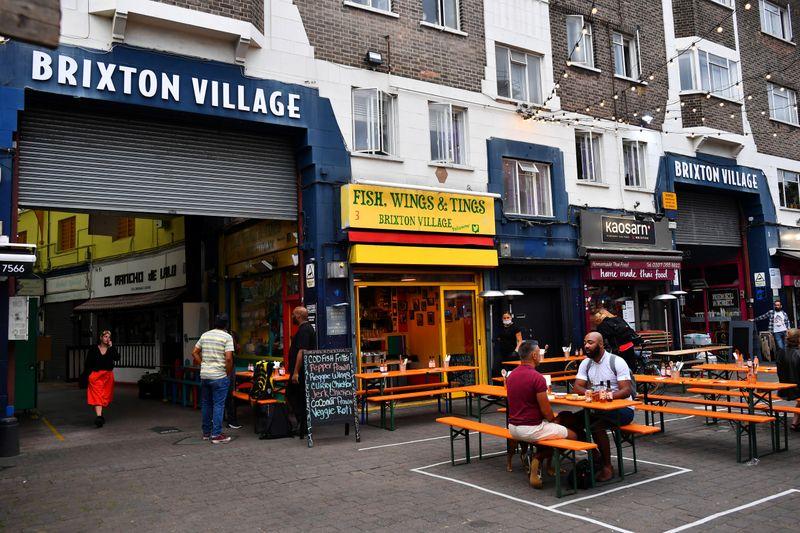 LONDON (Reuters) - Prime Minister Boris Johnson set out on Friday a timetable for the further easing of lockdown measures in England, including plans for the return of audiences to sports stadia and the resumption of conferences.
FROM AUGUST
Leisure venues, including bowling alleys, skating rinks and casinos, will reopen from Aug. 1 and wedding receptions will be allowed for up to 30 people. Nightclubs will remain closed.
Indoor performances to a live audience will also restart, subject to the success of pilots.
The government will also carry out pilots, beginning later this month, in different capacity venues, including sports stadia and business conferences.
The British government will stop telling people to work from home and give more discretion to employers to decide whether it's safe for staff to return to their workplaces.
Close contact services, such as facials and eyebrow threading, will be allowed to resume.
FROM SEPTEMBER
Schools, nurseries, and colleges will be open to children and young people on a full-time basis.
FROM OCTOBER
If prevalence remains around or below current levels into the autumn, the government will allow audiences to return to stadia, and conferences and other business events will restart.
RETURN TO NORMALITY?
If prevalence falls very significantly, the government will review the necessity for outstanding lockdown measures and allow a more significant return to normality, according to the published easing plan.
This would start with removing the need to distance people, while retaining limited mitigations, such as face coverings and plastic screens in shops.
"It is my strong and sincere hope that we will be able to review the outstanding restrictions and allow a more significant return to normality from November at the earliest – possibly in time for Christmas," Johnson said at a news conference on Friday.
(Compiled by Costas Pitas and William James; Editing by Alistair Smout and Barbara Lewis)
This story has not been edited by Firstpost staff and is generated by auto-feed.
World
BAGHDAD (Reuters) - Rockets hit near U.S. forces and contractors in Iraq on Wednesday, including an air base north of Baghdad and a military base at Baghdad International Airport, the Iraqi army and security officials said. The army reported at least three rockets hit Balad air base, where U.S
World
By Silvia Ognibene and Silvia Aloisi FLORENCE, Italy (Reuters) -Italian police have arrested a Chinese couple accused of running a leather goods business which exploited immigrant workers it employed to make handbags for a Burberry supplier, according to an arrest warrant seen by Reuters. Tax police in Florence said in a statement that the two Chinese nationals were arrested on Wednesday as part of an investigation into alleged labour exploitation and tax fraud and that restrictive measures had been imposed on two other family members, including a ban on them leaving Italy
World
WASHINGTON (Reuters) - The United States on Wednesday blacklisted four Nicaraguans, including a daughter of President Daniel Ortega, as Washington warned it would continue to use diplomatic and economic tools against members of the leftist government engaged in repression. The U.S. State Department called on Ortega to release detained presidential candidates as well as other civil society and opposition leaders arrested over the past week in what Washington called "an increasing wave of repression." "There are costs for those who are complicit in the regime's repression.