Factbox: U.S. election: key tallies, undetermined states, certification deadlines
(Reuters) - Democrat Joe Biden won the Nov. 3 U.S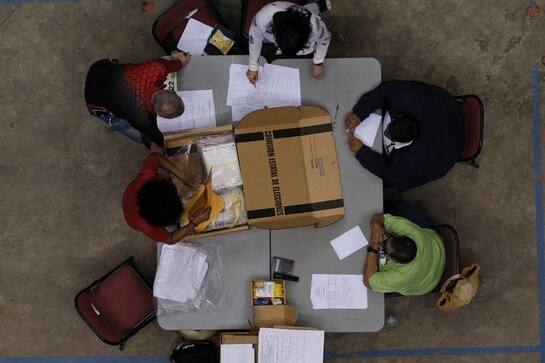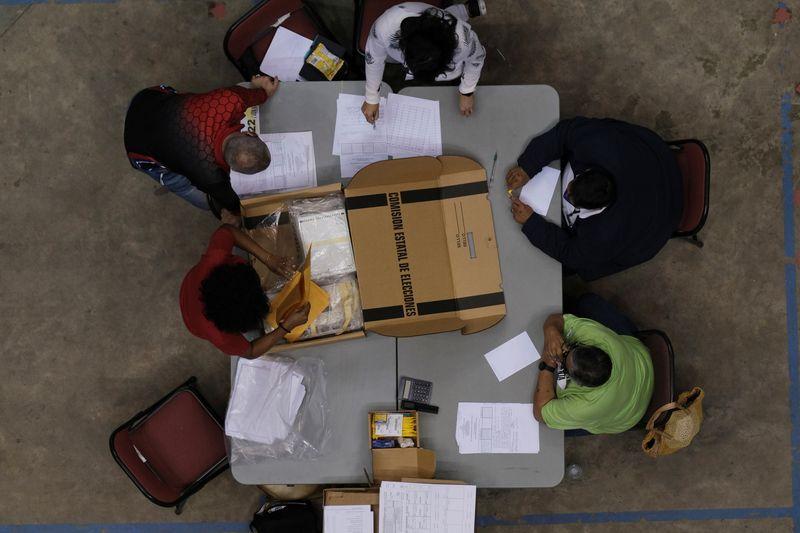 (Reuters) - Democrat Joe Biden won the Nov. 3 U.S. presidential election, beating President Donald Trump, after a longer-than-usual process of counting mail-in ballots that a record number of Americans relied on during the coronavirus
pandemic.
Biden surpassed the 270 Electoral College votes needed to clinch the presidency on Saturday. Edison Research, which compiles live election results for the National Election Pool media consortium, has yet to call three states: Arizona, Georgia and North Carolina.
In addition, vote counts are being challenged in a number of states, including Michigan and Pennsylvania, while the Trump campaign has signaled it may seek a recount in Wisconsin.
Here are some key tallies in the White House race, as of 5:10 p.m. EST (2210 GMT) on Thursday, as well as vote certification deadlines.
ELECTORAL COLLEGE: Biden 279; Trump 217
POPULAR VOTE: Biden - 77,748,381; Trump - 72,498,650 STATES REMAINING TO BE DECIDED:
Arizona (11 electoral votes) - Biden 49.4%, Trump 49.1% with 99% estimated vote tallied
Georgia (16 electoral votes) - Biden 49.5%, Trump 49.2% with 99% estimated vote tallied
North Carolina (15 electoral votes) - Biden 48.7%, Trump, 50.0% with 98% estimated vote tallied
VOTE CERTIFICATION DEADLINES:Arizona - Deadline is Nov. 30
Georgia - Deadline is Nov. 20
Michigan - Deadline is Nov. 23
North Carolina - Deadline is Nov. 24
Pennsylvania - Deadline is Nov. 23
Wisconsin - Deadline is Dec. 1
(Reporting by Doina Chiacu; Editing by Tim Ahmann)
This story has not been edited by Firstpost staff and is generated by auto-feed.
Find latest and upcoming tech gadgets online on Tech2 Gadgets. Get technology news, gadgets reviews & ratings. Popular gadgets including laptop, tablet and mobile specifications, features, prices, comparison.
World
ADDIS ABABA/NAIROBI (Reuters) - Ethiopia's military is fighting battle-hardened troops in the northern Tigray region, threatening stability around the Horn of Africa. Here are some facts on the forces: THE NATIONAL MILITARY: THE ENDF The Ethiopian National Defence Force (ENDF) has around 140,000 active personnel, the vast majority of them in the army, according to the Janes security data group. Its troops have been tested by Islamist militants in Somalia and rebel groups in Ethiopia's border regions, as well as a two-year border war with Eritrea followed by an 18-year standoff that only ended in 2018.
World
ISTANBUL (Reuters) - Turkey's President Tayyip Erdogan said on Tuesday that the government will impose tighter measures to fight with the coronavirus and impose partial lockdowns on weekends across the country. Speaking after the cabinet meeting, Erdogan also said all schools will remain closed until the year-end and all restaurants will only work by delivery
World
BRASILIA (Reuters) - Brazilian President Jair Bolsonaro said on Tuesday his government in coming days will name countries that are importing wood illegally extracted from the Amazon. Addressing a BRICS summit of big developing economies, Bolsonaro said Brazilian police had developed a way of tracking wood exported from the Amazon using isotopes.