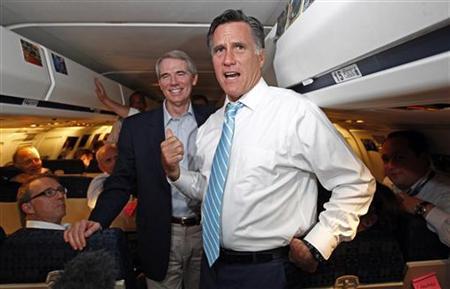 REUTERS - President Barack Obama and Republican rival Mitt Romney will spar over whose vision is best for boosting the U.S. economy and navigating thorny foreign issues among other topics during three debates next month ahead of the November 6 election.
Vice President Joe Biden will also face Republican vice-presidential nominee Paul Ryan, a Wisconsin congressman known mainly for his conservative budget proposals.
Below are key facts about the widely watched debates, which will each be moderated by a journalist and aired from 9 p.m. to 10:30 p.m. eastern time, according to the Commission on Presidential Debates (CPD), the non-partisan sponsor.
FIRST PRESIDENTIAL DEBATE
The first debate at the University of Denver in Colorado, a swing state, is set for October 3. Its moderator will be PBS NewsHour Executive Editor Jim Lehrer and the theme will be domestic policy.
VICE PRESIDENTIAL DEBATE
The only vice presidential debate will cover a wide swath of foreign and domestic issues and be held at Centre College in Danville, Kentucky on October 11. ABC's Senior Foreign Affairs Correspondent Martha Raddatz will moderate it.
SECOND PRESIDENTIAL DEBATE
The second presidential encounter will be in a "town meeting" format and voters will directly question the candidates on myriad issues, according to the CPD's website.
It will be held at Hofstra University, Hempstead, New York, which hosted the final debate between Obama and Arizona Senator John McCain in the 2008 election. It is set for October 16 and will be moderated by Candy Crowley, host of CNN's State of the Union show.
THIRD PRESIDENTIAL DEBATE
The final debate takes place at Lynn University in Boca Raton in the battleground state of Florida on October 22. Its focus will be on foreign policy and the moderator will be Bob Schieffer, host of CBS's Face The Nation show. (Reporting By Eric Johnson; Editing by Alistair Bell; Editing by David Brunnstrom)
Updated Date: Sep 17, 2012 01:45 AM