Factbox: International donors promise relief for Lebanon after blast
PARIS (Reuters) - World leaders pledged emergency relief on Sunday to help Lebanon after last week's massive blast destroyed swathes of Beirut and piled more pressure on the country's debt-laden economy. Here is a list of some of the main pledges made during a donor conference hosted by French President Emmanuel Macron. * EUROPEAN UNION - The EU pledged an additional 30 million euros ($35.36 million) in emergency support to Lebanon, the European Commission said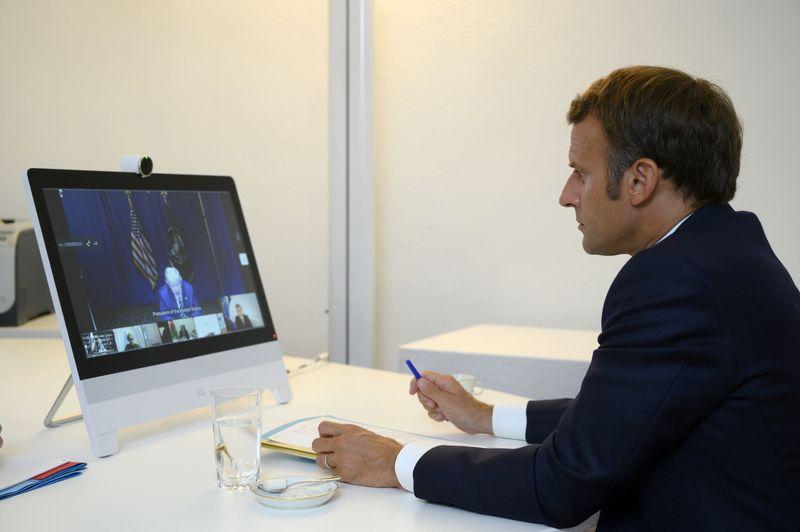 PARIS (Reuters) - World leaders pledged emergency relief on Sunday to help Lebanon after last week's massive blast destroyed swathes of Beirut and piled more pressure on the country's debt-laden economy.
Here is a list of some of the main pledges made during a donor conference hosted by French President Emmanuel Macron.
* EUROPEAN UNION - The EU pledged an additional 30 million euros ($35.36 million) in emergency support to Lebanon, the European Commission said. The humanitarian funding will be distributed to U.N. agencies and NGOs and its dispersal "strictly monitored".
* BRITAIN - An extra 20 million pounds ($26 million) to help provide food to the most vulnerable, in addition to 5 million pounds already made available.
Humanitarian experts from the UK are on the ground and the Royal Navy survey ship HMS Enterprise will deploy to Beirut.
* GERMANY - An additional 10 million euros on top of 1.5 million euros in emergency goods already deployed.
* SPAIN - Will send humanitarian aid including medicines for mobile clinics and shelters for those who have lost their homes. The flight, which will leave Spain on Tuesday, will also include 10 tonnes of wheat.
* SWITZERLAND - Pledged 4 million Swiss francs ($4.38 million) in direct aid at the donor conference. Switzerland had already pledged 500,000 francs to the Lebanese Red Cross and has sent disaster specialists including civil engineers and logistics experts to Beirut.
* UNITED STATES - President Donald Trump reaffirmed the United States stood ready to continue providing aid to help the people of Lebanon in their recovery. Trump agreed with the other leaders to work closely together in the response efforts, the White House said.
(Reporting by Reuters bureaus; Compiled by Richard Lough; Editing by Frances Kerry)
This story has not been edited by Firstpost staff and is generated by auto-feed.
India
Danish's photographs were not just documentation, but the work of someone who went down to eye-level, as they say in photographic parlance.
World
ATHENS (Reuters) - Greek police used teargas and water cannon to disperse people who had gathered in central Athens on Saturday to protest against mandatory COVID-19 vaccinations. More than 4,000 people rallied outside the Greek parliament for a third time this month to oppose mandatory inoculations for some workers, such as healthcare and nursing staff.
World
ISTANBUL (Reuters) - Two Turkish soldiers were killed and two were wounded in an attack on their armoured vehicle in northern Syria, and Turkish forces immediately launched retaliatory fire, Turkey's defence ministry said on Saturday. "Our punitive fire against terrorist positions is continuing," the statement on Twitter on said. It did not specify where the attack occurred, but media reports said it was in the al-Bab area.