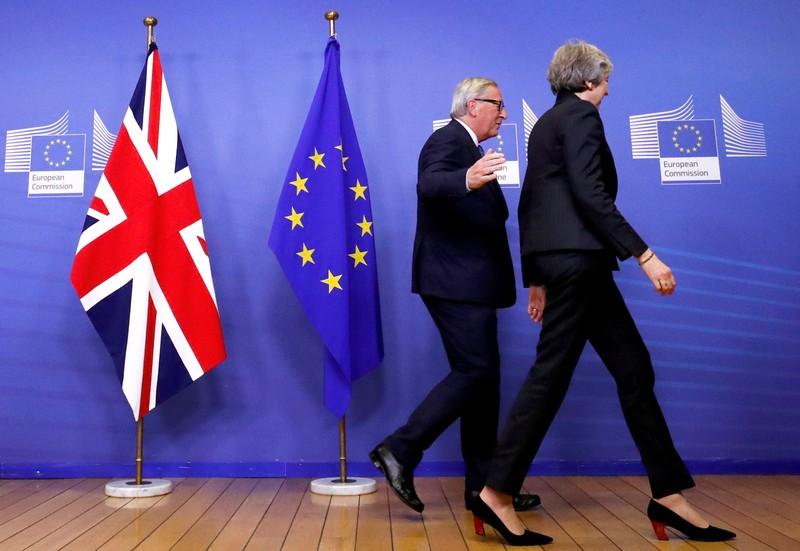 By Gabriela Baczynska
BRUSSELS (Reuters) - Here are key elements of a 26-page Political Declaration on EU-UK ties after Brexit, due to be approved by leaders on Sunday. The full text is here: https://www.consilium.europa.eu//media/37059/20181121-cover-political-declaration.pdf
INTRODUCTION
* The EU and UK aim for "ambitious, broad, deep and flexible partnership across trade and economic cooperation, law enforcement and criminal justice, foreign policy, security ... based on a balance of rights and obligations."
They also commit to "safeguard the rules-based international order" -- a nod to challenges to global institutions from U.S. President Donald Trump and others -- as well as democracy, workers' rights and consumer and environmental protection.
DATA PROTECTION
Both commit to accept each other's data protection standards before transition ends in 2020 so as to maintain free data flow.
EU PROGRAMMES
Britain should be able to pay to take part in EU science, education, culture, defence and space programmes. The EU will look at its call to work with the European Investment Bank.
BORDERS
Customs procedures are inevitable but "comprehensive arrangements ... will create a free trade area, combining deep regulatory and customs cooperation, underpinned by provisions ensuring a level playing field for open and fair competition."
This language echoes British calls for open borders but also EU insistence that nothing can be as smooth as EU membership.
"The Parties recall their determination to replace the backstop solution on Northern Ireland by a subsequent agreement that establishes alternative arrangements."
"Facilitative arrangements and technologies" to be looked at to avoid a "hard border" between Ireland and Northern Ireland.
No tariffs or quotas and "ambitious customs arrangements" to build on initial plan for Britain to stay in the EU customs union, which avoids the need to check where goods were made.
"Liberalisation in trade in services well beyond the Parties' World Trade Organization (WTO) commitments and building on recent Union Free Trade Agreements (FTAs)."
* Should "cover sectors including professional and business services, telecommunications services, courier and postal services, distribution services, environmental services, financial services, transport services and other."
Equivalence arrangements for financial services regulation.
Fair and equal access to each other's telecoms networks.
Free movement of capital and payments.
As Britain ends free movement for EU citizens, mobility to be regulated on reciprocal basis, with possibilities for easy border crossing, social security and family law coordination.
TRANSPORT
Plan for a deep accord on air passengers and cargo, comparable market access for road transport operators.
ENERGY
Considering cooperation on carbon pricing by linking a UK emissions trading system with the EU's ETS.
FISHING
Plan for a new fisheries agreement on access to waters and quota shares by July 2020.
LEVEL-PLAYING FIELD
* "Provisions to ensure this should cover state aid, competition, social and employment standards, environmental standards, climate change, and relevant tax matters."
TRANSITION PERIOD
* Separately, EU and UK would agree that the post-Brexit transition period could be extended once "for up to one or two years" and Britain would have to go on contributing to the bloc's budget accordingly.
* The text also makes clear that Britain could choose to prolong its post-Brexit adaptation by any number of months within the two-year limit, not just by 12 or 24 months.
SECURITY
* EU, UK want "broad, comprehensive and balanced security partnership".
* EU states and Britain will remain solely responsible for their own national security.
OTHER
* The sides want to ensure "passenger and cargo air connectivity" and provisions to mutually protect intellectual property rights. They want to grant visa-free travel rights on mutual basis for short trips.
* The text does not mention the word "Gibraltar" at all. It will be covered in a separate statement at the summit.
(Editing by Alastair Macdonald; Editing by Robin Pomeroy)
This story has not been edited by Firstpost staff and is generated by auto-feed.
Find latest and upcoming tech gadgets online on Tech2 Gadgets. Get technology news, gadgets reviews & ratings. Popular gadgets including laptop, tablet and mobile specifications, features, prices, comparison.
Updated Date: Nov 23, 2018 00:09:06 IST