Facing challenges of jihadism and deep-rooted corruption, Maldives needs more than a poll to get back from the brink
The soldiers of jihad in the Maldives are improbable recruits to the ranks of the pious: drawn from powerful street gangs, many discovered Islam in prison, are mentored by fundamentalist clerics protected by the regime and put to work by its enemies.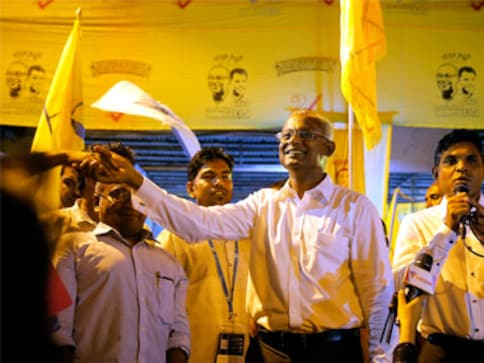 First, the palm trees that lined Malé's streets disappeared, cut down to exorcise the evil spells that swelled their trunks and spilled into the island's thick, tropical air. Then, the giant crocodile caged in the children's park was dragged away for slaughter. The two-century-old coral mosque in the city was moved to make way for an ice-skating rink. Eggs and coconuts were found buried in cemeteries; chickens were decapitated.
In the islands, everyone knew what these acts meant: someone was practising Sihuru, the dark art of raising demons -- the renegade version of Fanditha, the officially sanctioned witchcraft whose practitioners are licensed by the government.
Through these dark arts, the Sri Lankan witch-doctor Asela Wickramasinghe sustained the power of his master, Maldives President Abdulla Yameen. "We invited the devil to destroy the power of Yameen's opponents and win others to his side," he once bragged. "Look at the results. That's the proof."
Now, as the news comes in of Yameen's decisive defeat in an election he strived to rig, it's clear the spells and incantations weren't powerful enough to ward off the anger that stemmed from the violent suppression of political opposition — and spectacular corruption marked by the opaque selling-off of entire islands at throwaway prices.
India, as well as key global actors like the United Kingdom and the United States, have made no secret of their relief that a government that sought to shore up its legitimacy by giving China unprecedented access to the Indian Ocean islands has been voted out.
But the story isn't over: Yameen's dystopic regime has inflicted lasting harm, allowing jihadism to sweep over the islands, destroying its polity and culture.
The rising power of jihadists
In the autumn of 2016, Ali Shafeeq left his home on the small, Indian ocean island of Kandholhudhoo, telling family and neighbours he was "going on a vacation". He was arrested days later at Islamic State-run safe-house in Istanbul, waiting to be smuggled across the border into Syria.
The United States' intelligence services passed on information showing Shafeeq intended to join the estimated 250 other Maldives nationals who were fighting with Al Qaeda and the Islamic State.
But this summer, after prosecutors couldn't submit any credible evidence of Shafeeq's activities—a failure facilitated by their decision not to seek it from Turkey—he walked out of prison.
Incredibly, this was Shafeeq's third catch-and-release encounter with the government. In 2007, he was jailed for the alleged role in bombing tourists at Male's Sultan Park but released in an ill-advised political reconciliation bid. Two year later, he was handed over by Pakistani authorities after being held near the border with Afghanistan.
Yameen's government, its critics allege, soft-pedalled action against jihadists like Shafeeq, using them to silence critics, like the assassinated journalist Yameen Rasheed, and to bolster its religious credentials. The impunity game is an old one, but Yameen carried it to new levels.
This April at least one jihadist who had posted online images of himself fighting in Syria, having moved there with his wife and child, was found living back at home by the newspaper Mihaaru.
In June, authorities stopped several men from travelling to fight in Syria -- led by a jihadist previously held for trying to go there, but let free to recruit a new group.
In 2008, Maldives national Ali Assham, alleged to have been involved with the Lashkar-e-Taiba network attacked the Indian Institute of Science in Bengaluru, was deported from Sri Lanka to Maldives. Despite Indian demands, he was never prosecuted and now lives in Male.
Ali Jaleel, who in 2008 became the first Maldives citizen to carry out a suicide bombing, was briefly jailed two years earlier — only to emerge within weeks.
Ganja, gangs and god
"Every night for three nights," Saaba Shifazee recalls, her son "had a dream in which he'd see himself in battle alongside the Prophet." Then, one morning in 2008, Hassan Shifazee woke up and decided to throw away all his music CDs. He quit playing football and stopped hanging around Male's streets with friends from the Majeedia school, smoking ganja. Instead, he started devoting himself to religious studies, spending time with local preachers.
In 2015, Hassan Shifazee was killed fighting Syrian troops in the town of Jericho, alongside the armies of Al Qaeda.
The soldiers of jihad in Maldives are improbable recruits to the ranks of the pious: drawn from powerful street gangs, many discovered Islam in prison, are mentored by fundamentalist clerics protected by the regime and put to work by its enemies.
Put together, Male street gangs -- Masodi, Kudahemveiru, Bosnia, Buru and Petrel -- are thought to have contributed over 100 fighters to jihadist groups in Iraq and Syria. Inside jail, preaching groups like Adam Shameem's Odyssey of Dawa, Ibrahim Fareed's Islamic Foundation, the Jamaat-ul-Bayan, and Jamaat-ul-Salaf are active.
Fuvahmulak island resident Ahmad Munsif, killed in 2016, had multiple drug-related run-ins with police and in 2012 spent time in prison for attempting to assault a police officer. His time with Islamic clerics, though, led him to clean up. In October 2014, he headed to the Islamic State with his wife, Suma Ali.
Long a crossroad for trade across the Indian Ocean, Maldives' culture had relatively a relaxed attitude to personal freedoms. In the 14th century, the great traveller and cleric Muhammad Ibn Battuta recorded his frustration at the disinclination shown by local women to cover up. "I strove to put an end to this practice and commanded the women to wear clothes, but I could not get it done," Ibn Battuta wrote.
Islamism began to gather force in the Maldives after 2004, after the Indian Ocean tsunami claimed hundreds of lives and destroyed entire communities.
As the scholar Aishath Velezinee has recorded: "Men grew beards and hair, took to wearing loose robes and pyjamas, and crowned their heads with Arab-style cloth. Women were wrapped in black robes. Goats were imported, and fishermen gave up their vocation to become shepherds."
"Preachers began touring the islands, armed with cash from Islamic charities who had arrived from Pakistan and the Middle East," said slain writer and analyst Yameen Rasheed. "Their message was simple: Maldivians were paying for their sins and must atone to avoid Allah's wrath."
A culture of hate
In more ways than one, the Maldives government has laid the foundations for this jihadist tide. The state's textbooks promote violence. The Class IX Islamic studies textbook tells students "performing jihad against people that obstruct the religion" is an obligation. It promises that "Islam ruling over the world is very near". Promising a caliphate, the textbook says, "This is something that the Jews and Christians do not want. It is why they collaborate against Islam even now."
These attitudes have permeated popular culture. Eid celebrations on Maafaru island, in Noonu Atoll, included men posing with mock rifles, surrounding a simulacrum of the Twin Towers in New York, burning after Al Qaeda's 9/11 attacks.
In early 2012, his al-Nusra obituary recorded jihadist Shifazee participated in an Islamist mob which attacked Male's national museum.Emerging from the Dharamavanthu mosque, the mob destroyed a priceless ancient head of Buddha. The head, perhaps ironically, was the only part of the statue to have survived after terrified villagers on the island of Thodoo attacked it soon after it was discovered by archaeologists in 1959, believing it to be a demonic totem.
Perhaps worse, the country has seen regular attacks against the arts, even its own heritage. A hotel was recently forced to remove underwater sculptures on the grounds it was promoting idol-worship — though, online commentators were quick to point out, the same concern did not apply to giant billboards of President Yameen.
Ensuring jobs and economic opportunity as well as transparent government is key to giving democracy the legitimacy it needs—and keeping a generation of angry, disenfranchised young people away from Islamism. President Mohamed Nasheed's government made some efforts in this direction from 2008 to 2012 but proved unwilling to buck the religious right.
From 2013 to 2018, Yameen swung the other way, patronising religious reaction in pursuit of power -- and proved that he could get China to provide the dollars needed to make this project work. His defeat marks an opportunity, but Maldives faction-ridden opposition now needs to deliver.
India and its allies need to be aware that an election alone won't bring the Maldives back from the abyss Yameen's took it to.
World
India and the United States are keen for an early conclusion of the 30 MQ-9B predator armed drones deal at a cost of over $3 billion, which will help New Delhi strengthen its overall surveillance apparatus along the Line of Actual Control (LAC) and the Indian Ocean.
World
Washington leads an international coalition battling IS in Syria. After the jihadists lost their last scraps of territory following a military onslaught backed by the coalition in March 2019, IS remnants in Syria mostly retreated into desert hideouts in the country's east.
Opinion
Anti-Indianism is the most important aspect that has been binding the Bangladesh-Pakistan relationship