F-16: What it takes to build this fighter plane in India
John Losinger from Lockheed's Integrated Fighter Group ( F-16, F-22, T-50, F-2) in Texas and Abhay Paranjape, Executive Director of International Business Development at Lockheed spoke with Nikhila Natarajan in New York on everything from the production line to the typical employment generation and gestation period in the making of these fighter jets which could potentially lead to "thousands of jobs".
Following up on news of India's Tata Advanced Systems Limited (TASL) signing an agreement with US aircraft maker Lockheed Martin confirming the companies' intent to set up a joint production facility for F-16 Block 70 fighter planes in India, we spoke to F-16 experts at Lockheed Martin in the US to understand the nuts and bolts of what it would take to build this fighter aircraft in India.
John Losinger from Lockheed's Integrated Fighter Group ( F-16, F-22, T-50, F-2) in Texas and Abhay Paranjape, Executive Director of International Business Development at the company spoke with Firstpost, New York on everything from the production line to the typical employment generation and gestation period in the making of these fighter jets which could potentially lead to "thousands of jobs".
The Tata - Lockheed announcement comes days ahead of Indian PM Narendra Modi's visit to the US for a summit meeting with Donald Trump where defence and security will likely play a star role. Reuters reports that Lockheed's leader of F-16 business development Phil Howard clarified that the Tata- Lockheed deal will not cross wires in Washington where Donald Trump's America First campaign insists on creating jobs at home.
India's latest tweaks to its defence procurement policy gives top billing to partnerships that help the 'Make in India' push rather than outright buys. This is the context of the Tata-Lockheed agreement which means this combine will be competing with other Indian-foreign JVs for defence tenders. The Tata-Lockheed agreement signals intent to move in a certain direction but India's Ministry of Defense (MoD) has not yet issued global competitive bids for single-engine fighter aircraft.
India has been in the market for around 200 new fighter planes because the existing MiG 21s fleet is old and accident prone.
India's Ministry of Defense (MOD) recently issued a Request for Information (RFI) to global aircraft manufacturers and has announced that there will be competitive bidding to build a new single-engine fighter aircraft under Modi's "Make in India" push.
Back in late 2016 itself, India has already received "unsolicited offers" from Lockheed Martin, Boeing, and Saab to build the Lockheed Martin F-16 Block 70, Boeing F/A-18 Super Hornet, and Saab Gripen E fighter jet in India, according to a report in Business Standard.
As of date, approximately 3,200 F-16s are in operation, flown on combat missions by 25 countries worldwide.The F-16 remains the backbone of the U.S. Air Force's current frontline air fleet which recently announced plans to extend the structural service life of up to 841 of its F-16s, signaling the U.S. Air Force intends to operate F-16s to 2048 and beyond.
With Lockheed Martin sealing a deal with the Tatas, it's clear that the Americans are now saying alright, we're in the game, who will you pick? The Swedes, the French or us?
The Q and A below with Lockheed's Losinger and Paranjape has been edited for brevity. Certain portions have been highlighted for emphasis and relevance.
Firstpost: Break it down for us, what does it take to build an F-16 in India along with a local partner?
Lockheed: The F16, as with other aircraft, has a huge supply chain. We have pieces and components coming in from multiple companies - think of it as similar to a car's supply chain. Add to this a workforce that's already trained and they're able to execute in total sync with the supply chain. We need to get all of the "long lead" items in, do the final assembly and check and delivery - so each plane takes 3 to 4 years. Having said that, a company that's starting from scratch will have to come up on a learning curve. In the beginning, they might take longer and that is natural. We've done this kind of work in the past in multiple countries. So we would like to start in India with a company that can come here, learn from us and go back and start assembly, then go into component production and then into detailed assemblies. We take a crawl-walk-run approach. The number of jobs will be in the thousands.
FP: Where do you start, what's the first thing you would have to do?
Lockheed: In the end, this will be a government to government agreement. The first several aircraft will be delivered from the US production line. It starts off with getting the user (say, Indian Air Force) to become familiar with the aircraft, figure out if there are any special systems that need to be going on to that aircraft…and simultaneously training the right set of people, do the tech transfer, tooling set-up, they will need the right sort of buildings, runway facilities so there is a seamless transition from aircraft being delivered from the US to aircraft being delivered from India. So we would have people from the US in India and vice versa.
You may have heard the term transfer of technology (in the context of the recent tweaks in India's defense procurement) - there is a lot of production technology that has to be learnt. Building fighter aircraft is a highly specialised skill set - very different from manufacturing cars or even helicopters which a company like TASL may have some experience with.
FP: Is it true that no new F16 orders are scheduled beyond this year from the US?
Lockheed: That's right.
FP: What about from outside the US?
Lockheed: We have international sales and that's pretty much what we've been doing ever since the early 2000s. The F16 is operated in more than 26-27 countries.
FP: We hear that America is moving on from the F-16 to the F-35, is that right?
Lockheed: We see a large market for F16s still. The US airforce will continue to operate their existing F16s for the next 30 years or so. India's advertised needs have been more than a 100 aircraft. We are engaged in multiple conversations right now. For any partner who produces this aircraft, the market for export, parts, spares, support, after-sales, modifications and upgrades - sustainment as we call it…is huge. A 100 or so aircraft in not the business case, its the ecosystem of maintenance and upgrades that makes sense. You mentioned the Block 70, in future there will be other blocks. We expect the F16 to continue to operate for the next 30 to 40 years.
FP: Is it true that your Texas assembly line may shut down if there are no further orders?
Lockheed: That's right. We will be delivering the last of the orders later this year and transition the production facility to Greenville, South Carolina. The existing production facility is being ever more used by F35s and our facility in Greenville has the production capacity and the people to fulfill near term production orders.
FP: What happens to the people working on Texas assembly line? Do they lose their jobs?
Lockheed: Some of those folks have chosen to retire and some have moved to F35 production. Workforce anywhere is commensurate with production rate, so it's a relatively small workforce.
FP: How many people?
Lockheed: It's less than 200 folks and that number has slowly but surely been decreasing as we move towards more F35 production.
FP: So, if you have less than 200 people here, how does a JV translate to 1000s of jobs in India?
Lockheed: What John's talking about is just the final assembly. We are not going into India with just the final assembly. We are looking at producing majority of the aircraft in India. If you take our phased approach, we will start with final assembly first and that will take a few hundred people. But we are looking at production, components and assembly all moving to India, the jobs will be a lot more. The workforce requirement is commensurate with the production rate, so it depends on the order size.
FP: What's the org structure like for building an F16 - starting from the most junior staff?
Lockheed: Majority of them would be skilled technicians. They would have to be trained to work on aircraft systems.
FP: Do they have to be engineers?
Lockheed: No, I mean people who have been trained through an ITI or equivalent technical training institution with a diploma. That's a large amount of the workforce and it's pretty similar in the US also. Then you need entry level engineers, designers, supply chain managers, software engineers, hardware engineers, supply chain integrators, business people - the whole spectrum. You also need skilled technicians and engineers for testing the systems, the worthiness of the aircraft itself. You start with technician level and then you have people at all of these levels. You would need systems engineers and industrial engineers who understand process flow and production line - so various kinds of engineers at every level and business managers who can understand both the flow of equipment and flow of money. This is like bringing up a whole new industry. Working with a company like Tata and TASL means they already have a lot of the processes understood which is a big benefit.
FP: Saab Gripen is also in contention…
Lockheed: We don't want to get into that - it's like comparing cars. All we'll say is that the number of countries in which we operate, the number of planes we have sold, air-to-air and air-to-ground success - your compare it to any other aircraft, not just the Gripen, and we win hands down. This is a constantly evolving aircraft system, it has been widely successful and that's why interest is continuing. There are 3200 operational F16s today in the world flying with 25 customers. Few customers have stopped operating them but the deep and wide supply chain ecosystem ensures that upgrades are continuously happening. The US Air force has not bought F16s since the late 1990s but they are keen to extend the life of the existing fleet. The US Air Force, although it is recapitalisting its fleet with the F35, the F-16s will continue for a few decades at least.
FP: Is the F35 operational?
Lockheed: Yes, the F-35 is operational and they are actually deploying it to bases around the world. We have some international orders - it's an initial aircraft but not an operational fleet - just one or two.
Find latest and upcoming tech gadgets online on Tech2 Gadgets. Get technology news, gadgets reviews & ratings. Popular gadgets including laptop, tablet and mobile specifications, features, prices, comparison.
India
India has been ranked lower than its neighbours, including Pakistan (88), Nepal (73) and Bangladesh (75), in the global report released recently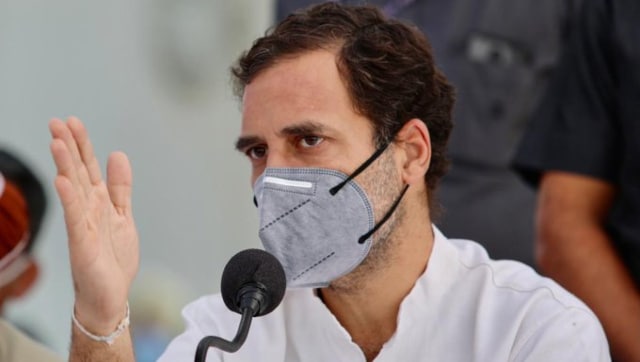 Politics
In a tweet, Prime Minister Narendra Modi had announced that he will address the nation at 6 pm today
India
This will be the prime minister's seventh address to the nation since he announced a country-wide lockdown in March to curtail the spread of COVID-19