Explosive device detonated outside United States embassy in Beijing; area cordoned off
A large explosion took place near the US Embassy in Beijing on Thursday as witnesses posted images on social media, of smoke surrounding the building
An explosion took place near the US Embassy in Beijing on Thursday as witnesses posted images of smoke surrounding the building on social media.
An explosive device has been detonated in a public area at the US embassy in Beijing, close to the main compound, said an embassy spokesperson to CNN. The only person injured was the individual who detonated the explosive device.
According to Radio Free Asia News, witnesses on the scene stated that a man made his own explosives and originally wanted to throw it into the embassy, but it exploded next to him, damaging a car.
A Chinese police SUV has been damaged in the incident.
Chinese police also took away a woman who sprayed herself with gasoline, in what was suspected to be a self-immolation attempt outside the embassy, the State-run Global Times reported.
💥Something just exploded at the US Embassy in Beijing, China just a few min ago. Smoke everywhere....@CNN @CNBC @CNBCnow @nytimes pic.twitter.com/O8wf3L2Q0V

— Jimmy Zhong (@jimmyzhong_iost) July 26, 2018
The footage from the site shows confusion and panic in the street following the explosion, as security personnel work at the scene. The area seems to be cordoned off.
Current situation at the U.S Embassy in Beijing China. @CNN @CNBC @CNBCnow @WSJ @FT @nytimes @IOStoken pic.twitter.com/UMz09WTa9U — Jimmy Zhong (@jimmyzhong_iost) July 26, 2018
No confirmation has been given by the US or Chinese embassies yet, while the Indian and South Korean embassies said they were unaware of any unusual incident and were working as normal.
With inputs from Reuters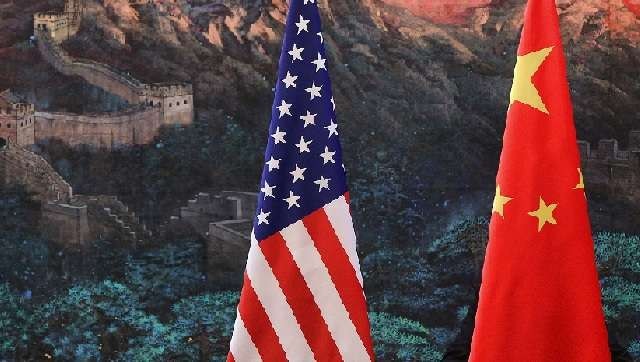 World
China for some time has been attacking the democracy summit, saying that the US cannot hold a patent for it and the event is aimed at dividing the world
Sports
With just over 70 days to go, here's look at the issues hanging over the Olympics
World
The United States has invited Taiwan for the meet — a move that risks angering Beijing