Explainer: Was Trump's appointment of Whitaker lawful?
By Jan Wolfe (Reuters) - President Donald Trump's appointment of Matthew Whitaker as acting U.S. attorney general on Nov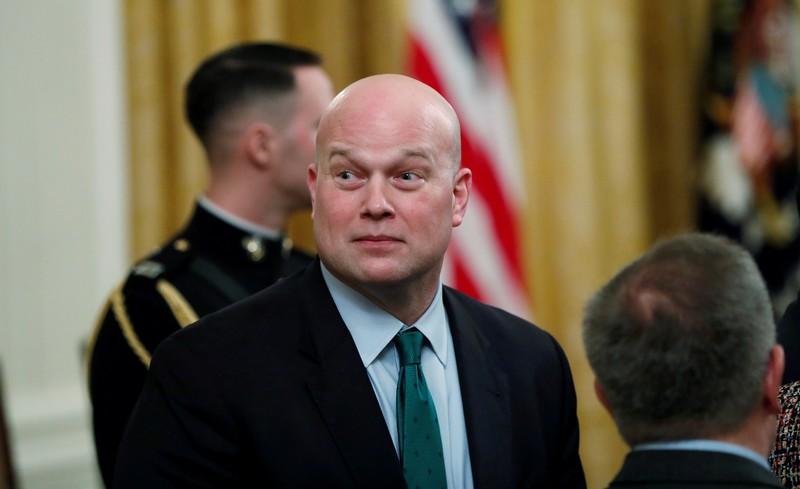 By Jan Wolfe
(Reuters) - President Donald Trump's appointment of Matthew Whitaker as acting U.S. attorney general on Nov. 7 drew another legal challenge on Monday, this time by three Democratic senators.
Senators Richard Blumenthal, Sheldon Whitehouse and Mazie Hirono sued Whitaker and Trump, asking for a court order stating the appointment violated the U.S. Constitution by denying the Senate its right to approve the acting attorney general's nomination. They also asked that Whitaker be blocked from performing the duties of the office.
The senators' lawsuit joins at least two other legal challenges to Whitaker's appointment, including one filed by the state of Maryland on Nov. 13.
Trump appointed Whitaker on Nov. 7 after ousting Jeff Sessions, who the president had repeatedly criticized for recusing himself from overseeing Special Counsel Robert Mueller's probe into possible collusion in the 2016 U.S. election between the Trump campaign and Russia. Trump has repeatedly called the investigation a "witch hunt."
Whitaker, who will directly oversee the special counsel probe, has previously echoed Trump's criticism. In public comments, Whitaker has suggested a successor to Sessions could restrain the investigation or slash its budget.
The Justice Department on Nov. 14 released a legal memo defending Whitaker's appointment as proper under past practice and prior court rulings.
The following explains the legal questions swirling around Whitaker's appointment.
What is the legal authority for Whitaker's appointment?
Trump appointed Whitaker under the Federal Vacancies Reform Act of 1998 (FVRA), a law allowing him to elevate a senior official to agency head for up to 210 days.
The law was intended to address vacancies created by deaths or resignations, but it is unclear whether it applies to those created by firings.
There is some question as to whether Sessions was fired or resigned. The former attorney general submitted a letter of resignation at the president's "request."
Some legal experts say that if Sessions was effectively fired, his appointment runs afoul of that law and could be challenged in court.
Could Whitaker's appointment also be unconstitutional?
Possibly.
Under the Appointments Clause of the U.S. Constitution, ambassadors, federal judges, and other "Officers of the United States" who are nominated by the president must be confirmed by the U.S. Senate under the body's so-called advise and consent powers.
In 1988, the U.S. Supreme Court made clear that the position of attorney general is the sort of high-ranking officer that requires Senate approval. Legal experts disagree about whether the Appointments Clause applies to Whitaker in his role as an acting attorney general serving on an interim basis.
In a Nov. 8 New York Times opinion article, Democratic lawyer Neal Katyal and George Conway, a conservative and husband of Trump advisor Kellyanne Conway, argued that it does, and called Whitaker's appointment under the FVRA unconstitutional.
"For the president to install Mr. Whitaker as our chief law enforcement officer is to betray the entire structure of our charter document," Katyal and Conway wrote.
But Steve Vladeck, a professor of constitutional law at the University of Texas, said he thought Whitaker's hiring passed constitutional muster. Vladeck said there is Supreme Court precedent for the argument that Whitaker's assignment is temporary and therefore not an "appointment" under the Constitution.
Who has legal standing to challenge Whitaker's authority?
Any individual adversely affected by a direct action taken by Whitaker would have legal standing to bring a lawsuit challenging the legitimacy of his appointment, Vladeck said.
"I think it's quite possible there could be a lot of challenges to his appointment," Vladeck said.
Individuals and state governments with pending lawsuits against the Justice Department may also be able to challenge Whitaker's authority.
The agency is in the process of adding Whitaker as a party to those pending lawsuits and removing Sessions.
That process is typically not controversial, but on Nov. 13 the Maryland attorney general asked a judge to block it from taking place in a dispute relating to the Affordable Care Act's protection of people with pre-existing medical conditions.
If Whitaker's appointment is legal, are there limits to his power?
Federal regulations state that government employees should not participate in matters where one could reasonably question their impartiality.
There is also a bar on officials participating in investigations or prosecutions that substantially involve someone they have had a personal or political relationship with.
Whitaker has criticized the Mueller probe on multiple occasions, writing in an opinion piece for CNN that it was "going too far" and that Trump's personal finances should be considered off-limits.
Whitaker also has a close friendship with Sam Clovis, who was co-chair of Trump's 2016 presidential campaign and has testified before the grand jury in the Mueller investigation.
Some legal experts say that Whitaker's prior statements about the probe and his relationship with Clovis require him to recuse himself from overseeing the investigation.
Paul Rosenzweig, a former counsel to independent counsel Ken Starr, said he did not think Whitaker had to recuse himself.
Unlike judges, Justice Department officials are political actors who are allowed to express viewpoints, Rosenzweig said.
(Reporting by Jan Wolfe; editing by Anthony Lin and Jonathan Oatis)
This story has not been edited by Firstpost staff and is generated by auto-feed.