Explained: Why Paris is mulling a ban on e-scooters
The issue of e-scooters is 'extremely divisive,' with critics claiming that riders show only cursory respect for traffic laws. They frequently defy bans on riding on pavements or park recklessly, and some abandon their scooters in parks or even throw them into the Seine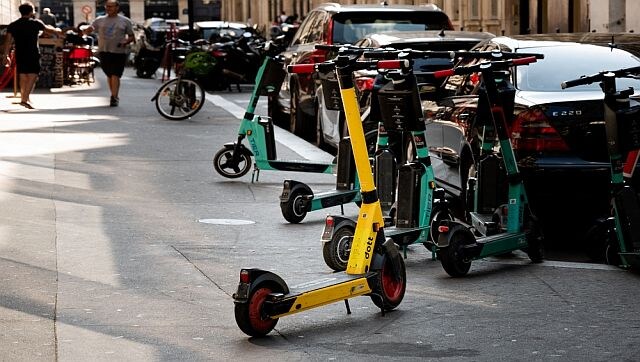 Paris: Parisians will be invited to vote on whether to allow electric scooter rental services to continue operating in the city as authorities weigh banning the controversial for-hire vehicles, the capital's mayor has said.
The issue is "extremely divisive", Mayor Anne Hidalgo told the weekend edition of Le Parisien newspaper, with critics saying riders show only cursory respect for the rules of the road.
They often defy bans on riding on pavements, or park without consideration, while some abandon the scooters in parks or even toss them into the Seine river.
Fans meanwhile praise the zippy fleets — totalling 15,000 scooters operated by companies Lime, Dott and Tier — as a fast, non-polluting alternative to cars or crowded public transport.
Hidalgo said Paris residents would be asked "a very simple question" in the referendum planned for 2 April: "Do we or don't we continue with free-floating rental scooters?"
The mayor said she herself was leaning towards a ban but would "respect Parisians' vote".
A ban would make Paris an exception among major cities.
In September, the capital already threatened the three operators with non-renewal of their licences, which expire in March, if they failed to limit reckless riding and other "misuses".
The operators in November came up with a number of suggested improvements, including equipping the scooters with licence plates that would allow easier tracking of riders running a red light, or travelling in pairs on the single-person vehicles — both common violations.
But David Belliard, Hidalgo's deputy in charge of urban transport, still said a cost-benefit analysis did not favour the rental schemes.
"They are in the way and they are dangerous," he told AFP, saying he favoured a ban to "pacify our streets and pavements".
There was "too much negative feedback" from citizens about the scooters, he said.
Hidalgo told Le Parisien meanwhile that privately owned scooters, also hugely popular in the capital, were not targeted in the referendum. They are "not a problem", she said.
Read all the Latest News, Trending News, Cricket News, Bollywood News,
India News and Entertainment News here. Follow us on Facebook, Twitter and Instagram.
Sports
Thomas Bach said he opposed political influence on sports and any suggestion that Russians should be treated as if they have "collective guilt."
World
The French Fencing Federation said it would not host the men's Challenge Monal epee tournament near Paris in May following the International Fencing Federation's decision this month to end the year-long exclusion of competitors from Russia and its ally Belarus due to the Russian invasion of Ukraine
Sports
IOC on Tuesday recommended allowing athletes from Russia and Moscow ally Belarus to compete as individual neutrals in upcoming international competitions.