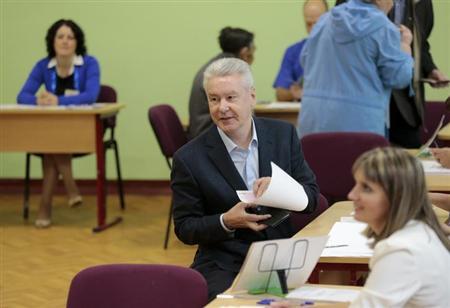 MOSCOW (Reuters) - Kremlin ally Sergei Sobyanin won a Moscow mayoral election on Sunday, two exit polls showed, but opposition leader Alexei Navalny did much better than expected and challenged the count.
The exit polls put Navalny on about 30 percent of votes, a strong showing which could energise resistance to President Vladimir Putin, and his campaign team said it believed Sobyanin had not crossed the 50 percent threshold for outright victory.
An exit poll by state-funded VTsIOM showed Sobyanin won 53 percent of votes versus 32 percent for Navalny, RIA news agency reported. Itar-Tass said an exit poll by the Public Opinion Foundation gave Sobyanin 52.5 percent and Navalny 29.1 percent.
But Navalny aides said its own exit polls showed Sobyanin received only 46 percent, not enough to avoid the embarrassment of a two-candidate runoff that would be risky for Sobyanin.
"Our exit poll data undeniably show that there will be a second round of this election," Navalny, the face of the largest wave of street protests against the 13-year rule of Putin, told campaign aides and journalists after the polls closed.
If Sobyanin's first-round win is confirmed, Putin will have a close ally at the helm in Moscow until after the 2018 presidential election, in which the former Soviet spy has not ruled out seeking a fourth term.
Navalny, 37, faces a five-year jail term if he loses an appeal against a July conviction on a charge-scale theft for a state firm. He denies guilt and says his trial was Kremlin revenge for his anti-corruption efforts and opposition activity. (Reporting by Maria Tsvetkova Writing by Gabriela Baczynska; Editing by Steve Gutterman)
Updated Date: Sep 09, 2013 00:15 AM