Exclusive: Trump weighs authorizing U.S. troops to medically screen migrants
By Idrees Ali and Phil Stewart WASHINGTON (Reuters) - President Donald Trump's administration is considering giving U.S.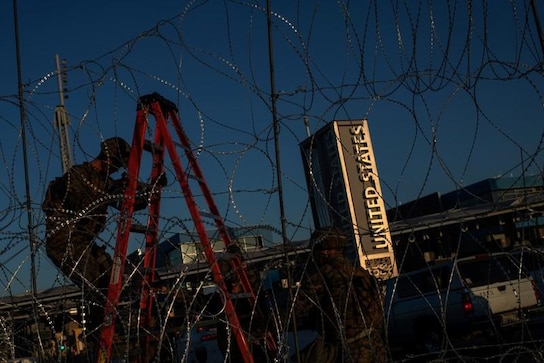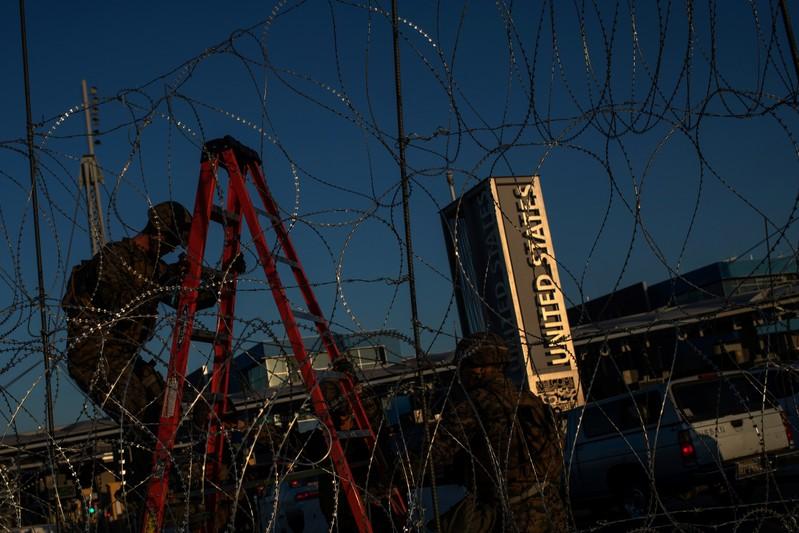 By Idrees Ali and Phil Stewart
WASHINGTON (Reuters) - President Donald Trump's administration is considering giving U.S. troops on the border with Mexico the authority to carry out medical screening of migrants, U.S. officials told Reuters on Tuesday.
The proposal, which is still in draft form and circulating within the administration, would involve the military in screenings for things like illness and injury only if U.S. Customs and Border Protection (CBP) agency personnel were overwhelmed and unable to do so on their own, the officials said.
The proposal would expand the mission for the Pentagon, which said previously it did not expect its forces to directly interact with migrants.
The Pentagon declined to comment.
U.S. military duties on the border, including stringing up concertina wire and building temporary housing, have been aimed at supporting CBP personnel.
The U.S. officials who spoke to Reuters about the proposal did so on condition of anonymity because Trump has not yet signed off on the idea.
It was unclear if the proposal, if confirmed in the coming days, might prolong the deployment of at least some troops at the border.
The commander of the mission told Reuters last week that the number of troops may have peaked at around 5,800, and he would soon look at whether to begin sending forces home or shifting some to new border positions.
LAST RESORT
Trump, who won the presidency in 2016 after a campaign promising to crack down on illegal immigration, has seized upon migrant caravans headed towards the U.S. border, comparing it to an "invasion."
Critics have derided his position as a stunt that politicizes the military.
About 6,000 Central Americans have reached the Mexican border cities of Tijuana and Mexicali, according to local officials. More bands of migrants are making their way towards Tijuana, with around 10,000 expected.
In Tijuana and other ports of entry, CBP officers are trained to check migrants and travellers for obvious signs of infectious conditions, like fever, bleeding from the eyes or other symptoms of "quarantinable and communicable diseases," according to a 2015 report by the Congressional Research Service.
One U.S. official said that under the latest proposal, U.S. troops would be the option of last resort to carry out medical screenings if other officials, such as from state and local governments or the National Guard, were not available or overwhelmed.
"The intent of the authorities is not to bring the troops in closer contact with the migrants but to provide medical assistance if needed," the official said.
On Monday, Reuters reported that Trump was likely to give U.S. troops authority to protect immigration agents stationed along the U.S. border with Mexico if they come under threat from migrants seeking to cross into the United States.
(Reporting by Idrees Ali and Phil Stewart; Editing by Peter Cooney and Bill Berkrot)
This story has not been edited by Firstpost staff and is generated by auto-feed.
Business
By Laura Sanicola NEW YORK (Reuters) - Oil prices settled higher on Tuesday, with Brent hitting above $71 and trading at its highest since March, on expectations for growing fuel demand during the summer driving season in the United States as OPEC+ agreed to boost output. Brent crude futures for August settled up 93 cents, or 1.3%, to $70.25 a barrel after hitting $71 earlier in the session - its highest intra-day price since March 8. U.S.
Business
By Lewis Krauskopf, Shashank Nayar and Medha Singh (Reuters) - Wall Street's main indexes ended little changed on Tuesday, with gains in energy and financial shares countering declines in healthcare, as investors weighed the latest U.S. economic data for signs of a rebound and rising inflation. The S&P 500 financial sector hit a record high, while expected growth in fuel demand boosted oil prices and helped lift the energy sector
Business
(Reuters) - Zoom Video Communications Inc on Tuesday forecast better-than-expected revenue for the current quarter, after beating quarterly estimates, as the video-conferencing platform expects steady growth from remote work and online learning. Zoom became a household name during the pandemic as businesses and schools switched to its video conferencing platform for virtual classes, office meetings and social catch-ups