Exclusive: Sudan premier ready for Israel ties if parliament approves - sources
By Khaled Abdelaziz KHARTOUM (Reuters) - Sudan's Prime Minister Abdalla Hamdok is ready to proceed with normalizing relations with Israel once a yet-to-be-formed transitional parliament has approved the step, two Sudanese government sources told Reuters on Thursday. The comments are the clearest sign that Hamdok, under pressure from the United States, is willing to contemplate Sudan establishing ties with former adversary Israel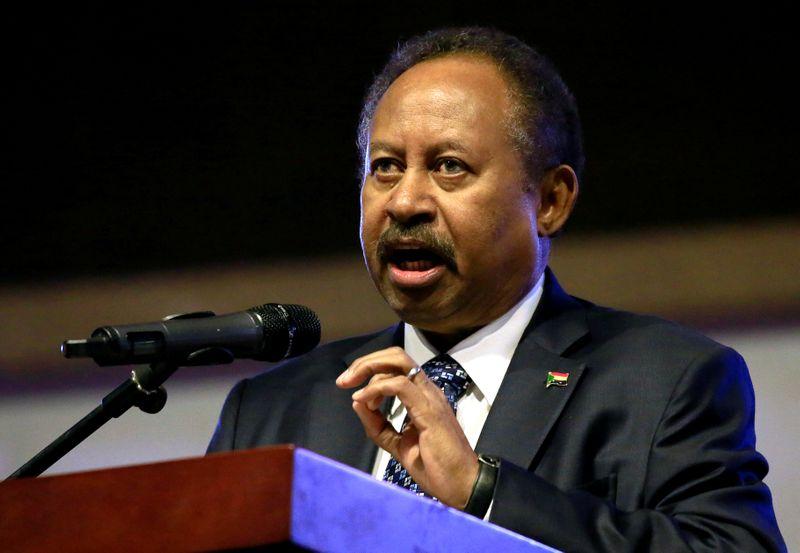 By Khaled Abdelaziz
KHARTOUM (Reuters) - Sudan's Prime Minister Abdalla Hamdok is ready to proceed with normalizing relations with Israel once a yet-to-be-formed transitional parliament has approved the step, two Sudanese government sources told Reuters on Thursday.
The comments are the clearest sign that Hamdok, under pressure from the United States, is willing to contemplate Sudan establishing ties with former adversary Israel.
Such a move would not be imminent, because the parliament still needs to be established under a power-sharing deal between the military officers and civilians who have been running Sudan jointly since the overthrow of autocrat Omar al-Bashir in 2019.
It is unclear when the assembly will be formed.
There was no immediate response from the government to requests for comment.
Hamdok's technocratic government has so far rebuffed U.S. advances aimed at pushing Sudan to follow the lead of the United Arab Emirates and Bahrain, both of which signed agreements to establish formal ties with Israel at the White House last month.
In contrast, military figures leading Sudan's political transition have appeared open to normalising ties, although civilian groups including left-wing and Islamist politicians are more reluctant.
"The prime minister will proceed in the steps taken by Transitional Council Head Abdel Fattah al-Burhan to establish ties with Israel if the legislative council, after it is formed, approves the decision to normalise ties," a senior source said.
The subject is sensitive in Sudan, which used to be among the hardline Arab foes of Israel.
Khartoum's caution reflects concerns that such a major foreign policy move at a time of deep economic crisis could upset the delicate balance between military and civilian factions, and even put the government at risk, two senior Sudanese government sources said.
But an agreement between Sudan and Israel may have edged closer on Monday when U.S. President Donald Trump signalled that Washington would remove Khartoum from its list of state sponsors of terrorism, a designation which has hindered Sudan's ability to get debt relief.
U.S. Secretary of State Mike Pompeo in a phone call with Hamdok on Thursday "applauded his efforts to date to improve Sudan's relationship with Israel and expressed hope that they would continue," the U.S. State Department said in a statement.
(Reporting by Khalid Abdelaziz; Additional reporting by Matt Spetalnick; Writing by Nadine Awadalla and Ulf Laessing, Editing by William Maclean and Andrew Heavens)
This story has not been edited by Firstpost staff and is generated by auto-feed.
Find latest and upcoming tech gadgets online on Tech2 Gadgets. Get technology news, gadgets reviews & ratings. Popular gadgets including laptop, tablet and mobile specifications, features, prices, comparison.
World
ADDIS ABABA/NAIROBI (Reuters) - Ethiopia's military is fighting battle-hardened troops in the northern Tigray region, threatening stability around the Horn of Africa. Here are some facts on the forces: THE NATIONAL MILITARY: THE ENDF The Ethiopian National Defence Force (ENDF) has around 140,000 active personnel, the vast majority of them in the army, according to the Janes security data group. Its troops have been tested by Islamist militants in Somalia and rebel groups in Ethiopia's border regions, as well as a two-year border war with Eritrea followed by an 18-year standoff that only ended in 2018.
World
ISTANBUL (Reuters) - Turkey's President Tayyip Erdogan said on Tuesday that the government will impose tighter measures to fight with the coronavirus and impose partial lockdowns on weekends across the country. Speaking after the cabinet meeting, Erdogan also said all schools will remain closed until the year-end and all restaurants will only work by delivery
World
BRASILIA (Reuters) - Brazilian President Jair Bolsonaro said on Tuesday his government in coming days will name countries that are importing wood illegally extracted from the Amazon. Addressing a BRICS summit of big developing economies, Bolsonaro said Brazilian police had developed a way of tracking wood exported from the Amazon using isotopes.