Exclusive: Prime Minister Narendra Modi will not attend Saarc Summit in Pakistan
Prime Minister Narendra Modi, will not travel to Pakistan in November for the Saarc Summit.
Prime Minister Narendra Modi, will not travel to Pakistan in November for the Saarc Summit.
It has been confirmed to Firstpost by an authoritative source that the decision to stay away from visiting Pakistan has already been taken. An announcement on sending a ministerial representative instead will be made closer to the date. The decision against Modi's attendance was taken weeks before Sunday's Uri attack by Pakistani terrorists. Post-Uri attack, however, there is no way that Modi could be persuaded to travel to Islamabad.
Earlier, Afghanistan and Bangladesh had indicated their intentions not to attend the Saarc meeting in Islamabad. In recent weeks, Bangladesh did not attend the Saarc home ministers' conference in Pakistan, and after home minister Rajnath Singh got a cold welcome, finance minister Arun Jaitley excused himself from the meeting of finance ministers.
India's decision to call Pakistan's bluff has a history.
It is a natural outcome of developments in recent weeks when Pakistan has adopted a highly aggressive strategy on Kashmir and is openly fomenting trouble in the Valley. The Nawaz Sharif government's refusal to discuss terrorism and instead be narrowly focussed on its pet subject of the Kashmir Valley, its continued role in fomenting terror violence there and its disruptive attitude towards Saarc have convinced the Modi government that the Pakistan visit would be futile.
The Saarc agenda has anyway been sabotaged by Pakistan and it refuses to allow greater integration among nations of South Asia — the world's most poorly connected region. The Saarc connectivity plan was sought to be blocked by Pakistan at the Kathmandu summit, but at Modi's behest all other countries except Pakistan joined it.
On his part, Modi went out of his way to woo Pakistan, but just hours after he flew out of Lahore in January this year, there was an attack on the Pathankot base and it took three days to kill the well-armed terrorists holed up inside. India tried to negotiate with the Sharif government and even hosted a Pakistani team in Pathankot to share inputs on the role of Jaish-e-Mohammad terrorists.
The fact that Pakistan failed to act on these inputs embarrassed the Modi government, which was criticised for allowing Pakistanis access to an Indian Air Force base.
In fact, the Pakistani government was soon pressured by the ever-dominating army to toe its line on India policy. The Kashmir issue that was given lip service treatment by the civilian government until some months ago was picked up by the military to be given greater exposure globally.
India has also decided to aggressively publicise Pakistan's role in spreading terror in the South Asian region. Modi's specific reference to Pakistan spreading terror at G-20 summit in China, and Rajnath's demand to have Pakistan labelled a terror state are in line with India's strategy to turn the heat on Islamabad.
also read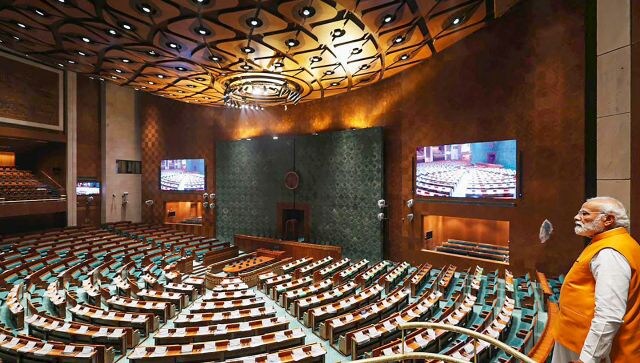 India
The new Parliament building can comfortably seat 888 members in the Lok Sabha chamber and 300 in the Rajya Sabha chamber. The current Parliament building was built in 1927. It will be converted into a museum
India
Rajasthan, where the ruling Congress is caught in a leadership tussle between Chief Minister Ashok Gehlot and his former deputy Sachin Pilot, goes to the polls this year-end.
India
He said, 'we have to bring to the international stage our personality, our culture, our heritage. So when Prime Minister Modi motivated the world to celebrate the practice of yoga, it wasn't just a cultural or a fitness exercise he was advocating'