Exclusive - Luxembourg, EU snub Pompeo in final Europe trip, diplomats say
By Robin Emmott and Humeyra Pamuk BRUSSELS/WASHINGTON (Reuters) - U.S. Secretary of State Mike Pompeo cancelled his Europe trip at the last minute on Tuesday after Luxembourg's foreign minister and top European Union officials declined to meet him, European diplomats and other people familiar with the matter said.     The extraordinary snub to Washington came days after the storming of U.S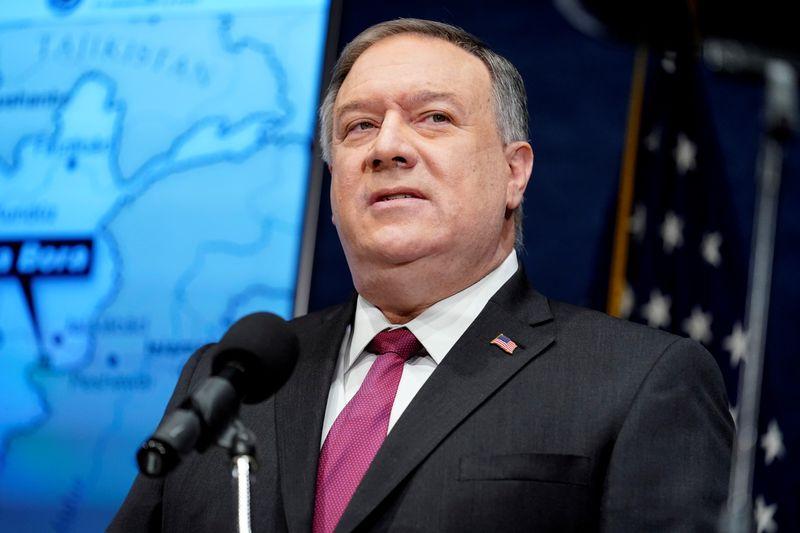 By Robin Emmott and Humeyra Pamuk
BRUSSELS/WASHINGTON (Reuters) - U.S. Secretary of State Mike Pompeo cancelled his Europe trip at the last minute on Tuesday after Luxembourg's foreign minister and top European Union officials declined to meet him, European diplomats and other people familiar with the matter said.
    The extraordinary snub to Washington came days after the storming of U.S. Capitol by thousands of supporters of outgoing President Donald Trump, an unprecedented attack on American democracy that stunned many world leaders and U.S. allies.
Pompeo, a close ally of Trump, had sought to meet Jean Asselborn in Luxembourg, a small but wealthy NATO ally, before meeting EU leaders and the bloc's top diplomat in Brussels, three people close to the planning told Reuters.
    Pompeo had originally planned to go to Luxembourg, but that leg of the trip was scrapped, one diplomatic source said, after officials there showed reluctance to grant him appointments. The Brussels leg was still on until the last minute.
But Pompeo's final visit schedule in Brussels was not going to involve any meetings with the EU or any public events at NATO. A third diplomatic source said allies were "embarrassed" by Pompeo after the violence in Washington last week.
    Luxembourg's foreign ministry confirmed the previously planned stop there was now cancelled, but declined to give further details. The EU declined to comment.
Appalled by the Jan. 6 storming of the U.S. Capitol by Trump supporters seeking to overturn the results of the Nov. 3 U.S. election, Asselborn had called Trump a "criminal" and a "political pyromaniac" on RTL Radio the next day.
    The U.S. State Department, in a statement, attributed the cancellation to transition work before President-elect Joe Biden takes office on Jan. 20, even if until recently Pompeo had been reluctant to unequivocally recognise Biden's win. The State Department declined further comment on European officials' rejection of meetings with Pompeo.
In Brussels, Pompeo was due to have a private dinner with NATO Secretary-General Jens Stoltenberg on Wednesday evening at Stoltenberg's private residence, before meeting Belgian Foreign Minister Sophie Wilmes, whose country is a NATO ally.
    The cold shoulder was a contrast with Pompeo's previous visits to Brussels, which is home to NATO and EU headquarters, over the past three years, where he has given key-note speeches on U.S. policy and met the EU's chief executive, even as Europe balked at Trump's foreign policy.
(Reporting by Robin Emmott in Brussels and Humeyra Pamuk in Washington; Additional reporting by Sabine Siebold in Berlin; editing by Grant McCool)
This story has not been edited by Firstpost staff and is generated by auto-feed.
Find latest and upcoming tech gadgets online on Tech2 Gadgets. Get technology news, gadgets reviews & ratings. Popular gadgets including laptop, tablet and mobile specifications, features, prices, comparison.
Business
By Aditya Kalra NEW DELHI (Reuters) - India's tobacco industry will object to a proposal to ban smoking zones in hotels and prohibit advertising at cigarette kiosks as the government steps up anti-smoking efforts, two executives said on Wednesday. India has over the years introduced tobacco controls and launched campaigns to deter its use, but enforcement of the law has been a challenge.
World
HONG KONG (Reuters) - Over 50 pro-democratic activists in Hong Kong were arrested on Wednesday for breaking the city's contentious national security law, local media reported, in the biggest crackdown yet against the democratic opposition under the new law. The arrests in the Asian financial hub included well known democratic figures and former lawmakers James To, Lam Cheuk Ting and Lester Shum, according to the Democratic Party's Facebook page and public broadcaster RTHK. Police did not immediately respond to requests for comment.
World
BRASILIA (Reuters) - Brazil's syringe manufacturers said on Tuesday they will supply 30 million syringes and needles for the country's COVID-19 vaccination program after the government said it would requisition surplus supplies. Executives of the three main manufacturers met with President Jair Bolsonaro at the Health Ministry and it was agreed that each would supply 10 million syringes to cover the initial stages of the vaccination plan.