Exclusive: Afghan drone war - data show unmanned flights dominate air campaign | Reuters
KANDAHAR, Afghanistan Drones fired more weapons than conventional warplanes for the first time in Afghanistan last year and the ratio is rising, previously unreported U.S. Air Force data show, underlining how reliant the military has become on unmanned aircraft.
KANDAHAR, Afghanistan Drones fired more weapons than conventional warplanes for the first time in Afghanistan last year and the ratio is rising, previously unreported U.S. Air Force data show, underlining how reliant the military has become on unmanned aircraft.
The trend may give clues to the U.S. military's strategy as it considers withdrawing more troops from the country, while at the same time shoring up local forces who have struggled to stem a worsening Taliban insurgency.
U.S. President Barack Obama said in 2013 that the Afghan drawdown after 2014 and progress against al Qaeda would "reduce the need for unmanned strikes", amid concerns from human rights groups and some foreign governments over civilian casualties.
On one level, that has played out; the number of missiles and bombs dropped by drones in Afghanistan actually fell last year, largely because the U.S.-led NATO mission ceased combat operations at the end of 2014 and is now a fraction of the size.
Yet as the force has shrunk, it has leant on unmanned aircraft more than ever, the Air Force data reveal, with drone strikes accounting for at least 61 percent of weapons deployed in the first quarter of this year.
"In recent months it's definitely flowed more," Lieutenant Colonel Michael Navicky, commander of the Air Force's 62nd Expeditionary Reconnaissance Squadron, said of the tempo of both drone strikes and surveillance operations.
"We've seen increased weapons deployment in the past few months, and the demand is insatiable," he told Reuters at the operations center of a U.S. air base in the southern city of Kandahar.
The longer term shift towards drones has gone largely unnoticed amid the large conventional air campaign.
Data reviewed by Reuters show strikes by unmanned aircraft accounted for 56 percent of weapons deployed by the Air Force in Afghanistan in 2015, up dramatically from 5 percent in 2011.
The role of drones is likely to form a key part of a review underway by U.S. General John Nicholson, head of NATO troops in Afghanistan, as he prepares to report to Washington in June on how many soldiers he thinks should stay on.
Nicholson declined to discuss details of the review in a recent interview with Reuters.
The current plan is to roughly halve the U.S. presence to 5,500 troops by 2017, most involved in counter-terrorism operations. The training and advising mission would be largely wound down.
U.S. MILITARY "REVERSED COURSE"
In 2015, drones released around 530 bombs and missiles in Afghanistan, half the number in 2014 when weapons dropped by unmanned aircraft peaked.
The 2015 total is, however, almost double the number of bombs and missiles released by drones at the height of the "surge", when the NATO mission expanded to well over 100,000 troops after 2009, mainly Americans.
Like much of the U.S military machine in Afghanistan, the drone operation had been winding down in line with plans for further withdrawals, Navicky said.
At the end of 2015, however, military commanders "hit the brakes and reversed course" on the drone reduction, and have since ordered more air strikes, especially against Islamic State militants who pose a threat in the east, he said.
The Taliban have also forged closer links with al Qaeda, Nicholson said, potentially blurring the lines between what is a legitimate target and what is not, while the Taliban themselves have made gains in the north and south.
Around 300 weapons were deployed by the Air Force in the first quarter of the year, with drones accounting for 61 percent.
The data cover strikes conducted by the Air Force, which handles the majority of Afghan air operations.
The CIA, U.S. Army, and special operations units also have smaller fleets of drones and other aircraft, so the Air Force data may reflect a redistribution among different organizations, although they tend to coordinate closely on missions.
"BLIND SPOT" FOR DRONE ANALYSIS
Because the Islamist militant Taliban movement, the main threat to security in Afghanistan, is not designated a terrorist outfit by the U.S. government, the bulk of armed drone attacks are aimed at other jihadi networks like al Qaeda.
But Taliban insurgents are gaining territory, and, in extreme circumstances, U.S. raids have been conducted against them.
Expanding the authority of U.S. forces to attack the Taliban is currently under review by Nicholson.
Afghanistan's own air force, meanwhile, is being built from scratch and will need support for years to come, officials say.
Drone missions are secretive and have been widely criticized in Afghanistan and Pakistan, where locals and officials have blamed them for unnecessary loss of civilian life.
In the latest instance, residents in Paktika province complained that a series of air strikes in April, which locals said were from drones, killed nearly 20 civilians. The U.S. military said it was still looking into the incident.
Activists and investigators have focused on covert air operations in places like Pakistan and Yemen, leaving Afghanistan as "really a blind spot for drone analysis," said Sarah Kreps, a professor at Cornell University who studies unmanned aircraft.
"The strikes in Afghanistan are one of the most under-reported aspects of drones."
Despite resources being sent to battle Islamic State in Syria and Iraq, the mission in Afghanistan is still significant, accounting for nearly 20 percent of the 60 armed drone missions the Air Force can have in the air in the world at any one time, officials said.
In a time of troop limits imposed by leaders in Washington, the drone squadron is especially useful as only about 200 of nearly 1,000 personnel who support and operate the aircraft are deployed to Afghanistan, Navicky said.
"Remotely piloted aircraft mean more flexibility with fewer people and aircraft," he said. "Because they are unmanned, sometimes you can accept more risk. All that is always going to be valuable."
(Additional reporting by John Walcott in WASHINGTON; Editing by Mike Collett-White)
This story has not been edited by Firstpost staff and is generated by auto-feed.
World
The Pentagon pumped out more contracts than it could oversee, lawmakers and government special investigators said
World
A donor conference in Geneva on Monday saw countries promise a total of $1.2 billion in aid for Afghanistan, which was taken over by the hardline Islamist group last month in a lightning offensive that took retreating US troops by surprise.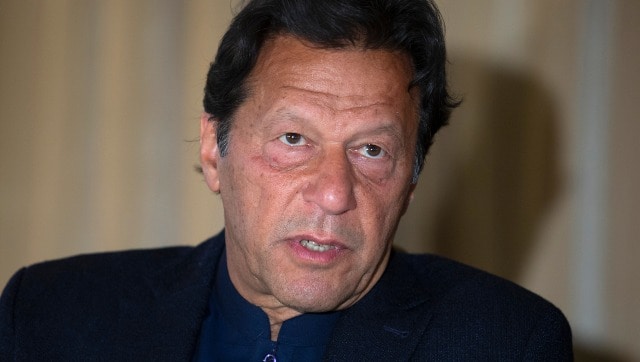 World
In an interview with CNN, Khan talked about women's right in Afghanistan and hopes for an 'inclusive' government. He said no one could predict the future of Afghanistan