Ex-Vatican treasurer Pell loses appeal against sex abuse convictions, to stay in jail
MELBOURNE (Reuters) - Former Vatican treasurer Cardinal George Pell lost an appeal against his conviction for sexually abusing two 13-year-old boys and will remain in prison for at least another three years, a court ruled on Wednesday. Pell, the highest ranking Catholic worldwide to be convicted of child sex offences, was sentenced in March to six years in jail after being found guilty on five charges of abusing the two boys at St Patrick's Cathedral while he was Archbishop of Melbourne in the late 1990s. Pell appealed his conviction to Victoria's Court of Appeal on three grounds, but mainly on the argument that the jury's verdict was unreasonable based on the evidence at the trial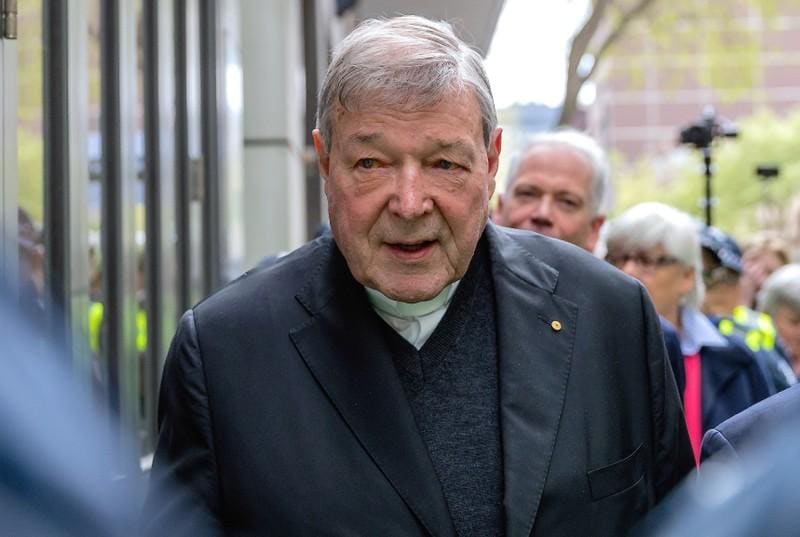 MELBOURNE (Reuters) - Former Vatican treasurer Cardinal George Pell lost an appeal against his conviction for sexually abusing two 13-year-old boys and will remain in prison for at least another three years, a court ruled on Wednesday.
Pell, the highest ranking Catholic worldwide to be convicted of child sex offences, was sentenced in March to six years in jail after being found guilty on five charges of abusing the two boys at St Patrick's Cathedral while he was Archbishop of Melbourne in the late 1990s.
Pell appealed his conviction to Victoria's Court of Appeal on three grounds, but mainly on the argument that the jury's verdict was unreasonable based on the evidence at the trial.
"Having reviewed the whole of the evidence, two of the judges of the court of appeal ... have decided that it was open to the jury to be satisfied beyond reasonable doubt that Cardinal Pell was guilty of the offences charged," Supreme Court of Victoria Chief Justice Anne Ferguson said, reading out a summary of the court's decision.
Pell had also appealed on the grounds that the trial judge was wrong to have blocked the defence from showing a video animation to back up its closing argument and that Pell should have entered his plea while in front of potential jurors rather than by a video link in the court house.
The three appeal judges decided to only grant leave to hear the first ground of appeal, that the jury verdict was unreasonable, and that was then dismissed on a 2-1 verdict.
Under the terms of his sentencing, Pell will be eligible for parole in October 2022, when he will be 81.
(Reporting by Sonali Paul; Editing by Michael Perry and Paul Tait)
This story has not been edited by Firstpost staff and is generated by auto-feed.
Find latest and upcoming tech gadgets online on Tech2 Gadgets. Get technology news, gadgets reviews & ratings. Popular gadgets including laptop, tablet and mobile specifications, features, prices, comparison.
Business
By Howard Schneider WASHINGTON (Reuters) - A rebounding stock market and massive federal aid payments pushed the net worth of U.S. households back to pre-coronavirus levels in the second quarter, the Federal Reserve reported on Monday, with savings accounts and equity portfolios both rising sharply despite the pandemic
Business
By Rodrigo Campos NEW YORK (Reuters) - Stocks across the world hit their lowest in seven weeks and other risk assets sold off on Monday on concerns over renewed lockdown measures in Europe and Britain, as well as the United States' inability to agree on fiscal stimulus that would support millions of unemployed. Oil prices fell nearly 5%, the dollar rallied and an index of emerging market currencies fell by the most in six months. The MSCI world equity index , which tracks shares in 49 countries, touched its lowest since Aug.
Business
By Rodrigo Campos NEW YORK (Reuters) - Stocks across the world hit their lowest in seven weeks and other risk assets also sold off on Monday on concerns over renewed lockdown measures in Europe and Britain, as well as the United States' inability to agree on fiscal stimulus that would support millions of unemployed. Oil prices fell more than 3%, the dollar rose against a basket of peers and an index of emerging market currencies fell by the most in six months. The MSCI world equity index , which tracks shares in 49 countries, ended at its lowest since Aug