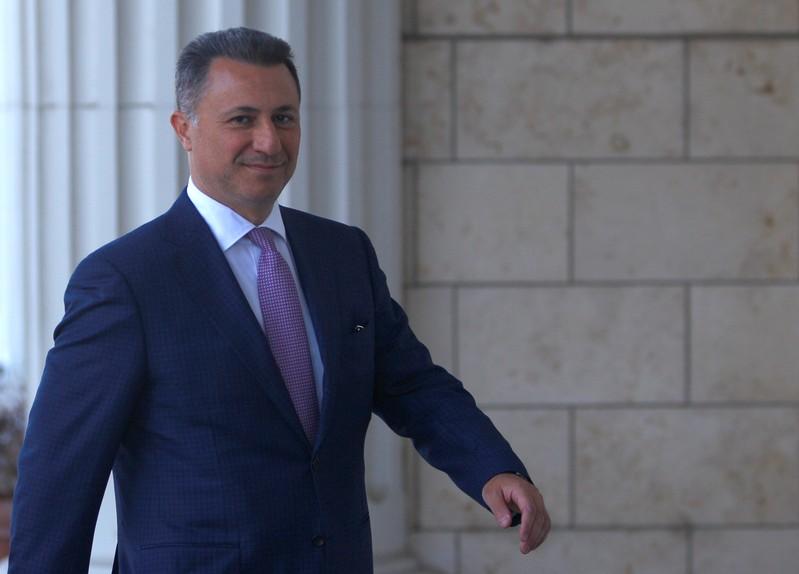 SKOPJE (Reuters) - Former Macedonian prime minister Nikola Gruevski has fled to Hungary and is seeking political asylum there, six months after he was sentenced to two years in prison on corruption-related charges, Macedonia's interior ministry said on Tuesday.
Macedonian police issued an arrest warrant on Monday for Gruevski, who resigned in 2016 after 10 years in power, after he failed to show up to begin his sentence following a Nov. 9 court ruling against his motion for a reprieve.
In a statement, the ministry said it had ascertained that Gruevski had fled the country and was in Hungary.
"The Interior Ministry of the Republic of Macedonia has ... received a confirmation from the Hungarian (interior) ministry that Nikola Gruevski is in the Republic of Hungary and that he sought an asylum there," it said.
On his Facebook page Gruevski wrote that he fled the country after receiving "countless" threats against his life.
"I am in Budapest now and I am seeking political asylum from the authorities of Hungary. I will always remain faithful to the Macedonian cause and will never give up," his post said.
The Macedonian interior ministry also said it asked a court in Skopje to approve an international arrest warrant for the "convicted individual" Gruevski.
Earlier in the day, Dimce Arsovski, a spokesman for the opposition nationalist VMRO-DPMNE party which Gruevski once led, said he had no information about the ex-premier's whereabouts.
On Oct. 20, Macedonia's parliament ratified an agreement to change the country's name, bringing a decades-old dispute with Greece one step closer to being resolved. Gruevski had opposed any name change.
Eighty deputies in the 120-seat parliament voted in favour of renaming the Balkan state as the Republic of North Macedonia - just reaching the two-thirds majority needed to enact constitutional changes.
(Additional reporting by Krisztina Than in Budapest; Writing by Aleksandar Vasovic; Editing by Mark Heinrich, William Maclean)
This story has not been edited by Firstpost staff and is generated by auto-feed.
Find latest and upcoming tech gadgets online on Tech2 Gadgets. Get technology news, gadgets reviews & ratings. Popular gadgets including laptop, tablet and mobile specifications, features, prices, comparison.
Updated Date: Nov 14, 2018 04:05:35 IST