Ex-ISI boss breathes fire against Pak politicians: Will Raheel Sharif take the bait for a coup?
Is Pakistan Army conveying a point or two through its tried, tested and trusted conduit former ISI chief Hamid Gul and preparing the stage for a coup?
Is Pakistan Army conveying a point or two through its tried, tested and trusted conduit former ISI chief Hamid Gul and preparing the stage for a coup?
This is how it looks like if one considers General Gul's latest remarks in context of Rangers's report on Karachi's crime syndicates aligned with Pakistan People's Party (PPP) and Muttahida Qaumi Movement (MQM).
MQM leader Altaf Hussain (based in London) and PPP supremo Asif Ali Zardari earned the wrath of Pakistan Army by their outburst against the permanent establishment of the country. It is another matter that both these leaders beat a hasty retreat and their supporters went into damage control mode.
It is against this backdrop that General Hamid Gul, considered by some to be the most dangerous man in Pakistan, waded into the controversy and said what he said. According to Urdu daily Ausaf, he made two interesting observations: One, the West is looking to destabilise Pakistan and that the Constitution can be suspended without much ado during the prevailing circumstances; two, "It is important for (Army chief) Gen Raheel Sharif to come to power for a few days as the politicians are destroying the country."
Significantly, General Gul, the army's ever-reliable man, had spoken on the same theme in separate interviews with Dawn and The News International earlier this month and quickly invited the wrath of parliament.
On 12 June, lawmakers in the upper house of Pakistan Parliament, the Senate, took strong exception to Hamid Gul's interviews and demanded his trial on sedition charges. Yet, Gul has chosen to shoot off his mouth yet again and taken on Zardari and Altaf Hussain.
"Zardari's visit to Dubai has raised a lot of questions, he (Gul) remarked and demanded that political parties were made accountable to the military and the people of the country," according to the Ausaf report on Gul's latest speech in the seminar circuit.
Any layman with rudimentary knowledge of the Pakistan situation will accept that Hamid Gul is no ordinary former soldier. He speaks with certain authority and conviction on internal security issues. It is this trait that makes him much sought in seminar circuits two decades after he retired to don the cap of a defence analyst.
There is so much in public domain that gives an account of how he diverted the Mujahideen engaged in war against the Soviet Union in Afghanistan to Kashmir to give sleepless nights to India.
His role as a close aide of Benazir Bhutto in establishing the Taliban militia needs no recap nor the US charge that its one time CIA-friendly Gul has ties with the likes of Al Qaeda. Even now, he takes pride in his creation, Islami Jamhoori Ittehad (IJI), the short-lived alliance of religious groups and conservative parties, to checkmate Benazir Bhutto from winning the 1988 election.
Gul's constant refrain is that Pakistan politicians are corrupt. And he, therefore, sees a justification in Army's take over. "As long as politicians were corrupt, the Army would interfere in the state's affairs", the former ISI chief had told Dawn News while speaking in the popular "Faisala Awam Ka" programme on 30 October, 2012.
He had elaborated thus: "Politicians are crooks; if they continue the path they are on, then the army will continue to intervene in the state's affairs". There is no gainsaying the fact that across Pakistan, politicians are held in low esteem, whatever be the contributory factors, and the man in the uniform is seen as the saviour of the land and its honour.
Returning to his favourite theme in his interview with The News on 11 June, 2015, Gul was more explicit. "People would demand the blood of politicians and won't listen to them in the presence of the Objectives Resolution", he had said and declared "If the army did not take over, there would be a civil war in the country."
He did slip in some caveats but these are neither here nor there. For instance, he remarked that every ruler in Pakistan had committed mistakes. He also asked the army to "get rid of the black sheep within its ranks", and hold "others accountable" for their wrong deeds.
Gul is, however, unwavering on what the army should do, and it is a surgical operation, according to him. "The army should take the country's command for a short period and act professionally."
Should the rantings of a former general deserve to be taken seriously? Yes, certainly, if the General is Hamid Gul.
Do the circumstances impart significance to Gul-speak? Undoubtedly, when unfolding events show deliberate attempt to discredit if not eliminate the MQM as a political force, and to undermine Asif Ali Zardari as a politician of substance. Because, there are no two views on who sets the 'agenda' in Pakistan.
It is not for nothing that Benazir Bhutto did not re-open the case of her father Zulfikar Ali Bhutto's sham trial, which was nothing but judicial murder. As prime minister, she simply followed the military writ for her own survival, and, therefore, dared not to re-open the case.
"My father, Zulfiqar Ali Bhutto was a powerful politician, leader of the Islamic world, founder of 1973 Constitution, father of Pakistan's nuclear programme. If they hanged him just because he warned Zia of trial under Article VI, I am too weak a woman, whose family had been destroyed. Here, we may be representative of the people but we don't set the agenda, we just follow and in the process try to establish civilian writ," Pakistani columnist Mazhar Abbas has quoted Benazir as telling him when asked why she did not reopen Bhutto's trial and why she accepted 'controlled democracy' imposed by the GHQ Shura.
By all accounts, the unfolding developments in Pakistan have all the classic elements of the situation witnessed in run up to a military takeover in the past. Ipso facto it should not lend credence to an alarm. But the recent developments - launch of Operation Zarb-e-Azb last June that ignored Prime Minister Sharif's efforts to bring the Taliban to the talks table, establishment of military courts, and GHQ usurping Foreign Office role in the Afghan policy – indicate that interesting and politically turbulent times are ahead in Pakistan.
World
With mobile communications blocked, Facebook banned and nightly internet shutdowns, Myanmar's mainstream media has come to rely on citizen journalists for videos and news tips
India
The Myanmar's military's ruthless crackdown after its coup has left more than 500 people dead, according to a local monitoring group, triggering international outrage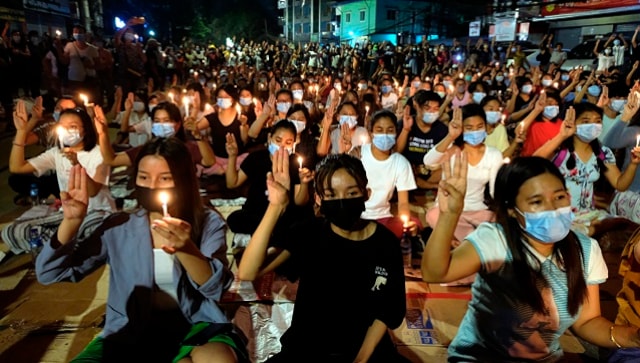 World
Three armed rebel groups in Myanmar are threatening to 'fight back' if the military does not stop killing anti-coup protesters