Euthanasia debate: A look at the worldwide struggle for people's 'Right to Die'
When one battles death at the age of 70 or more, the cause is heroic. But public reaction is a bit restrained. Death is eventually triumphant. Sadly, an old person fighting death, does not look as heroic as a young person battling i
Editor's note: This article was originally published on 20 May, 2016. It is being republished in light of the Supreme Court of India's landmark ruling to legalise euthanasia.
When one battles death at the age of 70 or more, the cause is heroic. But public reaction is a bit restrained. Death is eventually triumphant. Sadly, an old person fighting death, does not look as heroic as a young person battling it.
When the protagonist is young, and chooses death, the atmosphere itself gets charged. There is shock. Even dismay. That is when the unfairness of nature strikes home. The vibrance of youth gets juxtaposed against the steely (often bitter) resolve to end life. It shocks the world.
"Why must it be so?" is a cry on the lips of most people. Why must pain, and the finality of ailment be so damning? This concluding part of the four article series on euthanasia is precisely about some such people.
Their private pain was made public. And their rallying cry for the right to die with dignity compelled even the most cynical policymakers to look at the laws afresh. In most cases laws were re-written.
That is what happened with Aruna Shanbag. And this is what happened with each of the cases listed out below. It must be borne in mind that these are just a handful of incidents that took place. Each of the few thousand people who have opted to embrace the die-with-dignity philosophy during the past two decades has a story to tell. It is always a story of human will triumphing over suffering.
Eluana Englaro was born on 25 November, 1970 and opted to die on 9 February, 2009. She was an Italian who was in a car accident in January 1992 and slipped into a persistent vegetative state. She was young, vivacious, and just 22.
For some time she was kept alive on life support systems, but when conditions did not improve, her father requested the doctors to remove the feeding tube from her mouth. The authorities refused this request.
But after lying in a vegetative state for 17 years, the state finally agreed, and allowed life support systems to be removed.
The process was not easy. The case was debated in the courts for years. The father's request was denied first in December 1999 by the Milan Court of Appeal, and then in April 2005 by the Court of Cassation. Finally, as the pleas became more fervent, and as the national mood demanded a resolution to this endless suffering, the father was allowed a new trial by the Court of Cassation on 16 October, 2007. Finally, the Milan Court of Appeal declared on 9 July, 2008 that Eluana's father and legal guardian Beppino Englaro was allowed to suspend feeding and hydration.
But the pressures brought about by the church led group – insisting that ending any life is taboo – compelled the Italian Parliament to bring a jurisdictional conflict before the Final Court of Appeals in July 2008. The Parliament stated that the decision was actually changing existing laws (quite similar to Parliamentarians in India complaining about judicial overreach). This request was rejected by the Court.
On 13 November, 2008, Italy's highest court awarded Eluana's father the right to stop his daughter from being fed. The court's decision met with immediate criticism from the Roman Catholic Church. She was finally allowed to pass away in February 2009.
Italy was witness to another similar end-of-life situation a few years earlier when Piergiorgio Welby (26 December, 1945 – 20 December 2006) opted to die. His method was to refuse treatment altogether. He was a poet, painter and activist, whose three month battle to establish his right-to-die led to a debate about euthanasia in Italy.
Welby was in his teens when he was diagnosed with muscular dystrophy. The disease progressed, and in 1997 he became unable to breathe on his own. He became politically active in the right-to-die movement. In 2006 he publicly declared his wish to refuse the medical treatment that kept him alive. The case was controversial, with liberal politicians supporting him and conservatives and the Vatican speaking against his cause. After three months, he was allowed to die, though he was denied a church burial.
You have a similar story in Ramon Sampedro (5 January, 1943 - 12 January, 1998, ). He was a ship fisherman from Spain. He became a quadriplegic in a diving accident at the age of 25. He fought for his right to an assisted suicide for the next 29 years. His need for assistance was understandable. The nature of his ailment prevented him from taking his own life. He needed help.
His request was denied. But on 12 January, 1998, his body was discovered. He had died from cyanide poisoning. Days later, a close friend, Ramona Maneiro was arrested for assisting his suicide, but was released for lack of evidence.
Seven years later, when the statute of limitation had expired, Ramona spoke on a Spanish talk show and admitted to providing Ramon with a drink laced with cyanide. She said, "I did it for love." She also said she had turned on the video camera that recorded Ramón's last words before he drank the poison. She admitted that she was in the room, behind the camera, when he died.
The story electrified Spain. Ramon's story was made into a Spanish movie Mar adentro (English title: The Sea Inside). The movie drew international attention and won the Best Foreign Language Film at the 77 th Academy Awards.
But the case that foxed parliamentarians was that of Debbie Purdy. She died at the age of 41 (4 May 1963 – 23 December 2014).
A British music journalist and political activist from Bradford, West Yorkshire, she had primary progressive multiple sclerosis. What she did was something that no lawmaker was prepared for.
She said that she wanted to go to Switzerland and end her life, but wanted her husband Omar Puente to accompany her. She wanted him to help her during the journey and also be by her bedside during her last moments. What she wanted was an assurance from the British government that Omar would not be arrested for abetting a suicide on his return to the UK.
This was tricky. UK had a law which treats abetment to suicide as a crime punishable with a possible 14-year jail sentence. Many told her to go quietly, and that nothing would happen. They pointed to the 92 Britons who had proceeded to Switzerland with their companions in the past, and how none of the people who returned was ever prosecuted. But Debbie wanted a categoric assurance. This the UK government was unwilling to give.
Finally, her legal team won its argument that a lack of prosecution policy was a violation of human rights. Debbie, was now 46, was "ecstatic" calling the ruling "a huge step towards a more compassionate law".Wheelchair-bound Debbie, of Bradford, West Yorks, declared that the win "gives me my life back". With her husband next to her, she added, "We can now live our lives. We don't have to plan my death."
She remained wheelchair-bound, and soon both her sight and hearing began to deteriorate. Purdy died on 23 December 2014 at the Marie Curie Hoispital in Bradford. She never went to Switzerland.
Another case that got the whole of the USA fixated was that of Terri Schiavo (December 3, 1963-March 3, 2005).
The entire case was a a legal struggle over end-of-life-care in the US from 1990 to 2005. Terri suffered from an irreversible persistent vegetative state. Her husband and legal guardian argued that she would not have wanted prolonged artificial life support without the prospect of recovery.
He elected to remove her feeding tube.
But her parents argued in favor of continuing artificial nutrition and hydration and challenged her medical diagnosis. The highly publicized and prolonged series of legal challenges presented by her parents ultimately involved state and federal politicians including the US President. It caused a seven-year delay before Terri's feeding tube was ultimately removed.
After appeals through the federal court system upheld the original decision to remove the feeding tube, staff at the hospice facility disconnected the feeding tube on 18 March, 2005, and Terri died on 31 March, 2005.
One case which actually forced the state of California (USA) to change its laws was that of Brittany Maynard (19 November, 1984 – 1 November, 2014).
She suffered from terminal brain cancer and had decided quite early that she would end her own life "when the time seemed right." She was an advocate for the legalization of aid-in-dying (or assisted suicide).
She graduated from the University of California, Berke School of Education. Brittany taught at orphanages in Nepal, and also travelled to Vietnam, Cambodia and other South east countries. On 1 January, 2014, she was diagnosed with a form of brain cancer, and had a partial craniotomy and a partial resection of her temporal lobe. The cancer returned in April 2014, and her diagnosis was then elevated to grade 4 astrocytoma, with a prognosis of six months to live.
She moved from California to Oregon to take advantage of that states Death with Dignity Law. She said that she had decided that "death with dignity was the best option for me and my family."
Then she began lobbying for the cause for the right to die with dignity. She created the Brittany Maynard Fund and wrote an opinion piece for CNN titled "My Right to Death with Dignity at 29".
Brittany wrote in her final Facebook post, "Goodbye to all my dear friends and family that I love. Today is the day I have chosen to pass away with dignity in the face of my terminal illness, this terrible brain cancer that has taken so much from me ... but would have taken so much more."
Her death was reported in the media on 2 November, 2014. In accordance with the Oregon state law regarding death with dignity, her official cause of death was mentioned as "brain tumour"even though she had taken her own life.
In fact, her story, and her lobbying, eventually made California adopt end-of-life laws for the terminally ill. However, while all the above cases were people who opted for death, a word must be said about a doctor who actually championed this cause to the point of becoming controversial, and even getting imprisoned. This was Jacob "Jack" Kevorkian (May 26, 1928 – June 3, 2011).
He was a pathologist, euthanist, activist, painter, author, composer, and musician. He is best known for publicly championing a terminal patient's right to die via the physician-assisted suicide route. He is said to have assisted at least 130 patients to that end. He was often portrayed in the media as "Dr. Death". But many consider him a hero as he helped set the platform for reform. He famously said, "Dying is not a crime."
In 1999, Kevorkian was arrested and tried for his direct role in a case of voluntary euthanasia. He was convicted of second degree murder and served eight years of prison.
He was released on parole on 1 June, 2007. The condition was that he would not offer advice nor participate nor be present in the act of any type of suicide involving euthanasia to any other person; nor would he promote nor talk about the procedure of assisted suicide.
After his parole period was over, he gave several talks and interviews. In an interview, when asked for his comments on existing laws in Oregon, Washington and Montana (California comes into effect in June 2016) which were meant only for the terminally ill, he remarked, "What difference does it make if someone is terminal? We are all terminal." In April, 2010, he appeared on CNN, where he was asked "You are saying doctors play God all the time?"
Kevorkian said, "Of course. Anytime you interfere with a natural process, you are playing God." His story was later made into a film (You Don't Know Jack ) which premiered on 24 April, 2010 on HBO. Al Pacino who featured as Kevorkian received Emmy and Golden Globe awards for his portrayal.
He was finally diagnosed with liver cancer. He died on 3 June, 2011. According to his attorney, Mayer Morganroth, there were no artificial attempts to keep him alive and his death was painless. The epitaph on Kevorkian's tombstone reads, "He sacrificed himself for everyone's rights."
Sports
The withdrawal in Tokyo came after the 20-time major champion lost his cool on his way to a surprise 6-4, 6-7 (6/8), 6-3 defeat against Pablo Carreno Busta in the Olympics singles bronze-medal match.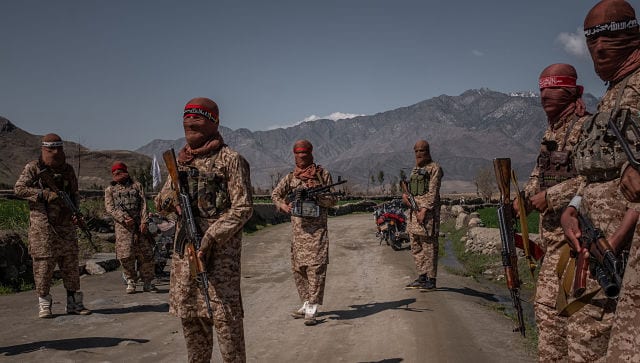 World
It is being suggested that India has reached a fork in the road in Afghanistan and must either sup with the Taliban or pack its bags and leave
World
The fact inversion about the siege is the latest in Trump's contorted oeuvre of the 'big lie' compendium, the most specious of which is that the election was stolen from him, when it was not