EU's Juncker takes aim at Hungary's Orban over fake news
BRUSSELS (Reuters) - European Union leaders on Friday backed a plan to tackle fake news on the internet and the bloc's chief executive rounded on one of the EU chiefs, Hungarian Prime Minister Viktor Orban, as one of the main culprits in spreading disinformation. The EU plan endorsed by the bloc's 28 national leaders is largely aimed at guarding against what the United States, NATO and the EU say are Russian attempts to undermine Western democracies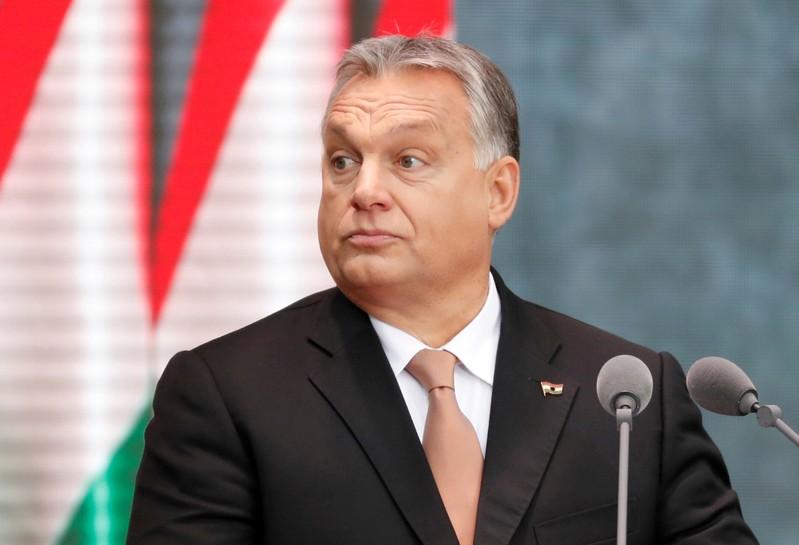 BRUSSELS (Reuters) - European Union leaders on Friday backed a plan to tackle fake news on the internet and the bloc's chief executive rounded on one of the EU chiefs, Hungarian Prime Minister Viktor Orban, as one of the main culprits in spreading disinformation.
The EU plan endorsed by the bloc's 28 national leaders is largely aimed at guarding against what the United States, NATO and the EU say are Russian attempts to undermine Western democracies.
But European Commission President Jean-Claude Juncker said the bloc should also look within its own ranks in its fight against disinformation and he zeroed in on Orban whose populist politics have raised hackles in Brussels.
Singling out Orban, Juncker told reporters: "Some of the prime ministers sitting around the table, they are the origin of the fake news."
"When Mr. Orban for example says ... that migrants are responsible for Brexit, it's fake news. So let's not put all the responsibility on others," Juncker said.
Since sweeping to power in 2010, Orban, once a campaigner against Hungary's Soviet Communist overlords, has used his parliamentary majority to pressure courts, media and non-government groups in ways his opponents say breach EU rules.
He has irked many in the EU by taking on the image of a crusader for the rights of nation states and ethnic majorities against rules of civic behaviour agreed in Brussels.
Juncker backed the European Parliament when it voted to impose sanctions on Hungary for breaking with EU values on democracy and civil rights.
EU leaders earlier endorsed plans for an early warning system to alert governments and for tech giants such as Facebook and Google to do more to remove misleading or illegal content.
"The spread of deliberate, large-scale, and systematic disinformation, including as part of hybrid warfare, is an acute and strategic challenge for our democratic systems," the EU summit's conclusions said. "It requires an urgent response."
The EU executive's plan, endorsed by governments, will hand more money and power to regulators in Brussels to monitor and flag Russian disinformation. It increases funds for the foreign service EEAS for this to 5 million euros ($5.7 million) from 1.9 million in 2018.
(Reporting by Alissa de Carbonnel; Additional reporting by Gabriela Baczynska; Writing by Alissa de Carbonnel; Editing by Richard Balmforth)
This story has not been edited by Firstpost staff and is generated by auto-feed.
Find latest and upcoming tech gadgets online on Tech2 Gadgets. Get technology news, gadgets reviews & ratings. Popular gadgets including laptop, tablet and mobile specifications, features, prices, comparison.
World
UNITED NATIONS (Reuters) - Mexico, India, Ireland and Norway were elected to the United Nations Security Council on Wednesday, but the 193 U.N. member states must return on Thursday to continue voting to fill one more vacant seat after there was no clear winner. Canada lost out to Ireland and Norway in a hotly contested election that included Ireland enlisting the help of U2 singer Bono and taking U.N.
World
GENEVA/LONDON (Reuters) - The World Health Organization said on Wednesday that testing of the malaria drug hydroxychloroquine in its large multi-country trial of treatments for COVID-19 patients had been halted after results from other trials showed no benefit. "The hydroxychloroquine arm of the SOLIDARITY trial has been stopped," WHO expert Ana Maria Henao-Restrepo told a news briefing. (Reporting by Mike Shields, Emma Farge and Kate Kelland, editing by Peter Graff and Kevin Liffey)
World
By Rich McKay and Nathan Layne (Reuters) - A Georgia county prosecutor on Wednesday announced that a fired Atlanta police officer has been charged with felony murder in the shooting death of Rayshard Brooks in the parking lot of a fast-food restaurant last week. The death of the 27-year-old Brooks - another in a long line of African-Americans killed by police - further heightened racial concerns in the United States at a time of national soul-searching over racism and police brutality. Garrett Rolfe, the white officer who shot Brooks on June 12 and was fired the next day after surveillance video showed his actions, faces 11 charges including felony murder and assault with a deadly weapon, Fulton County District Attorney Paul Howard told a news conference in Atlanta