EU's Barnier says will "improve" Irish Brexit border proposal to UK
BRUSSELS (Reuters) - The European Union is ready to improve its proposal to Britain for an 'insurance policy' backstop arrangement on how to manage its Irish border after Brexit, the EU's chief negotiator Michel Barnier said on Tuesday. 'We are ready to improve this proposal,' Barnier told reporters after briefing EU ministers on his talks ahead of a summit of EU leaders in Salzburg on Wednesday and Thursday. 'Work on the EU side is ongoing, we are clarifying which goods arriving in Northern Ireland from the rest of the UK would need to be checked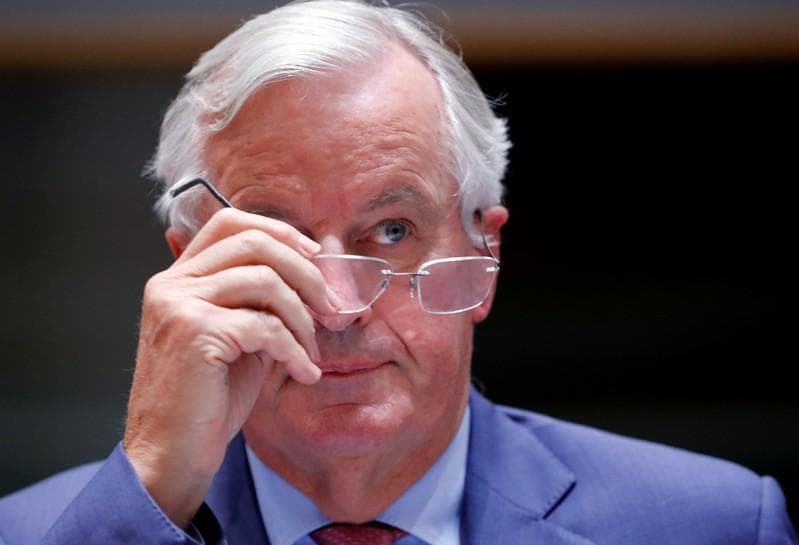 BRUSSELS (Reuters) - The European Union is ready to improve its proposal to Britain for an "insurance policy" backstop arrangement on how to manage its Irish border after Brexit, the EU's chief negotiator Michel Barnier said on Tuesday.
"We are ready to improve this proposal," Barnier told reporters after briefing EU ministers on his talks ahead of a summit of EU leaders in Salzburg on Wednesday and Thursday.
"Work on the EU side is ongoing, we are clarifying which goods arriving in Northern Ireland from the rest of the UK would need to be checked. Where, when and by whom these checks could be performed," he said.
"Most checks can take place away from the border, at company premises, or the market," Barnier said of customs and regulatory checks on goods that might move from the British mainland to Northern Ireland, which the EU has offered to keep inside the EU economic space after Brexit to avoid border friction.
Aware that British Prime Minister Theresa May has ruled out a new "border" between the province and the British mainland, Barnier said he was looking at a broad range of ways in which the EU could be sure that Britain did not use Northern Ireland's special status to sidestep EU controls on British goods.
Insisting that it was only "an insurance policy" which might never be used if Britain and the EU succeed in negotiating the close trading relationship both sides want, Barnier repeated that he was keen to "de-dramatise" the effects of Britain's withdrawal from the Union.
But, also conscious of Irish worries about a possible political fudge on the issue, he stressed that the backstop must be "legally operational" and said a summit in Brussels on Oct. 18 would be a "moment of truth" for whether a deal was possible before Britain leaves the EU, deal or no deal, next March.
"It's then that we shall see whether the agreement we are hoping for is within our grasp," Barnier added.
(Reporting by Alastair Macdonald and Gabriela Baczynska ; @macdonaldrtr; Editing by Gareth Jones)
This story has not been edited by Firstpost staff and is generated by auto-feed.
World
ATHENS (Reuters) - Greek police used teargas and water cannon to disperse people who had gathered in central Athens on Saturday to protest against mandatory COVID-19 vaccinations. More than 4,000 people rallied outside the Greek parliament for a third time this month to oppose mandatory inoculations for some workers, such as healthcare and nursing staff.
World
ISTANBUL (Reuters) - Two Turkish soldiers were killed and two were wounded in an attack on their armoured vehicle in northern Syria, and Turkish forces immediately launched retaliatory fire, Turkey's defence ministry said on Saturday. "Our punitive fire against terrorist positions is continuing," the statement on Twitter on said. It did not specify where the attack occurred, but media reports said it was in the al-Bab area.
World
By Marcelo Rochabrun SAO PAULO (Reuters) - Protesters took to the streets in several Brazilian cities on Saturday to demand the impeachment of far-right President Jair Bolsonaro, whose popularity has fallen in recent weeks amid corruption scandals against the backdrop of the pandemic. This week, news broke that Brazil's defense ministry told congressional leadership that next year's elections would not take place without amending the country's electronic voting system to include a paper trail of each vote. Bolsonaro has suggested several times without evidence that the current system is prone to fraud, allegations that Brazil's government has denied