European Union's grand plan to tackle climate change has gone off-track
The 28-member European Union, the third-largest emitter of greenhouse gases, has long been held up as the poster child of efforts to save earth's climate.
Paris: The 28-member European Union, the third-largest emitter of planet-warming greenhouse gases after China and the United States, has long been held up as the poster child of efforts to save Earth's climate.
But after years of taking the lead in talks for a global climate pact, and making tough policy and investment choices to lessen fossil fuel reliance at home, the bloc's resolve now seems to be flagging, analysts say.
Europe is responsible for about 10 percent of global emissions.
As the world's nations meet in Bonn to negotiate a rulebook for executing the climate-rescue Paris Agreement, adopted in 2015 to limit emissions from burning oil, coal, and gas, here is a look at Europe's role.
History
Having been at the forefront of the Industrial Revolution that sparked the large-scale carbon dioxide pollution of Earth's atmosphere now blamed for global warming, Europe took the lead hundreds of years later in shifting to cleaner energy generated by sources such as the Sun, waves and wind.
It was instrumental in passing, and keeping alive, the 1997 Kyoto Protocol, the Paris Agreement's predecessor, despite opposition from the United States and other developed countries.
Europe also created the first, still the biggest, carbon market in a bid to incentivise companies to pollute less.
The Emissions Trading System limits emissions and allows companies to trade in allowances not used.
Then what happened?
The carbon market, which covers about 40 percent of Europe's industrial emissions, has proven ineffective, critics say, and needs urgent reform.
Carbon allowances were too generous, resulting in a carbon price too low to encourage savings.
The bloc also took on emissions-cutting targets that analysts say are too low to stay under the ceiling for average global warming set in the Paris pact — no more than two degrees Celsius (3.6 degrees Fahrenheit) over pre-industrial levels.
The EU pledged to reduce its own emissions by 20 percent by 2020 over 1990 levels — a goal it is on course to exceed.
With three years to go, the target has already been met even if five countries — Austria, Belgium, Denmark, Luxembourg and Ireland — are not on track to achieve their national goals.
The European Environment Agency expects the bloc will reach 24 percent in 2020.
This goes to show that the target was too "modest" to begin with, according to Celia Gautier of the Climate Action Network, a grouping of NGOs.
By 2020, Europe also seeks to boost energy efficiency (less fossil fuel input for the same energy output) by 20 percent, and ensure that 20 percent of energy consumed is from renewables.
According to Eurostat, an agency of the European Commission, renewable energy consumption in Europe was already 16.7 percent in 2014.
"In the wake of the Paris Agreement's entry into force, the EU's climate policy effort appears to be slowing, and it has not effectively responded" to an aspirational 1.5 C lower limit also written into the pact, according to the Climate Action Tracker (CAT), a tool created by think-tanks to measure countries' progress.
What's next?
Europe's medium- and long-term ambitions are even more problematic.
It is targeting a 40 percent domestic reduction in greenhouse gas emissions by 2030 over 1990 levels, which the CAT says is "significantly behind what is achievable and necessary".
And it is not on track to meet even that — currently steering for 30-39 percent.
According to the CAT, Europe needs to reduce emissions by about two percent per year to achieve a 45-50-percent cut by 2030 — a trajectory more in line with the Paris accord's objectives.
But emissions are projected to slow only between 0.5 percent and 1.3 percent per year.
Europe is not alone — the CAT says all major emitters, the US, China, India and Russia included, need to do much more for the world to stay under 2 C.
Further ahead
For 2050, the EU bloc has set its sights on a 80-95-percent reduction from 1990, which the CAT says would require "significant acceleration".
According to Climate Analytics, a policy institute, 300 coal-fired power stations have to close in Europe by 2030, if the Paris goals are to be met.
Half of Europe's coal emissions come from Germany and Poland, the rest mainly from Bulgaria and Czech Republic — countries with relatively smaller reduction goals than their richer European peers.
"To achieve total decarbonisation of the global economy by the second half of the 21st century (as mooted in the Paris Agreement), Europe must, as an industrial leader, be among the first to achieve it," said David Levai, a researcher at the IDDRI research institute in Paris.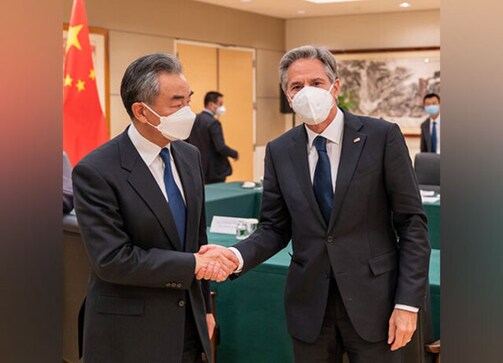 World
Secretary of State Antony Blinken emphasised that the United States is committed to maintaining peace and stability across the Taiwan Strait, consistent with its longstanding one-China policy
India
The agreement offers an excellent opportunity for both India and the EU to harness trade to develop its domestic tech sector while enabling multilateral cooperation in the field
Explainers
Faced with an increasingly belligerent China, the Indian Army has increased its firepower by deploying a variety of rockets and artillery, and plans to further acquire diverse weapon systems