European Parliament Corruption Suspect Cuts Deal With Prosecutors
The lawmaker, Pier Antonio Panzeri, an Italian who sat in the Parliament from 2004 to 2019, is one of four people who have been in the custody of the Belgian police since last month in the corruption scandal. They are accused of taking payments from Qatar and Morocco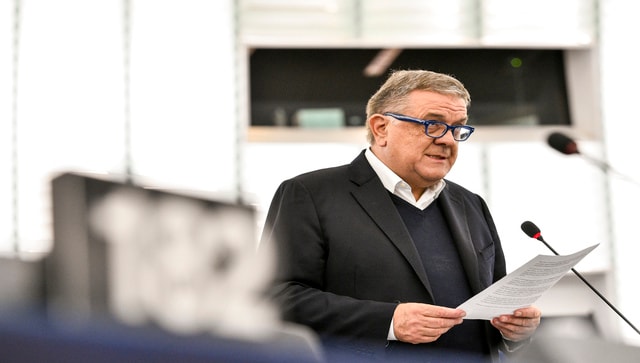 Brussels: A former lawmaker at the heart of the European Parliament corruption scandal has reached an agreement with Belgian authorities to trade detailed information in return for a lighter sentence, the latest twist in the blockbuster case, the prosecutor's office said Tuesday.
The lawmaker, Pier Antonio Panzeri, an Italian who sat in the Parliament from 2004 to 2019, is one of four people who have been in the custody of the Belgian police since their arrests last month in the biggest corruption scandal ever to hit the EU institution. They are accused of taking payments from Qatar and Morocco.
Panzeri, 67, and the other defendants stand accused of accepting cash to influence lawmakers to act favourably toward Qatar and Morocco, which have both denied wrongdoing.
Panzeri had been cast as the central character in the case by Belgian authorities, who present him as a criminally entrepreneurial former politician who used his connections and influence to advance dodgy deals.
Panzeri and the other defendants — who include a ranking member of the Parliament and a former aide to Panzeri — have been charged with forming a criminal organisation, corruption and money laundering.
On 9 December police raided Panzeri's home and, they say, found a bag with 700,000 euros (about $750,000) in cash. That same day they arrested Eva Kaili, a parliamentary vice president, and her partner, Francesco Giorgi, who had once served as an aide to Panzeri and was working as an aide to another lawmaker at the time of his arrest.
In all, the authorities say they recovered 1.5 million euros in raids at the suspects' homes and elsewhere.
Kaili, through her lawyer, has denied any wrongdoing; Giorgi has not commented on the charges against him. The two are parents of a 2-year-old child.
Acting on a Belgian warrant, Italian authorities also arrested Panzeri's wife and daughter, who are in custody in Italy awaiting extradition. They both deny wrongdoing.
According to the prosecutor's statement, Panzeri agreed on Tuesday to cooperate with Belgian authorities in exchange for a "limited sentence" that will include prison time, a fine and confiscation of all seized assets, which are worth around 1 million euros.
If convicted, Panzeri would have faced 15 years in prison, Belgian legal experts said.
Read all the Latest News, Trending News, Cricket News, Bollywood News,
India News and Entertainment News here. Follow us on Facebook, Twitter and Instagram.
Explainers
Singapore's Changi Airport is a 'destination in itself'. Even flyers agree. The airport has been named the best in the world – for the 12th time. Which other airports are on the list?
World
Although Ishaq Dar did not name the countries concerned, Saudi Arabia, the United Arab Emirates (UAE), Qatar and China had pledged financial relief to Pakistan during the IMF review
World
Unverified claims were made in the wake of the incident that he might not have been using a safety harness and that a third worker may not have been there to help with the job