European cohesion, multilateral order under threat - Merkel
BERLIN (Reuters) - Rising nationalism and a winner-take-all attitude is undermining the cohesion of Europe, German Chancellor Angela Merkel said on Thursday, two days after U.S.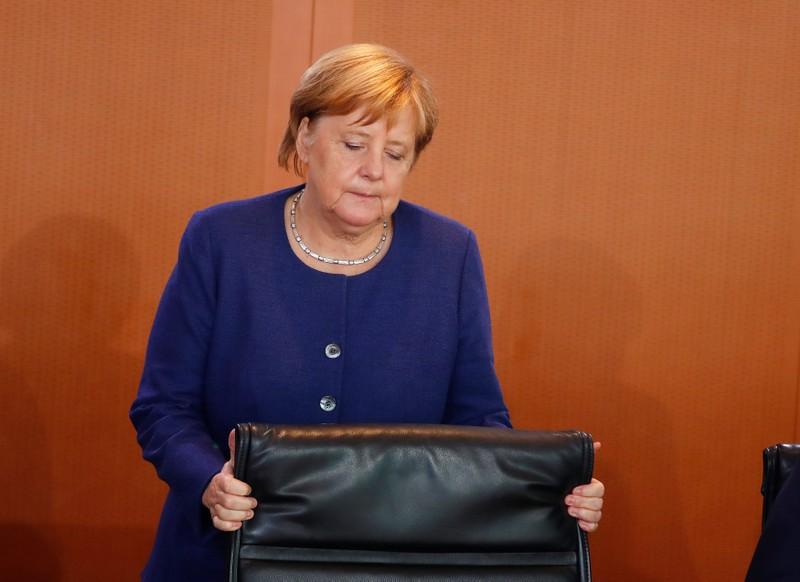 BERLIN (Reuters) - Rising nationalism and a winner-take-all attitude is undermining the cohesion of Europe, German Chancellor Angela Merkel said on Thursday, two days after U.S. President Donald Trump rejected globalism and touted "America First" in a United Nations speech.
Without naming Trump or his nationalist, protectionist approach, Merkel told fellow conservatives at an event of the Konrad Adenauer Foundation in Berlin that the European Union and Germany were facing a watershed moment.
Trump has threatened to pull the United States out of the World Trade Organisation (WTO), potentially undermining one of the foundations of the modern global economy, which Washington was instrumental in creating.
The tycoon-turned-president has also questioned the value of the NATO alliance, the centrepiece of transatlantic security cooperation for almost seven decades.
"Perhaps the most threatening development for me is that multilateralism has come under such pressure," Merkel said. "Europe is facing attacks from the outside and from the inside."
Merkel, who grew up in old Communist East Germany, called the end of the Cold War illusory, saying she never would have expected the world would face a similar ideological clash between different schools of thought again.
"I did not expect to have conflicts of different systems again, as we have today with China, but also in dealing with data and certainly also with the United States of America," Merkel said.
The changing political landscape and shifting international order, she said, make it necessary again to emphasize supposedly self-evident achievements such as tolerance and the art of striving for political compromises.
"It's a time of decisions where supposedly obvious things call for a standpoint," said Merkel, adding that win-win outcomes could hardly be achieved if some were approaching the resolution of disputes with a winner-take-all attitude.
"Where compromises are scorned, democracy is in danger," Merkel said, and it was the "supreme discipline of democracy" to find a balance between various interests.
Her warning followed a report by Germany's leading economic institutes who said on Thursday that any escalation of trade friction involving the United States could cause a major recession in Germany and Europe.
Trump's speech to the U.N. General Assembly on Tuesday was a thunderous recitation of his "America First" policies. He has disrupted the world order by withdrawing the United States from the Iran nuclear deal and Paris climate accord, and threatened to punish NATO nations for not paying more for their common defence.
(Reporting by Michael Nienaber; Editing by Mark Heinrich)
This story has not been edited by Firstpost staff and is generated by auto-feed.
India
Danish's photographs were not just documentation, but the work of someone who went down to eye-level, as they say in photographic parlance.
World
ATHENS (Reuters) - Greek police used teargas and water cannon to disperse people who had gathered in central Athens on Saturday to protest against mandatory COVID-19 vaccinations. More than 4,000 people rallied outside the Greek parliament for a third time this month to oppose mandatory inoculations for some workers, such as healthcare and nursing staff.
World
ISTANBUL (Reuters) - Two Turkish soldiers were killed and two were wounded in an attack on their armoured vehicle in northern Syria, and Turkish forces immediately launched retaliatory fire, Turkey's defence ministry said on Saturday. "Our punitive fire against terrorist positions is continuing," the statement on Twitter on said. It did not specify where the attack occurred, but media reports said it was in the al-Bab area.