EU may soon approve new use of Pfizer vaccine increasing doses by 20% - source
By Francesco Guarascio BRUSSELS (Reuters) - The European drugs regulator could soon give the go ahead for an extra sixth dose to be extracted from Pfizer-BioNTech COVID-19 vaccine vials, an EU official told Reuters on Wednesday, lifting the number of available shots at a time when supplies are short. EU countries started inoculating people with the Pfizer-BioNTech vaccine two weeks ago, after the European Medicines Agency (EMA) recommended the shot's conditional approval under an authorisation which allows five doses to be extracted from each vial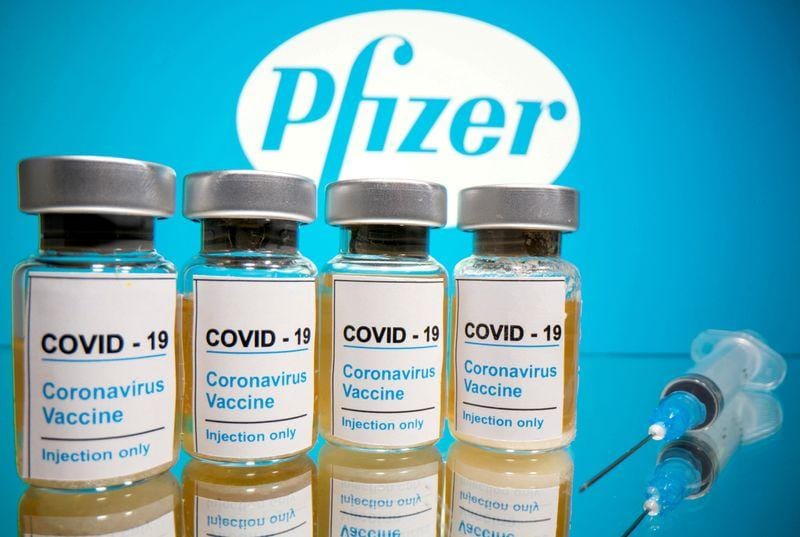 By Francesco Guarascio
BRUSSELS (Reuters) - The European drugs regulator could soon give the go ahead for an extra sixth dose to be extracted from Pfizer-BioNTech COVID-19
vaccine vials, an EU official told Reuters on Wednesday, lifting the number of available shots at a time when supplies are short.
EU countries started inoculating people with the Pfizer-BioNTech vaccine two weeks ago, after the European Medicines Agency (EMA) recommended the shot's conditional approval under an authorisation which allows five doses to be extracted from each vial.
The agency is now considering whether to give the go ahead for an extra dose to be taken from each vial. The source, who asked to remain anonymous because discussions are not public, said the change to the authorisation could come "very soon".
"The company has submitted a request for change, which is being reviewed by the CHMP (human medicines committee) in the shortest possible timeframe," an EMA spokeswoman said, noting the agency had prompted Pfizer to submit data on the possible use of six doses per vial.
"If the CHMP finds that 6 doses can be extracted consistently, it will recommend a change to the current terms of the authorisation to support Member States in their roll-out of the vaccine," the spokeswoman added.
Pfizer was not immediately available to comment and BioNTech declined to comment.
The change could add a requirement for the use of special syringes that allow the precise extraction of more doses from the same vial, the source said.
"The responsible people in the member states should order these special syringes (Low Dead Space Syringes) now," EU lawmaker Peter Liese said, adding they were widely available and could cost as little as 0.09 euros ($0.1) each.
This change in authorisation could allow 20% more doses to be available in the EU under an existing contract with Pfizer, Liese said.
The EU has secured 200 million doses, and has taken up an option for another 100 million. It is also in talks for a new order of 50 to 100 million doses, EU officials told Reuters on Tuesday.
The first 200 million doses are expected to be delivered by September, the EU has said. The bloc has a population of 450 million and each vaccine recipient requires two doses.
On Wednesday the EU also authorised Moderna's COVID-19
vaccine, of which it has ordered 80 million doses with the option for an additional 80 million, although it is not clear when deliveries will begin..
EU states could use EU vaccines in different ways from those recommended by EMA, but if they do so they face liability risks.
($1 = 0.8106 euros)
(Reporting by Francesco Guarascio @fraguarascio, Additional reporting by Ludwig Burger in Frankfurt and John Miller in Zurich; Editing by Kirsten Donovan)
This story has not been edited by Firstpost staff and is generated by auto-feed.
Find latest and upcoming tech gadgets online on Tech2 Gadgets. Get technology news, gadgets reviews & ratings. Popular gadgets including laptop, tablet and mobile specifications, features, prices, comparison.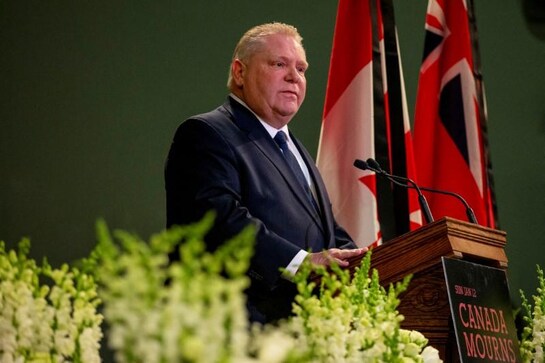 World
By Moira Warburton TORONTO (Reuters) - The Canadian province of Ontario will keep elementary schools in its southern regions closed for in-person learning until Jan.
World
By David Brunnstrom and Gabriel Crossley WASHINGTON/BEIJING (Reuters) -Washington may sanction those involved in the arrest of over 50 people in Hong Kong and will send the U.S. ambassador to the United Nations to visit Taiwan, Secretary of State Mike Pompeo said on Thursday, drawing anger and the threat of retaliation from Beijing.
World
CARACAS (Reuters) - An Iranian ship arrived at the Venezuelan port of La Guaira on Thursday, according to Refinitiv Eikon data, in what appeared to be a continuation of the commercial alliance between the two countries targeted by U.S. sanctions. Iran has been supplying gasoline to ease fuel shortages in Venezuela caused by decay of the South American nation's refineries and worsened by sanctions.