EU court upholds insecticide ban to protect bees
LUXEMBOURG (Reuters) - An EU court upheld on Thursday a partial ban on three insecticides known as neonicotinoids, saying that the European Commission had been right in 2013 to restrict their use to protect bees. The ruling covers three active substances - imidacloprid developed by Bayer CropScience, clothianidin developed by Takeda Chemical Industries and Bayer CropScience, as well as Syngenta's thiamethoxam. The court said the European Union's 'precautionary principle' meant that the EU could take measures if there was scientific uncertainty about risks to human health or the environment, and did not have to wait until it was clear harm had been caused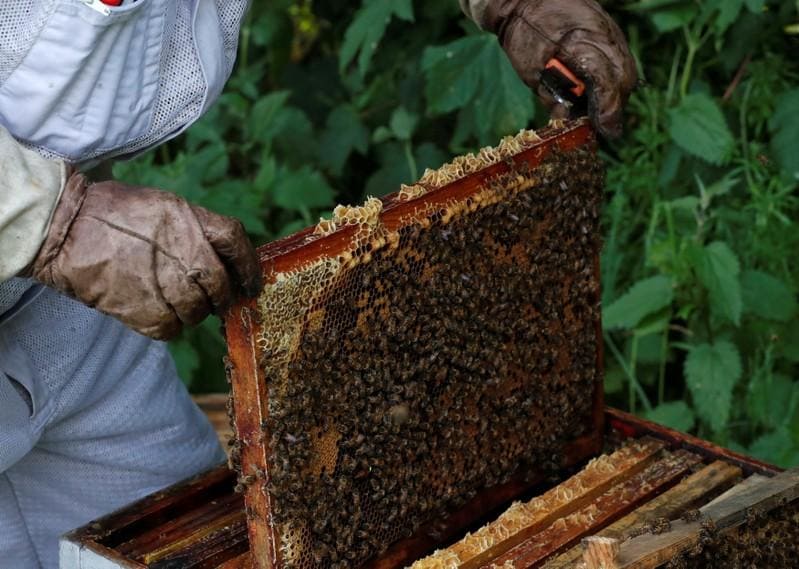 LUXEMBOURG (Reuters) - An EU court upheld on Thursday a partial ban on three insecticides known as neonicotinoids, saying that the European Commission had been right in 2013 to restrict their use to protect bees.
The ruling covers three active substances - imidacloprid developed by Bayer CropScience, clothianidin developed by Takeda Chemical Industries and Bayer CropScience, as well as Syngenta's thiamethoxam.
The court said the European Union's "precautionary principle" meant that the EU could take measures if there was scientific uncertainty about risks to human health or the environment, and did not have to wait until it was clear harm had been caused.
The General Court of the European Union did however annul restrictions on the use of a different class of pesticide, BASF's fipronil, because the Commission had not carried out an adequate assessment of the impact of its measures.
The partial ban in 2013 meant neonicotinoids could not be used on maize, rapeseed and some spring cereals. However, they could still be used for crops such as sugar beet.
The Commission had decided to review the approvals because of the loss of bee colonies due to the misuse of pesticides. The review sparked a debate about the wider use of chemicals in farming, which environmental groups are keen to restrict.
A majority of EU countries last month backed a proposal to ban all use of neonicotinoids outdoors, limiting their use to crops in greenhouses.
Syngenta said the court's ruling was "disappointing and unfortunate" and that scientific innovation was the only way to produce sufficient food and protect the environment.
Bayer said it, too, was disappointed and said it would review its legal options. It said it was convinced of the safety of its products when used properly.
Parties have two months to decide whether to lodge an appeal at the EU's highest court, the European Court of Justice.
Greenpeace welcomed the court's decision.
"The ruling sets the EU's priorities straight – its primary duty is to protect people and nature, not company profit margins," its EU food policy adviser Franziska Achterberg said.
Bayer and Syngenta have warned that banning the insecticides would mean farmers reverting to older chemicals and spraying more.
They also argue that the European Food and Safety Agency had based its finding of possible risk on excessively high doses in laboratory tests and demanded field studies be carried out on an unrealistically large area.
Campaign group Friends of the Earth has said new evidence has shown neonicotinoids persist in the environment for many years, drifting into water and wildflowers next to crops, and that healthy oil seed yields since the partial ban shows the chemicals are not needed.
(Reporting by Philip Blenkinsop in Brussels; Additional reporting by Silke Koltrowitz in Zurich, Caroline Copley in Berlin; Editing by Robert-Jan Bartunek and Susan Fenton)
This story has not been edited by Firstpost staff and is generated by auto-feed.
India
Both were trying to free their motorcycle from the rail track when the accident occured, SP (City) Martand Prakash Singh said
News & Analysis
NEW YORK (Reuters) -The price of cryptocurrencies plunged and crypto trading was delayed on Tuesday, a day in which El Salvador ran into snags as the first country to adopt bitcoin as legal tender. Shares of blockchain-related firms also fell as crypto stocks were hit by trading platform outages. But the major focus was on El Salvador, where the government had to temporarily unplug a digital wallet to cope with demand.
News & Analysis
By Joseph White and Sanjana Shivdas (Reuters) -The head of Apple Inc's car project, Doug Field, is going to work for Ford Motor Co to lead the automaker's advanced technology and embedded systems efforts, a hiring coup for Ford Chief Executive Jim Farley.