Ethiopian farmers slaughter thousands of chicks as COVID hits demand
By Kumerra Gemechu ADDIS ABABA (Reuters) - Ethiopian poultry farmers have destroyed hundreds of thousands of chicks, as the sector reels from a collapse in demand from the hotel sector because of the COVID-19 pandemic. Ethiopia's movement restrictions to try to contain the novel coronavirus, which causes COVID-19, has led hotels in Addis Ababa to reduce operations or even to close, removing a major source of demand for poultry products. Government data was not available but EthioChicken, one of the biggest suppliers of poultry products in Addis Ababa, said it had to kill nearly 650,000 chicks in five weeks over May and June and estimated millions had been destroyed country-wide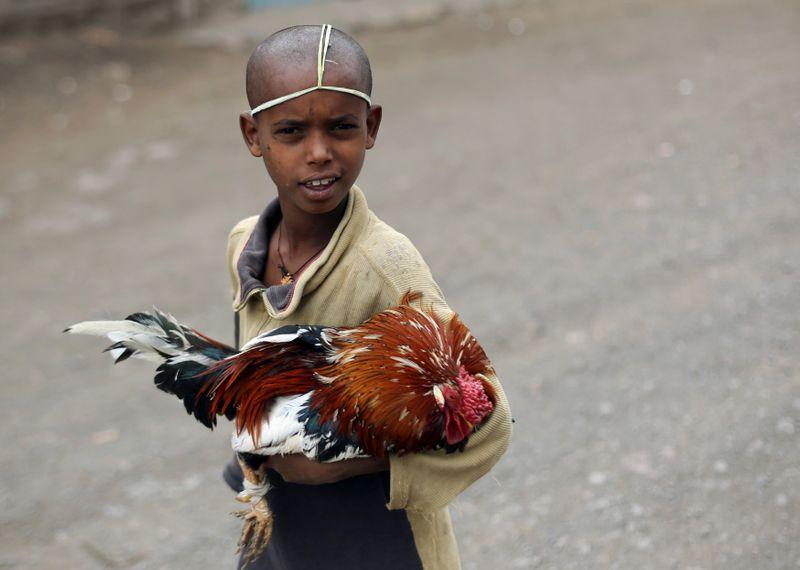 By Kumerra Gemechu
ADDIS ABABA (Reuters) - Ethiopian poultry farmers have destroyed hundreds of thousands of chicks, as the sector reels from a collapse in demand from the hotel sector because of the COVID-19
pandemic.
Ethiopia's movement restrictions to try to contain the novel coronavirus
, which causes COVID-19
, has led hotels in Addis Ababa to reduce operations or even to close, removing a major source of demand for poultry products.
Government data was not available but EthioChicken, one of the biggest suppliers of poultry products in Addis Ababa, said it had to kill nearly 650,000 chicks in five weeks over May and June and estimated millions had been destroyed country-wide.
"We also had to actually pull some eggs from our hatchery, so that we could destroy them as eggs instead of chicks," Fseha Tesfu, in charge of marketing at EthioChicken, told Reuters.
The impact is extremely disrupting for the sector and has potentially devastating social consequences in a country where Finance Minister Ahmed Shide said in May nearly 15 million people could need government help because of the pandemic.
"This sector used to employ a vast group of society in different regions of the country, whether it is the youth or women, in all sorts of age groups," Meba Gabriel Estifanos, a veterinarian, who also owns a small farm in Addis Ababa, said.
"Now, because we are not receiving day-old chicks as the supply chain is totally disrupted, the society employed by the sector is not working at all."
The hotel sector has been largely paralysed and unable to pay staff, while the latest official data shows the country has confirmed 9,503 coronavirus
cases and 167 deaths. 
"If we are not working, it is difficult for us to pay our employees," Bantayehu Wolde-Michael, manager of Capital Hotel, a five-star hotel in Addis Ababa, told Reuters.
(Additional reporting and writing by Dawit Endeshaw; Editing by George Obulutsa and Barbara Lewis)
This story has not been edited by Firstpost staff and is generated by auto-feed.
World
ATHENS (Reuters) - Greek police used teargas and water cannon to disperse people who had gathered in central Athens on Saturday to protest against mandatory COVID-19 vaccinations. More than 4,000 people rallied outside the Greek parliament for a third time this month to oppose mandatory inoculations for some workers, such as healthcare and nursing staff.
World
ISTANBUL (Reuters) - Two Turkish soldiers were killed and two were wounded in an attack on their armoured vehicle in northern Syria, and Turkish forces immediately launched retaliatory fire, Turkey's defence ministry said on Saturday. "Our punitive fire against terrorist positions is continuing," the statement on Twitter on said. It did not specify where the attack occurred, but media reports said it was in the al-Bab area.
World
By Marcelo Rochabrun SAO PAULO (Reuters) - Protesters took to the streets in several Brazilian cities on Saturday to demand the impeachment of far-right President Jair Bolsonaro, whose popularity has fallen in recent weeks amid corruption scandals against the backdrop of the pandemic. This week, news broke that Brazil's defense ministry told congressional leadership that next year's elections would not take place without amending the country's electronic voting system to include a paper trail of each vote. Bolsonaro has suggested several times without evidence that the current system is prone to fraud, allegations that Brazil's government has denied