Erdogan says Turkey will exact 'high price' for any attack on vessel
ANKARA (Reuters) - President Tayyip Erdogan said on Thursday that any attack on a Turkish ship exploring for oil and gas in disputed Mediterranean waters would incur a 'high price' and suggested Turkey had already acted on that warning. Tensions in the eastern Mediterranean have risen sharply this week after Turkey sent a survey vessel to the region, escorted by warships, in a move Greece decried as illegal. 'We said that if you attack our Oruc Reis you will pay a high price, and they got their first answer today,' Erdogan said in a speech in Ankara without giving details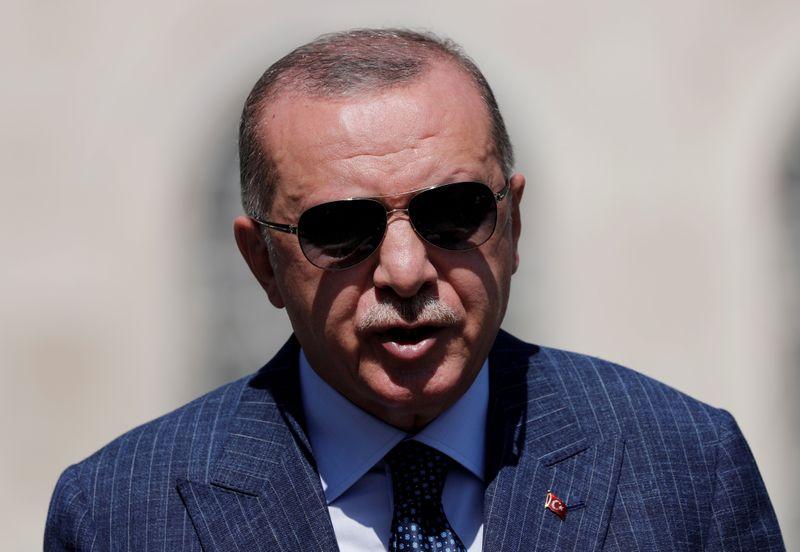 ANKARA (Reuters) - President Tayyip Erdogan said on Thursday that any attack on a Turkish ship exploring for oil and gas in disputed Mediterranean waters would incur a "high price" and suggested Turkey had already acted on that warning.
Tensions in the eastern Mediterranean have risen sharply this week after Turkey sent a survey vessel to the region, escorted by warships, in a move Greece decried as illegal.
"We said that if you attack our Oruc Reis you will pay a high price, and they got their first answer today," Erdogan said in a speech in Ankara without giving details.
The Oruc Reis set out on Monday with its military escort to survey waters between Crete and Cyprus.
In response, President Emmanuel Macron said France would increase its military presence in the region and called on Ankara to stop its exploration work. French and Greek forces held military training exercises off Crete on Thursday.
EU foreign ministers, who have already imposed sanctions on two Turkish energy executives over Turkey's operations in the eastern Mediterranean, will discuss the situation on Friday.
Erdogan spoke by phone with German Chancellor Angela Merkel and EU Council President Charles Michel on Thursday. He "reiterated his commitment to defend Turkey's rights against attempts to disregard them", Erdogan's office said of the call with Michel.
Both Turkey and Greece said this week that they were willing to resolve the dispute over their overlapping maritime claims, but vowed to protect their interests and blamed the other side for the stand-off.
"The path to a solution in the eastern Mediterranean is via dialogue and negotiation," Erdogan said earlier on Thursday.
"If we act with common sense and reason, we can find a win-win solution that meets everyone's interests. We are not chasing any unnecessary adventures or seeking tensions."
In apparent reference to France, Erdogan also said Greece was being pushed into taking "wrong steps" in the region by "a country that doesn't even have a coast in the eastern Mediterranean".
"Nobody should think too highly of themselves. Let me be very clear: Don't try to put on a show," Erdogan said.
(Reporting by Tuvan Gumrukcu, Ali Kucukgocmen and Daren Butler; Writing by Dominic Evans; Editing by Giles Elgood)
This story has not been edited by Firstpost staff and is generated by auto-feed.
World
ATHENS (Reuters) - Greek police used teargas and water cannon to disperse people who had gathered in central Athens on Saturday to protest against mandatory COVID-19 vaccinations. More than 4,000 people rallied outside the Greek parliament for a third time this month to oppose mandatory inoculations for some workers, such as healthcare and nursing staff.
World
ISTANBUL (Reuters) - Two Turkish soldiers were killed and two were wounded in an attack on their armoured vehicle in northern Syria, and Turkish forces immediately launched retaliatory fire, Turkey's defence ministry said on Saturday. "Our punitive fire against terrorist positions is continuing," the statement on Twitter on said. It did not specify where the attack occurred, but media reports said it was in the al-Bab area.
World
By Marcelo Rochabrun SAO PAULO (Reuters) - Protesters took to the streets in several Brazilian cities on Saturday to demand the impeachment of far-right President Jair Bolsonaro, whose popularity has fallen in recent weeks amid corruption scandals against the backdrop of the pandemic. This week, news broke that Brazil's defense ministry told congressional leadership that next year's elections would not take place without amending the country's electronic voting system to include a paper trail of each vote. Bolsonaro has suggested several times without evidence that the current system is prone to fraud, allegations that Brazil's government has denied