English COVID infections stabilise at around 50,000 per day - ONS estimate
By Alistair Smout and Andy Bruce LONDON (Reuters) - New COVID-19 infections in England have stabilised at around 50,000 a day, the Office for National Statistics said on Friday, indicating a levelling-off in the steep rise of cases even before England was pushed into a second national lockdown. The ONS said there were an estimated 45,700 new cases per day in the week to Oct 31, down slightly from the previous week's estimate of 51,900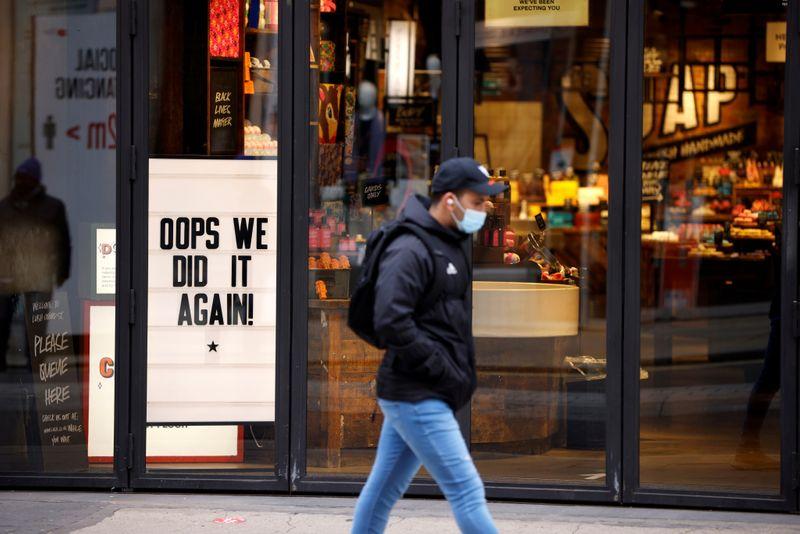 By Alistair Smout and Andy Bruce
LONDON (Reuters) - New COVID-19
infections in England have stabilised at around 50,000 a day, the Office for National Statistics said on Friday, indicating a levelling-off in the steep rise of cases even before England was pushed into a second national lockdown.
The ONS said there were an estimated 45,700 new cases per day in the week to Oct 31, down slightly from the previous week's estimate of 51,900.
"Incidence appears to have stabilised at around 50,000 new infections per day," the ONS said in its weekly infection survey. "The infection rate has increased in recent weeks, but the rate of increase is less steep compared with previous weeks."
An estimated 618,700 people had the disease during the most recent week, up from 568,100 the previous week.
That equates to an estimated 1 in 90 people, an increase in prevalence from 1 in 100 people the week before.
The ONS looks to estimate infection numbers in the community beyond those who have been tested, giving an estimate of prevalence that is unaffected by testing capacity, and the latest data was from before the new national lockdown came in on Thursday.
Experts said the infection survey was evidence the pandemic was slowing or even in decline, but that more data was needed to confirm the trend.
The overall number of infections could mean the test and trace system, which Prime Minister Boris Johnson has conceded has not had the desired impact on the pandemic, may still struggle to function.
"While this is clearly welcome... this is still a very high number of new cases each day – far higher than can be expected to be managed effectively by the current test and trace programme," said Jonathan Pearson-Stuttard of Imperial College London's School of Public Health.
Among those who have been tested, Britain reported 23,287 new daily cases of COVID-19
and 355 deaths, and the 7-day average toll is for over 300 deaths a day.
Government scientists said the reproduction "R" number was unchanged at between 1.1-1.3, and that they were confident that the epidemic had continued to grow in recent weeks.
"Although there is some evidence that the rate of growth in some parts of the country may be slowing, levels of disease are very high in these areas," the Government Office for Science said.
(Editing by Kate Holton and Stephen Addison)
This story has not been edited by Firstpost staff and is generated by auto-feed.
Find latest and upcoming tech gadgets online on Tech2 Gadgets. Get technology news, gadgets reviews & ratings. Popular gadgets including laptop, tablet and mobile specifications, features, prices, comparison.
World
VIENNA (Reuters) - The U.N. nuclear watchdog and the United States pressured Iran on Wednesday to finally explain the origin of uranium particles found almost two years ago at an old but undeclared site that Israel has called a "secret atomic warehouse". Israeli Prime Minister Benjamin Netanyahu drew attention to the Turqazabad site in Tehran in a speech to the United Nations in September 2018, urging the International Atomic Energy Agency to visit it
World
NEW DELHI (Reuters) - Sri Lankan President Gotabaya Rajapaksa said on Wednesday he had delivered on a key election promise to rebuild the island nation's intelligence network in the year since assuming office.
World
WARSAW (Reuters) - Polish authorities said on Wednesday a former secret service agent and a Chinese citizen who worked for a telecommunications company have been charged with spying for China. Reuters previously reported on the allegations against an employee of Huawei and a former Polish domestic intelligence operative who were being investigated by the Warsaw government for suspected espionage