Engage or disengage, you can't ignore other stakeholders: What Pathankot attack tells India, Pak
The terror attack on the air base at Pathankot on Saturday has again delivered the message loud and clear to India and Pakistan.
New Delhi: The terror attack on the air base at Pathankot on Saturday has again delivered the message loud and clear to the civilian political leadership of India and Pakistan: engage howsoever deep you may, you cannot leave out other players from the frame.
It has been an old strategy of forces either backed by or close to the Pakistani military establishment to unleash attacks in India ahead or after bilateral talks or peace initiatives. Coming a few days after Prime Minister Narendra Modi's surprise visit to Pakistan, the latest attack only follows the familiar script.
Counter-terrorism analyst Anil Kamboj said, "Pakistan military and its intelligence agency ISI that openly backs the terrorist groups to unleash attacks on Indian soil want to tell Nawaz Sharif that they are the final authority and not the PM. The Pak army doesn't want any civilian peace talk or initiative to take place. They want an aggressive posture towards India and disrupt talks. On the next day of PM Modi's visit to Pakistan, Jama'at-ud-Da'wah chief Hafiz Saeed spewed venom against India."
Recap of a few peace initiatives and attacks:
· February 1999: Former PM Atal Bihari Vajpayee visited Pakistan and signed Lahore Treaty. Result: Kargil war in May-July 1999.
· May 2014: Narendra Modi sworn-in as prime minister, which was attended by Nawaz Sharif. Result: Firing at India-Pakistan border in October 2014 that killed more than 30 people and a huge loss of property.
· July 2015: A day ahead of Modi-Sharif talks in Russia, a BSF jawan got killed in North Kashmir due to Pak firing.
· September 2015: BSF and Pakistan Rangers talk. Ahead of it, Gurdaspur terror attack occurred in July and a BSF bus was attacked at Udhampur in August that killed two personnel.
· 25 December, 2015: Modi met Sharif in Pakistan. The Pathankot attack follows.
Defence Analyst Maj Gen (retd) Dhruv Katoch remarked: "What'll be Pakistan army's existence if there is a long enduring peace between Indian and Pakistan? So they will never let any peace process fructify and the terror attacks to thwart dialogues are a proof of it. They also want to create an awkward position for the Indian government."
The Pathankot terror incidence has raised a few questions on the area of operation of the militants, target and objective of attack, modus operandi and the future.
Here are five points to think about:
1. Why Punjab again?
There has been a shift in terror activities from Jammu & Kashmir to Punjab, which has become a new target area. "The Valley is reasonably under control. Faced with pressure from the security agencies there, the militants are moving towards Punjab. It's also easy for the militants from across the border to get into Punjab through J&K due to adjoining state borders. Another possible reason of targeting Punjab is to revive militancy in the state, the signs of which have already been found," said Kamboj.
2. How did they infiltrate?
According to security experts, the militants could have sneaked into the Indian soil through the nullahs at India-Pakistan border which don't have wired fencing. Despite having electronic surveillance, infiltration could have taken place from any particular porous point along the long border. Intelligence sources said the militants entered on 30 December but the real picture would emerge only after further investigation.
3. The Pakistan hand
Phone call intercepts of one of the militants have established a Pakistani connection. "It's beyond doubt that without the support of the guards at the posts and naakaas on Pakistan side, the militants couldn't have crossed over. And that is possible only when there's an order from the top to a flanking post to allow them to cross. I refuse to believe that Pakistan Army and Rangers were not on board in this attack," said Katoch.
4. Modus operandi
Pathankot attack has a striking similarity with Gurdaspur terror attack where terrorists resorted to indiscriminate firing using AK-47. It caught security forces unawares. "There could be a possible connection with the IAF spy nabbed recently or any one from the past. It's not possible for outside terrorists to know the exactness of a location or target without prior input. The terrorists made entry through rear part of the IAF base, which was vulnerable," said Kamboj, former senior fellow, Institute for Defence Studies & Analysis (IDSA).
5. Why attack an air-base?
It's like destroying a jeep vis-à-vis a MiG aircraft. The aim is to cause maximum damage or garner maximum attention. An air-base has more value in terms of assets due to the presence of IAF fighter aircraft and choppers. As per the intelligence sources, the other defence establishments and research centres, particularly Tier-II cities, are on terrorists' radar.
Though the five Jaish-e-Mohammed (JeM) militants were trained ones, the Indian security forces — after a day-long gunfight — neutralised them, with three casualties on the Indian side. All the five militants have been killed. Out of three soldiers who were martyred during the combing operations at the IAF base, one Subedar Fateh Singh was a Commonwealth Gold and Silver medallist in shooting.
"The attack looks like the militants were in desperation — quite similar to Gurdaspur attack. Despite the fact that militants were heavily armed with automatic weapons, our Indian forces fought brilliantly and prevented a large-scale tragedy. The government needs to adopt a doctrinal approach that any terrorist coming to India should be treated as an act of war, because these non-state actors, whether JeM or LeT, receive tremendous support from ISI," added Katoch, former director, Centre for Land Warfare Studies (CLAWS).
What do the intelligence sources say?
"As per reports, these militants came to take revenge of the hanging of Afzal Guru of 2001 Parliament attack. Intelligence Bureau had alerted on possible terror attacks across several cities including Delhi during December end and New Year. Alerts were issued again after the IAF spy was arrested. This operation can't be possible without local support. It can be in the form of a mole or sleeper cells or may be any local module of terror outfit. Investigation and post-attack analysis will reveal the exact picture. There are strong possibilities that close to 26 January, terrorists may attempt similar attacks. The states have been alerted," an IB source added.
What does the Ministry of Defence says?
Defence Minister Manohar Parikkar called for an emergency meeting of the three services chiefs besides National Security Advisor, Ajit Doval. According to the ministry, "The Intelligence inputs had been available of a likely attempt by terrorists to infiltrate into the military installation in Pathankot area. In response, preparatory actions had been taken by the Indian Air Force (IAF) to thwart any such attempt.
Due to the effective preparation and coordinated efforts by all the security agencies a group of terrorists were detected by the aerial surveillance platforms as soon as they entered the Air Force Station at Pathankot. The infiltrators were immediately engaged and contained within a limited area, thus preventing them from entering the Technical zone where high value assets are parked," a ministry release said.
Find latest and upcoming tech gadgets online on Tech2 Gadgets. Get technology news, gadgets reviews & ratings. Popular gadgets including laptop, tablet and mobile specifications, features, prices, comparison.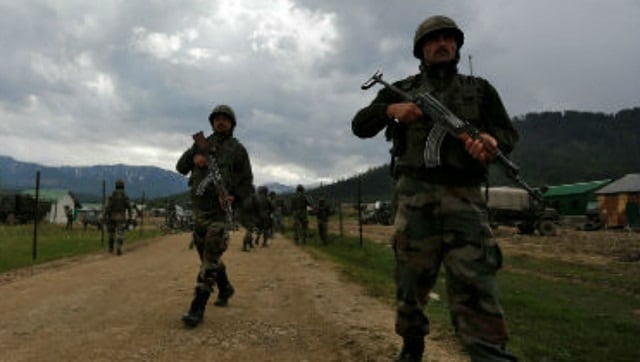 India
Indian Army spokesman Lt Col Devender Anand said two soldiers were killed in the southern Rajouri district on Friday while an officer was killed in neighbouring Poonch district late Thursday
India
The resumption and opening up of suburban trains has been a huge relief for daily commuters, but continued vigilance on the part of the authorities as well as fellow travellers will go a long way in ensuring safety and building trust
Entertainment
In a filmography extending to more than 60 roles, Soumitra Chatterjee brought to bear upon each performance the cadence of his versatility