Emmanuel Marcon criticises US president Donald Trump's policies, regrets US decision to slap tariffs on steel, aluminium
A phone call between US president Donald Trump and French President Emmanuel Marcon was described as 'terrible' by a source. The latter criticised the former's policies and was not for Trump's decision to slap tariffs on steel and aluminium.
Washington: A phone call between US President Donald Trump and his French counterpart Emmanuel Macron has been described as being "terrible" after the latter candidly criticised the former's policies, a media report said.
"Just bad. It was terrible," an informed source told CNN on Monday. "Macron thought he would be able to speak his mind, based on the relationship. But Trump can't handle being criticised like that."
A White House statement said the call on 31 May with Macron was focused on trade and immigration.
"Both leaders discussed the migration problem in Libya, and timelines to solve it. President Trump underscored the need to rebalance trade with Europe," the statement said.
The call with Macron came the same day the US announced a unilateral decision to slap steel and aluminium tariffs on American allies, including Mexico, Canada, and the European Union, CNN reported.
In a statement issued by the Elysee Palace ahead of the call, Macron said he "regrets the US decision to confirm tariffs in steel and aluminium."
"This decision is not only illegal, it is a mistake on many points. It is a mistake because it responds to a worldwide unbalance that exists in the worst ways through fragmentationsand economic nationalism," it added.
Trump held a similar call with British Prime Minister Theresa May on Monday.
According to a Downing Street spokesperson, the two leaders discussed the tariffs as well as other matters of the Department of Defense, responsible for analysing and disseminating military intelligence.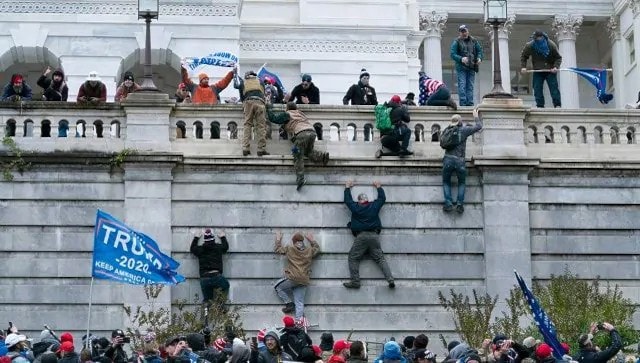 World
From television footage to cell phone videos to body cameras worn by the officers under siege, there is comprehensive record of one of the worst attacks on democracy in US history
World
Trump said in a statement Tuesday evening that he would instead be discussing his grievances at a rally he has planned in Arizona later this month.
Photos
More than 700 people have been arrested over the incident, which Democrats often describe as an insurrection that aimed to violently prevent the certification of President Joe Biden's election victory