Emmanuel Macron meets with five African heads of state to form 5,000-strong force to counter extremism
France's president meets Sunday in Mali with African heads of state to support a new 5,000-strong multinational force meant to counter extremism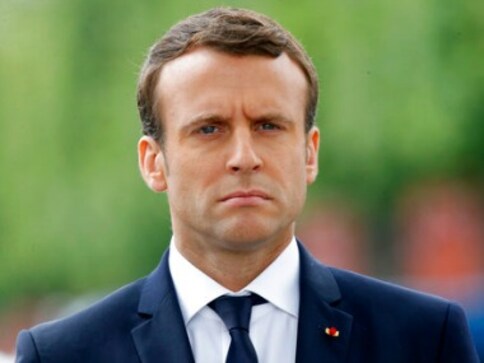 Bamako: France's president meets Sunday in Mali with heads of state from five nations across Africa's vast Sahel region to support a new 5,000-strong multinational force meant to counter a growing threat from extremists who have targeted tourist resorts and other high-profile areas.
The recently elected President Emmanuel Macron's second visit to Mali in a month and a half emphasizes France's interest in countering al-Qaida-linked groups and other jihadists who have alarmed the international community with deadly attacks in countries once considered relatively safe.
In mid-June, the United Nations Security Council unanimously approved a resolution welcoming the deployment of the new force with troops contributed by Mali, Burkina Faso, Mauritania, Niger and Chad. The approval came days after at least five people were killed in an attack on a Mali resort popular with foreigners, with the recently merged extremist group Nusrat al-Islam wal Muslimeen claiming responsibility.
A major goal at Sunday's meeting is finding money to support the new force, which will operate in the region along with a 12,000-strong United Nations peacekeeping mission in Mali, which has become the deadliest in the world, and France's own 5,000-strong Barkhane military operation, its largest overseas mission. The new force is meant to be operational in the next few months.
If financing for the G5 Sahel force is left to the five regional countries that will not bode well, said Sidi Ali Bagna, the youth leader for the G5 in Mali.
France had sought some form of United Nations financing, but the United States objected. So far, the European Union has pledged 50 million euros ($57 million). The overall cost for the force is not yet known.
Macron on Sunday is expected to announce significant support, both financial and in terms of equipment. There are hopes that more European countries, including Germany, will contribute, said an official in the French president's office who spoke on condition of anonymity because such officials are not authorized to be named publicly.
The United States is France's principal partner in the Sahel region, and there are hopes it will contribute as well, the French official said.
The new force, made up of five battalions that will be sent to 150 zones across the region, is meant to tackle blind spots that other forces aren't able to cover, the French official said.
It is too soon to envision the new force taking over for the French military mission, the official added, saying a French pullout can happen only when the extremist threat recedes.
While the multiple anti-terror forces in the region are meant to complement each other, some are openly worrying that the participating countries will be stretched too thin.
Chad President Idriss Deby already has said it will be difficult to contribute some 2,000 soldiers to the G5 force while also contributing to the United Nations peacekeeping mission. France's Operation Barkhane is headquartered in Chad.
"A summit like this is essentially a moment of political mobilization around the new force," said a West African analyst, Gilles Yabi with the Senegal-based Wathi think tank. "Efforts to mobilise resources will continue well after the summit, and the actual implementation will take several months."
The extremist threat in the region has been growing for years. A French-led intervention drove out Islamic extremists from strongholds in northern Mali in 2013, but the extremists have continued targeting peacekeepers and other forces. On Thursday, the medical aid group Doctors Without Borders announced it was suspending its activities in northern Mali's Kidal region because of security concerns.
Religious extremism has spread south, and attacks across the region have become more brazen.
In March, the extremist groups Ansar Dine, Al-Mourabitoun and al-Qaida in the Islamic Maghreb declared that they had merged into Nusrat al-Islam wal Muslimeen.
India
Lenain was speaking at an event on Friday evening to mark the 35th anniversary of the European Union (EU) Erasmus-plus programme, established in 1987
First Cricket News
The 16-member South Africa contingent will be led by Temba Bavuma as South Africa make a return to international T20 cricket for the first time since the ICC T20 World Cup in late 2021.
World
The Massachusetts resident had travelled to Canada at the end of April to meet friends and returned in early May. He is currently in hospital, but in a good condition, officials said