Elizabeth Warren proposes canceling billions in student loan debt
WASHINGTON (Reuters) - U.S. Senator Elizabeth Warren, who is seeking the Democratic nomination for the 2020 presidential election, wants to cancel billions of dollars in student loan debt and make college cheaper for students going forward. Warren, in a post on the website Medium, proposed canceling $50,000 in student loan debt for anyone with annual household income under $100,000, which her campaign said would amount to 42 million Americans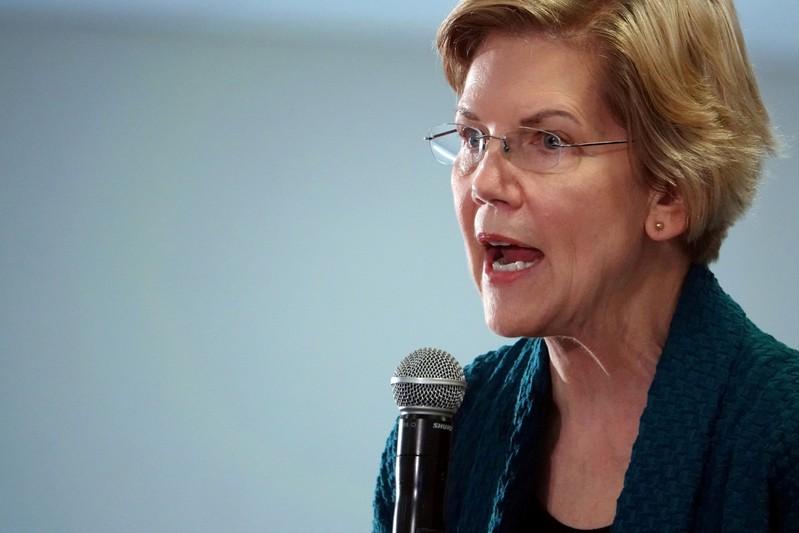 WASHINGTON (Reuters) - U.S. Senator Elizabeth Warren, who is seeking the Democratic nomination for the 2020 presidential election, wants to cancel billions of dollars in student loan debt and make college cheaper for students going forward.
Warren, in a post on the website Medium, proposed canceling $50,000 in student loan debt for anyone with annual household income under $100,000, which her campaign said would amount to 42 million Americans. It would also cancel some debt for those with household incomes between $100,000 and $250,000.
Warren, who has long advocated in Congress for providing debt relief to students, called student loan debt a "crisis." She said canceling debt for millions of people would help close the nation's racial and wealth gap, and also proposed making all two-year and four-year public colleges free.
"The first step in addressing this crisis is to deal head-on with the outstanding debt that is weighing down millions of families and should never have been required in the first place," Warren wrote.
Warren is competing in a crowded field of more than 20 Democrats vying for their party's 2020 nomination and has sought to distinguish herself by offering numerous, expansive policy proposals.
Anticipating Republican criticism that her proposal would be too expensive, Warren said her debt cancellation plan and universal free college could be paid for through an "Ultra-Millionaire Tax," which would impose a 2 percent annual tax on families with $50 million or more in wealth.
Education has been a topic on the campaign trail for some of Warren's rivals as well.
U.S. Senator Kamala Harris, another contender for the Democratic presidential nomination, released a plan last month that would use $315 billion in federal money over 10 years to give the average teacher a $13,500 raise, or about a 23 percent salary increase.
(Reporting By Yasmeen Abutaleb; Editing by Bill Berkrot)
This story has not been edited by Firstpost staff and is generated by auto-feed.
World
By Andrea Shalal WASHINGTON (Reuters) -The United States said on Thursday it would boost public climate finance to help poor countries reduce greenhouse gas emissions and adapt to a changing climate, doubling funding by 2024 from high average levels hit during the Obama administration. The White House said it was embracing "ambitious but attainable goals" for international aid to developing countries, given the urgency of the climate crisis and to compensate for a sharp drop in U.S. funding during the Trump administration.
World
(Removes extraneous word 'while' in paragraph 3) (Reuters) -Pregnant women infected with COVID-19 and their newborn children face higher risks of complications than was previously known, a study by British scientists showed on Friday. An infection of the new coronavirus in such newborns is associated with a three-fold risk of severe medical complications, according to a study conducted by scientists at the University of Oxford. (https://bit.ly/3tNwkJ7) Pregnant women are at higher risk of complications such as premature birth, high blood pressure with organ failure risk, need for intensive care and possible death
World
MADRID (Reuters) -Anonymous death threat letters with bullets enclosed in the envelopes have been sent to two of Spain's top security officials and the leader of the hard-left Unidas Podemos party, officials said on Friday, adding police are investigating.