El Salvador president to discuss migration with Trump after asylum deal
By Nelson Renteria SAN SALVADOR (Reuters) - El Salvador said on Monday its president would discuss migration with U.S.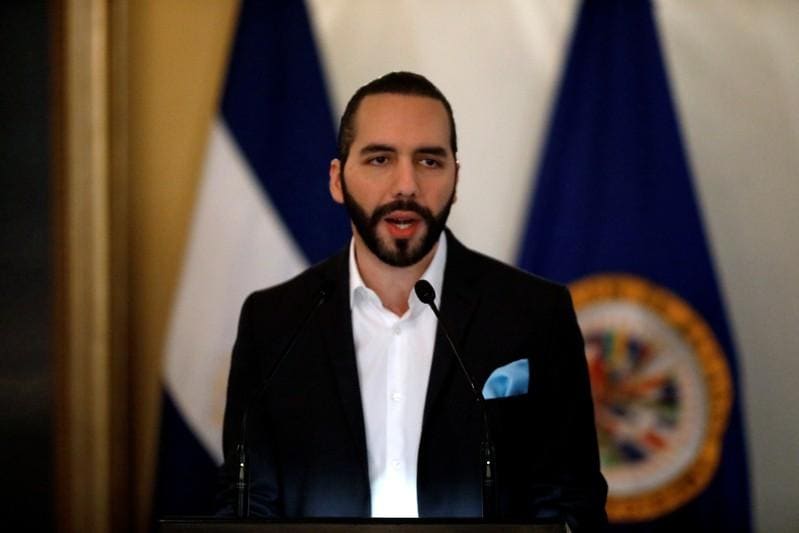 By Nelson Renteria
SAN SALVADOR (Reuters) - El Salvador said on Monday its president would discuss migration with U.S. President Donald Trump this week in New York, after agreeing the United States could send back asylum seekers who cross El Salvador while journeying north.
According to a copy of the agreement seen by Reuters on Monday, El Salvador would assess whether to extend refuge to migrants returned by the United States.
In exchange, the United States pledged to help the poor, violence-stricken country expand its tiny asylum system.
The agreement, announced on Friday, is similar to "safe third country" deals the Trump administration wants with several Latin American countries traversed by growing numbers of U.S.-bound migrants, many of whom set out from Central America.
Guatemala has already signed a safe third country agreement that requires asylum seekers passing through the Central American nation to seek refuge there first rather than in the United States. Guatemala's Congress has yet to ratify the deal.
Honduras is in talks with the United States over the possibility of implementing a similar measure for Cuban asylum seekers.
Immigration advocates have criticized the deals, saying Central American countries, from which many people flee violence, poverty and corruption, lack the capacity to process more asylum claims and cannot assure migrants' safety.
The U.S.-El Salvador deal will take effect only after details are hammered out including how to return asylum seekers to El Salvador and the number of people to be sent back, the document says.
It was unclear how such a deal would work, given that most migrants from other countries take routes that avoid crossing the small country that makes up the violent so-called Northern Triangle region along with Honduras and Guatemala.
Salvadoran President Nayib Bukele, who took office in June, will be in New York along with Trump for the United Nations General Assembly. The two are slated to discuss regional security and investment in a meeting on Wednesday in addition to migration, said a statement from the Salvadoran presidency.
"President Bukele has suggested that the United States could contribute by promoting investment and job creation, so that fewer Salvadorans see the possibility of emigrating to that country as the only way out of their economic problems and lack of opportunities," the statement said.
(Reporting by Nelson Renteria in San Salvador, Additional reporting by Mica Rosenberg in New York; Writing by Daina Beth Solomon; Editing by Dave Graham and Peter Cooney)
This story has not been edited by Firstpost staff and is generated by auto-feed.
Find latest and upcoming tech gadgets online on Tech2 Gadgets. Get technology news, gadgets reviews & ratings. Popular gadgets including laptop, tablet and mobile specifications, features, prices, comparison.
World
(Reuters) -Moderna Inc said on Monday it would produce at least 600 million doses of its COVID-19 vaccine in 2021, up by 100 million doses from its previous forecast, as the United States continues to roll-out the vaccine. The company was working to invest and hire in order to deliver up to 1 billion doses this year, the higher end of its production forecast, it said
World
WARSAW (Reuters) - A skating rink owner in the Polish city of Szczecin believes he has found a way to keep his business open despite coronavirus restrictions - operate as a flower shop instead. His plan is simple - the customer has to purchase access to the flower "warehouse", then chooses from a box of flowers in the middle of the rink. "You can jump, crawl or go on all fours ..
World
By Reuters Staff SANAA (Reuters) - Paralysed and severely malnourished, seven-year-old Faid Samim lies curled up on a hospital bed in the Yemeni capital Sanaa, having barely survived the journey there.  "He was almost gone when he arrived but thank God we were able to do what was necessary and he started improving. He is suffering from CP (cerebral palsy) and severe malnutrition," said Rageh Mohammed, the supervising doctor of the Al-Sabeen hospital's malnutrition ward.