Eight to ten dead in Texas high school shooting: sheriff
By Erwin Seba SANTA FE, Texas (Reuters) - At least eight people were killed on Friday in a shooting at a high school in Santa Fe, Texas, and officers had taken into custody a student who was suspected of carrying out the attack, the local sheriff said.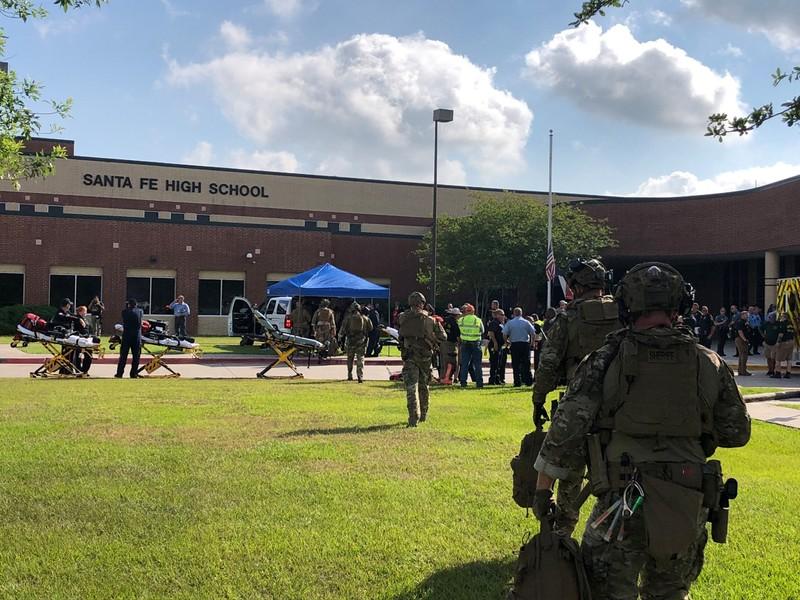 By Erwin Seba
SANTA FE, Texas (Reuters) - At least eight people were killed on Friday in a shooting at a high school in Santa Fe, Texas, and officers had taken into custody a student who was suspected of carrying out the attack, the local sheriff said.
The sound of gunshots tore through the air at Santa Fe High School shortly before 8 a.m. CT (1300 GMT) on Friday, witnesses told local media, and live TV images showed lines of students evacuating the building while heavily armed police responded to the scene.
The incident was the latest in a long series of deadly shootings at U.S. schools. Seventeen teens and educators were shot dead at a Parkland, Florida, high school in February, a massacre that stirred the nation's long-running debate over gun ownership.
Harris County Sheriff Ed Gonzalez said that eight to 10 people, both students and adults, died in the incident at the school about 30 miles (48 km) southeast of Houston.
"There is one person, a suspect, in custody and a second possible person of interest that was detained and being questioned," Gonzalez said at a news conference. He said that the scene was secure with officers searching the building to ensure there were no remaining threats.
At least nine people were taken to area hospitals for treatment, hospital officials said. The conditions of those people was not immediately clear. Gonzalez said a police officer was also being treated for injuries.
Investigators also discovered possible explosive devices at the school and off campus, the city's school district said on Twitter.
Sophomore Leila Butler told the local ABC affiliate that fire alarms went off at about 7:45 a.m. local time (1245 GMT) and students left their classrooms. She said some students believe they heard shots fired, and that she was sheltering with other students and teachers near campus.
A male student, who did not identify himself, described fleeing the scene in an interview with CBS affiliate KHOU.
"Three shots that I heard, so we all took off in the back and I tried to get into the trees, I didn't want to be in sight. I heard four more shots, and then we jumped the fence to somebody's house," the student said.
Another sophomore, Dakota Shrader, told Fox 26 TV her 17-year-old girlfriend told her by phone that she was wounded but was recovering in a hospital. "My friend got injured," said an emotional Shrader. "Her leg, she got shot in the leg."
Dr. David Marshall, chief nursing officer at the University of Texas Medical Branch, said that the hospital was treating at least three patients - two adults and one person under 18. He said it was not immediately clear if that child was a student.
U.S. President Donald Trump called the latest school massacre heartbreaking.
"My administration is determined to do everything in our power to protect our students, secure our schools and to keep weapons out of the hands of those who pose a threat to themselves and to others," Trump said at the White House.
Days after the Parkland shooting, Trump said that elected officials should be ready to "fight" the powerful National Rifle Association lobby group. Early this month he embraced that group, telling its annual meeting in Dallas "your Second Amendment rights are under siege."
The Second Amendment of the U.S. Constitution protects the right to bear arms.
No major federal gun controls have been imposed since Parkland, though the administration is pursuing a proposed regulatory ban on "bump stocks," which enable a semi-automatic rifle to fire a steady stream of bullets. The devices were used in an October 2017 mass shooting in Las Vegas that killed 59 people but have not played a role in other major U.S. mass shootings.
(Reporting by Ernest Scheyder, Liz Hampton and Erwin Seba in Houston and Gina Cherelus and Peter Szekely in New York; Writing by Daniel Wallis and Scott Malone; Editing by Bernadette Baum and Susan Thomas)
This story has not been edited by Firstpost staff and is generated by auto-feed.
Business
By Stephen Nellis (Reuters) -Apple Inc on Monday said it will offer the ability to store state-issued identification cards digitally on iPhones and that it is working with the U.S. Transportation Security Administration to accept the digital IDs at airports, one of several updates to the software that runs on its devices. It also showed updates to its FaceTime video chat app, adding the ability to schedule calls with multiple attendees and making the software compatible with Android and Windows devices.
Business
LONDON (Reuters) - The bosses of all airlines flying passenger services between Britain and the United States called on Monday for the countries' governments to relax COVID-19 restrictions to reopen travel routes between the two countries. After more than a year of restrictions, the CEOs of American Airlines, IAG unit British Airways, Delta Air Lines, United Airlines and JetBlue Airways Corp said high vaccination rates in both countries meant travel could restart safely. The push for reopening trans-Atlantic routes on Monday comes ahead of meetings between U.S.
Business
BRUSSELS (Reuters) - The European Union's patience towards Britain over Brexit arrangements in Northern Ireland is wearing thin and the bloc will consider its options should Britain continue its "confrontational path", an EU official said on Monday.