Eight militants, including those from Al-Qaeda, arrested in separate raids in Pakistan
Eight suspected terrorists including those from Al-Qaeda and Islamic Movement of Uzbekistan, have been arrested in separate raids in Pakistan
Lahore: Eight suspected terrorists belonging to different terror outfits, including Al-Qaeda and the Islamic Movement of Uzbekistan (IMU), have been arrested in separate raids in Pakistan's Punjab province.
According to the counter terrorism department (CTD) of Punjab police, a police team, after receiving information about the presence of the militants, raided a football ground in Gulshan-e-Ravi, Lahore, on Thursday, and arrested two suspects.
"They belong to al-Qaeda and the Islamic Movement of Uzbekistan. They were planning to attack government buildings in Lahore," the CTD said.
Some 800 gm explosive material, four-foot prima card and two electric circuit detonators have been recovered from the suspects.
In another incident, CTD, in collaboration with the police, raided a house in Bahawalnagar district, some 400 kilometers from Lahore, arrested three suspected terrorists of banned outfits like Tehreek-i-Taliban Pakistan (TTP) and Lashkar-e-Jhangvi (LeJ).
The CTD said a team raided a house near a shrine and arrested three terrorists, seizing arms and ammunition from them.
It said the arrested suspects were planning to attack the shrine.
In a third incident, three alleged terrorists of Al-Qaeda and Sipah-e-Sahaba Pakistan were arrested from Faisalabad and Ali Pur Chatha, some 200 kilometers from lahore.
The CTD said police team raided a house on Sumundari Road, Faisalabad and arrested the suspects.
Some 575 gms explosives, 9 feet 6 inches prima cord, eight electric circuit, detonators and extremist literature was recovered from them, they said.
World
Two members of the dreaded terror group Islamic State (IS) who were plotting attacks on Pakistan Army's buildings and other security installations have been arrested from the Punjab province in Lahore.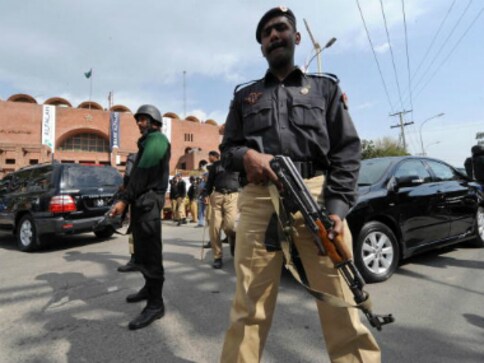 World
Pakistani authorities on Tuesday sacked the head of the Punjab Counter-Terrorism Department (CTD) after a probe into a weekend shootout revealed that three members of a family were killed in a fake encounter on a highway.
India
Confusion prevailed over whether Jaish-e-Mohammad (JeM) chief Masood Azhar has been detained in connection with the Pathankot terror attack that led to deferring of Foreign Secretary-level talks for which Pakistan said new dates were being worked out.